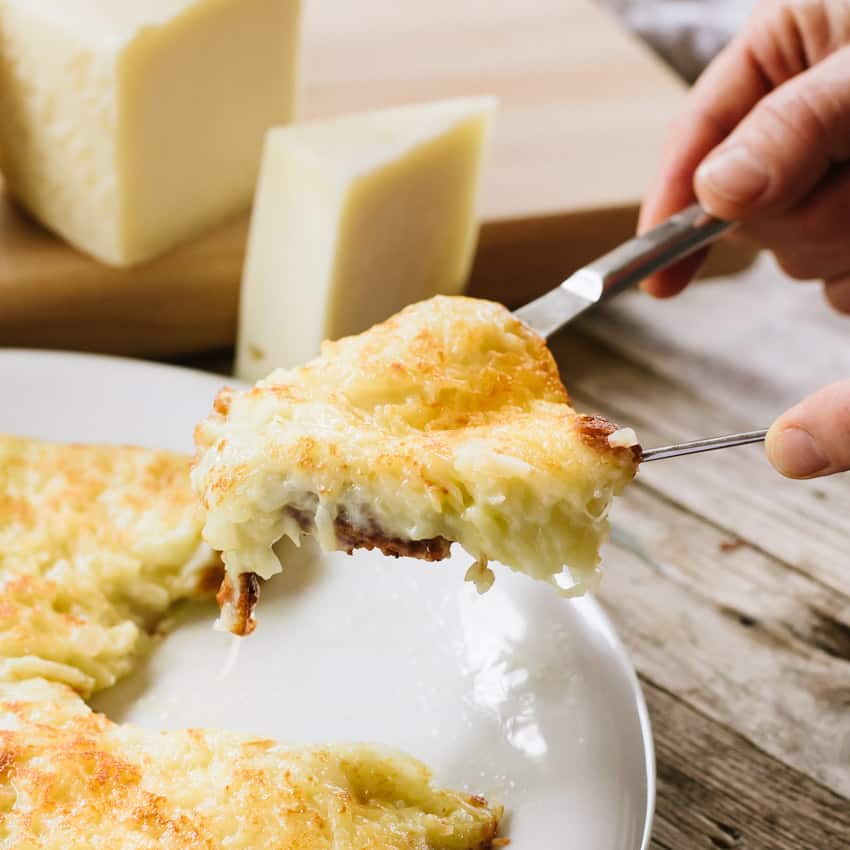 If you're a cheese lover and you want to take your cheese experience to a whole another level, you MUST try soft frico — the quintessential and most loved dish from Friuli Venezia Giulia.
Soft frico is basically a cheese & potato pie, crispy on the outside, and soft and gooey on the inside. Just like the people from Friuli, frico is a no-frill, essential, and straightforward dish. Created out of necessity, when people had few ingredients on hand, frico was made using the leftover scraps (strissulis) of Montasio, a cheese produced locally.
If you'd like to try this recipe and you want to keep it authentic, you definitely need to use Montasio cheese. Similar to Swiss and Asiago, fresh Montasio cheese has a mild, delicate, and somewhat fruity flavor. It comes at different aging stages, ranging from fresh (60 days-4 months), to slightly aged (5-12 months), to aged (over 12 months). As you can imagine, the flavor becomes more intense and sharp with time.
For soft frico, I recommend using a blend of fresh and slightly aged Montasio cheese. The fresher the cheese, the softer your frico will be. The good news is that Montasio cheese can be found in the US. Check out your local specialty store… I even found it at Publix!
The variations of frico are endless. Onions or pancetta or speck usually make a nice addition, further raising its levels of yumminess. It's important to keep a watchful eye on your frico while cooking, as it can easily stick to the pan and burn. The cooking must be slow and you must swirl the pan often. If you are as good as my brother, you can flip it like you would flip a crêpe. If you are a mere mortal like me, you will need to use a lid to turn it upside down.
Some may argue that soft frico is a winter dish as it's quite substantial. I say frico can be enjoyed at any time of the year! My friend Laura was so kind to prepare it for my husband and me when she invited us over for dinner one summer evening. It was so good I almost had tears in my eyes.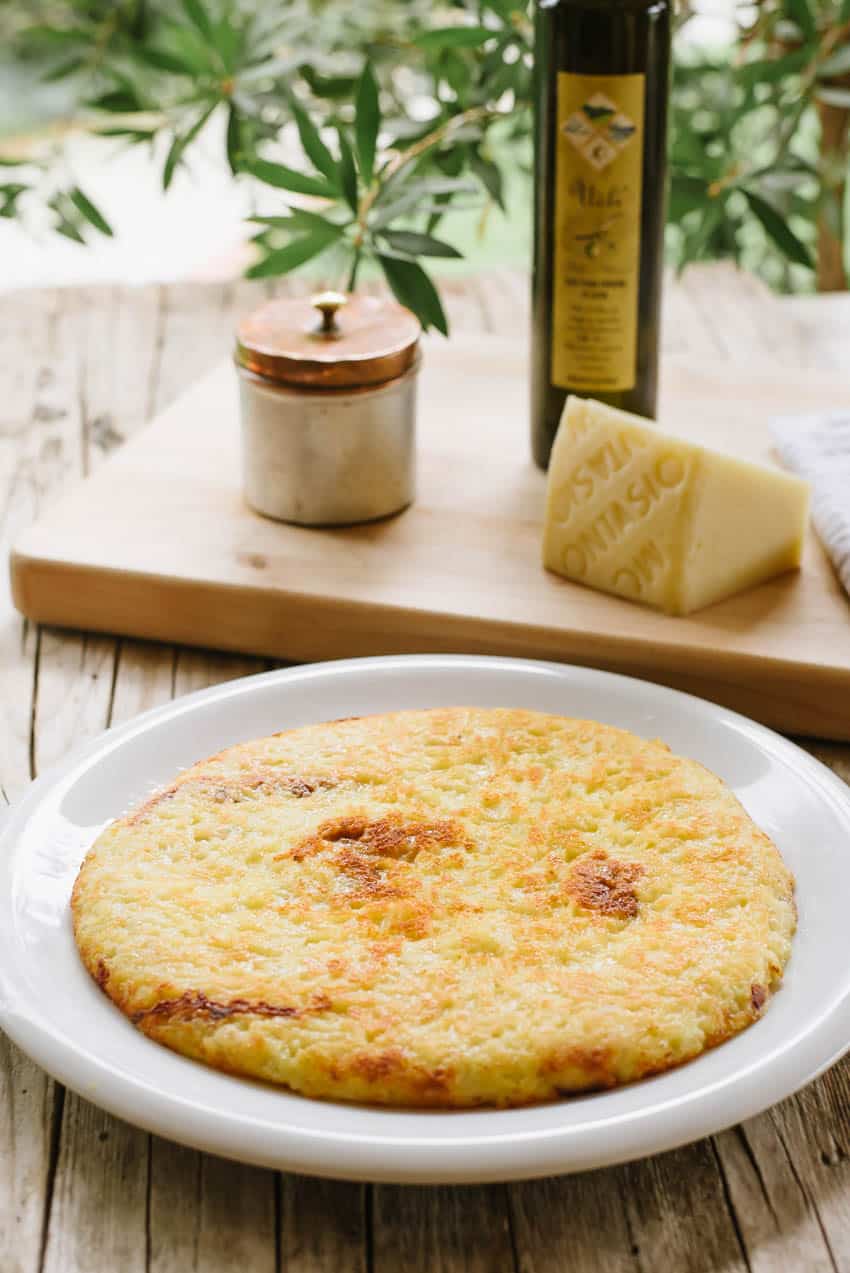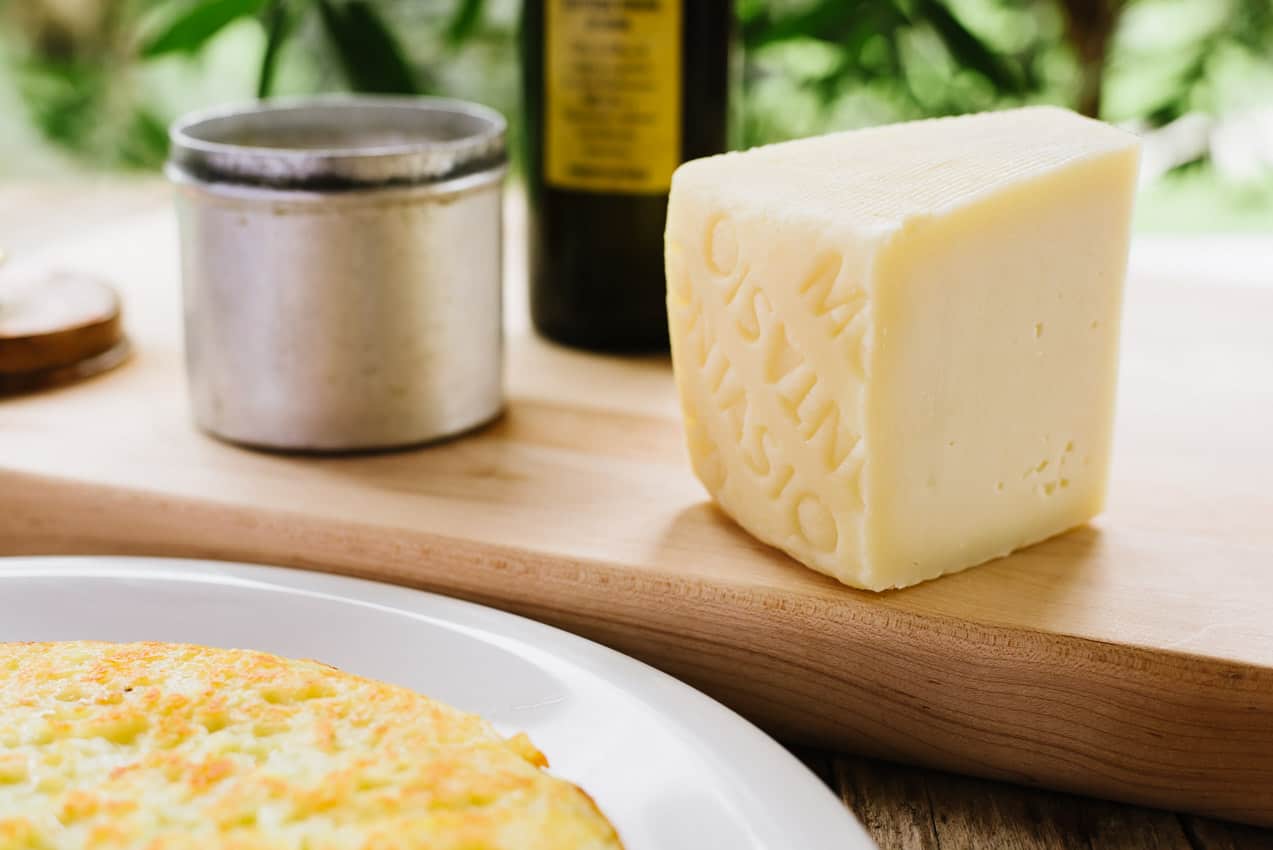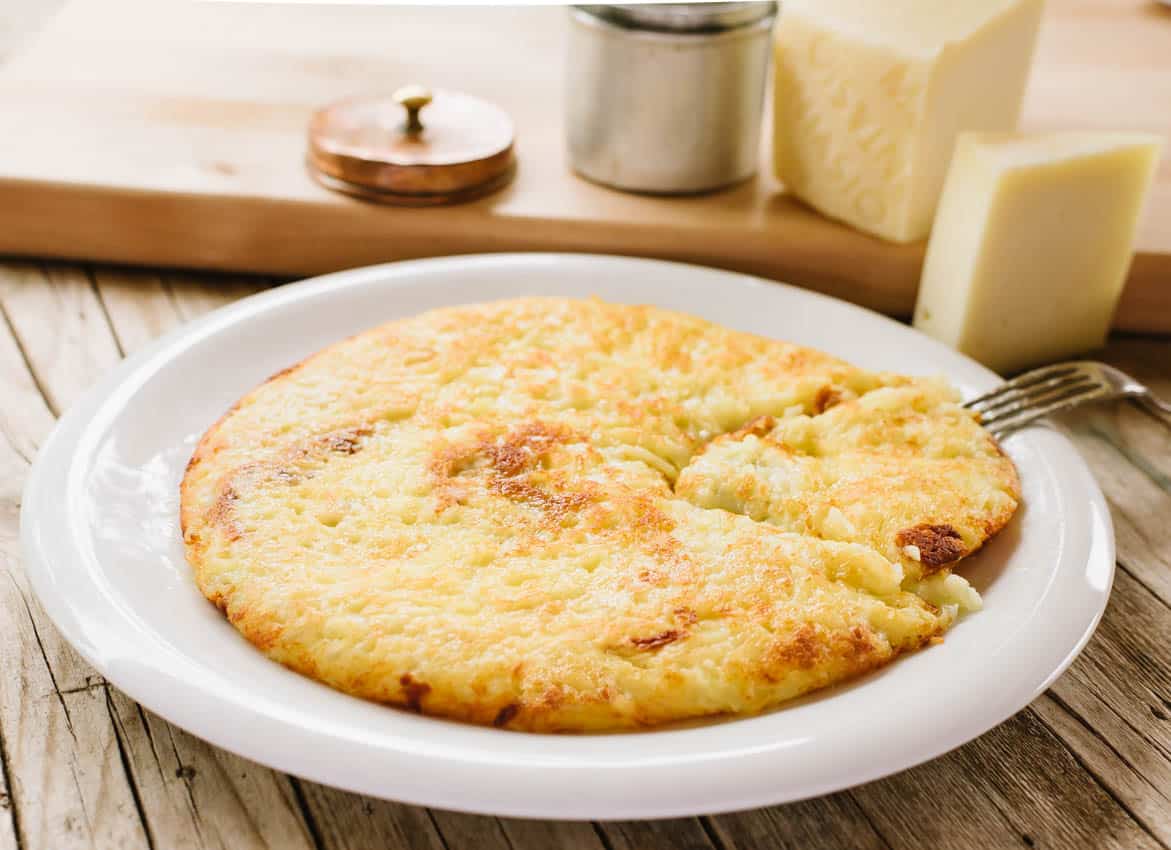 Soft Frico
Ingredients
450 g (1 lb) potatoes, uncooked and shredded
450 g (1 lb) Montasio cheese slightly aged (3-6 months), shredded
1 big white onion, chopped
extra-virgin olive oil
salt
freshly ground black pepper
Instructions
Heat a drizzle of extra-virgin olive oil in a non-stick skillet, add the chopped onion and let it saute until translucent.
Add shredded potatoes and cook, adding a bit of water to avoid scorching. Stir frequently.
Once potatoes are cooked, add shredded Montasio cheese and mix until cheese and potatoes are evenly distributed. Pour a bit of oil on the side of the mixture, so it spreads on the bottom. Don't mix from now on and turn heat to low.
Push the mixture down from the sides, and lightly push the sides towards the center, bringing the mixture together into a compact pie.
Continue cooking, and always swirl the pan so your frico can rotate and doesn't stick to the bottom.
When the bottom of the frico has become crispy and golden, it's ready to be flipped on the other side. Holding a wide and flat lid against the top of the pan, with a firm and quick movement, turn the pan upside down. The frico will now be on your lid. Slide it on the pan again and cook few more minutes until golden on the bottom.
Transfer on a serving plate and enjoy it while warm.
Notes
* When purchasing Montasio, look for the DOP (Protected Designation of Origin) trademark.
*Use the best non-stick pan you can have -- better if not scratched.