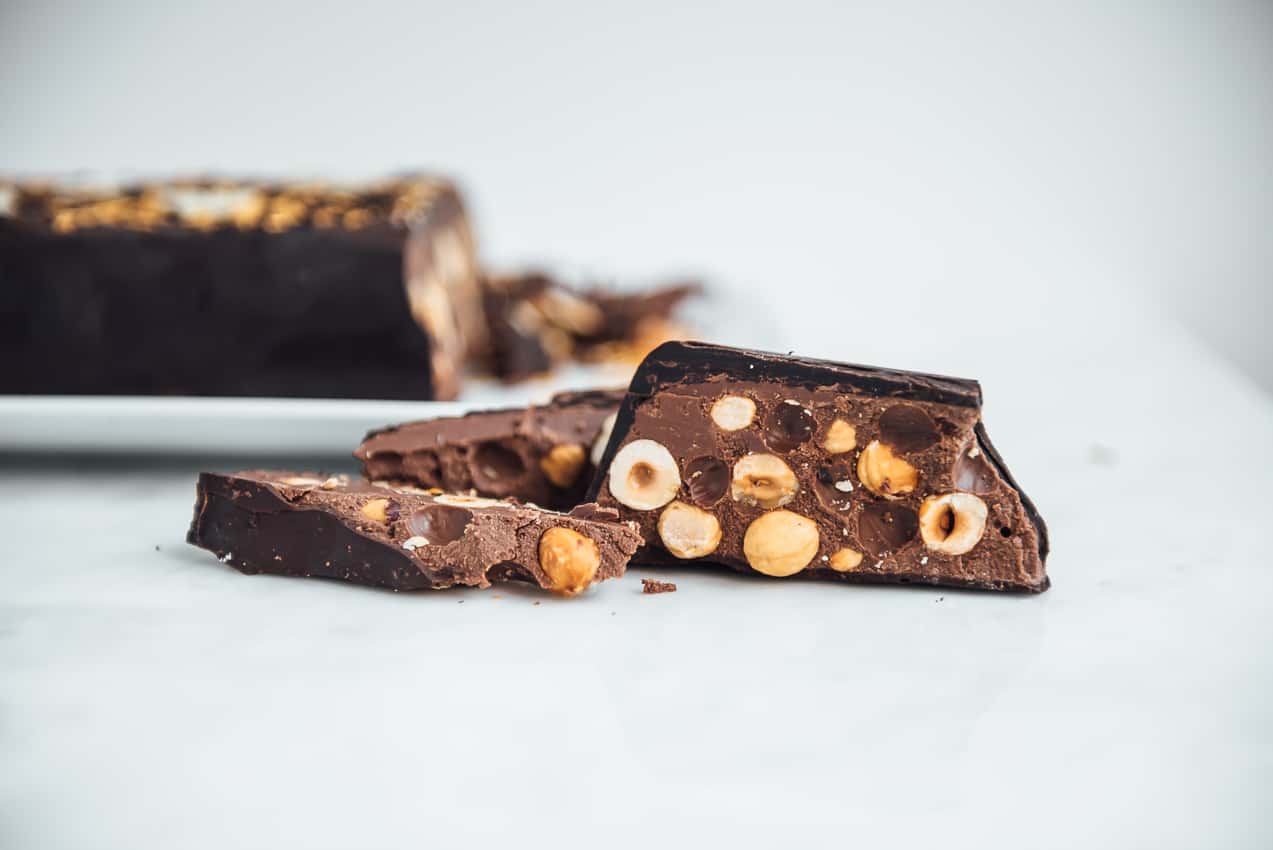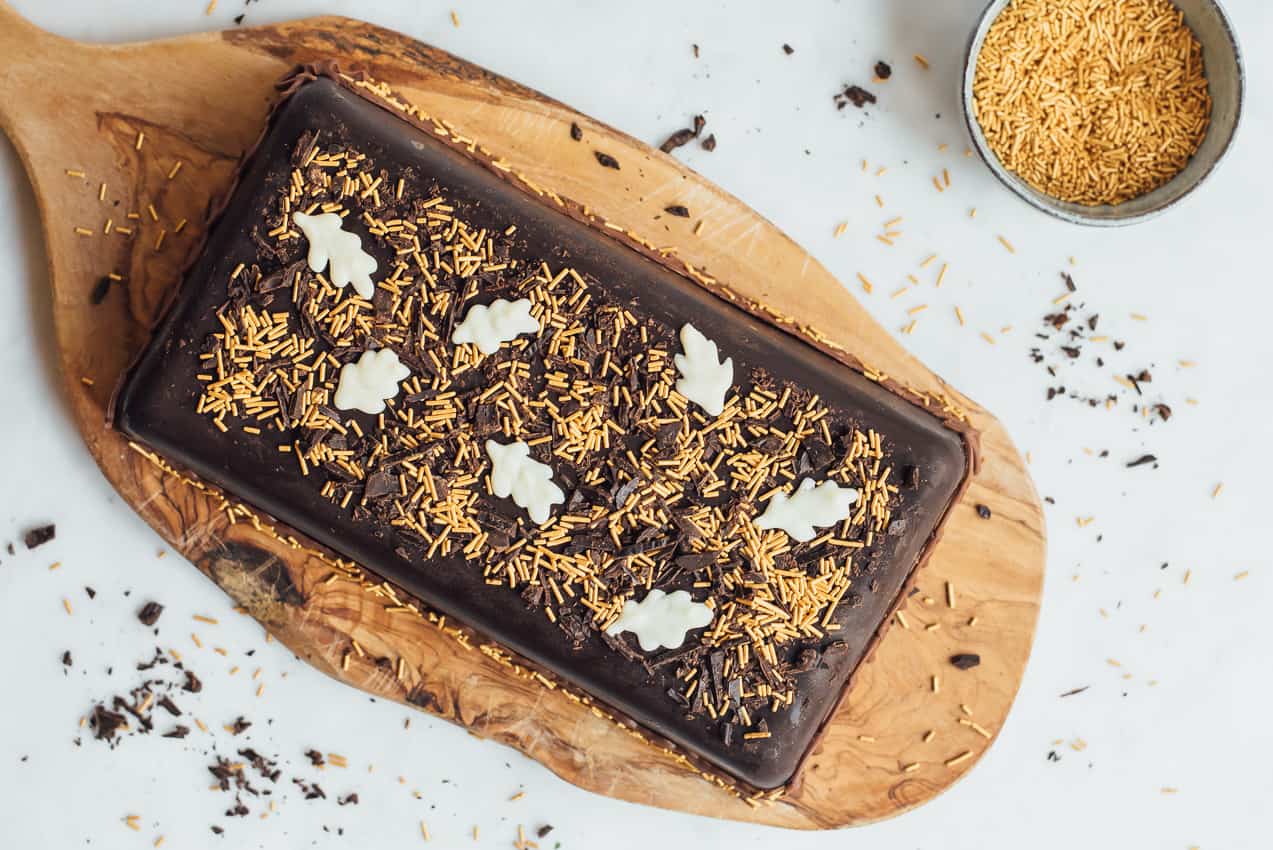 The Day of the Dead (commonly known in Italy as "i Morti") is a Catholic festivity occurring on November 2nd, right after All Saints' Day. This is when most Italians visit the cemeteries and bring fresh flowers — often mums, a flower representing mourning and death — to the tombs of their loved ones. Back home, my dad usually lights a few red candles (lumini) and puts them on the window sill as a way to remember those of our family who aren't with us anymore.
In Naples, during this time of the year, people eat this delicious chocolate confection called "Torrone dei Morti", which literally means "Day-of-the-Dead Torrone" or "The Dead's Torrone". I debated a long time on whether or not I should literally translate the spooky name. I decided to go with a more descriptive English translation ("Chocolate Hazelnut Torrone") because:
1) it sounds yummier
2) it goes right to the point and tells you what it is
3) it shouldn't creep anybody out.
For the sake of clarity, though, this isn't a REAL torrone (i.e.: nougat) — you won't find any honey or egg whites in it, but a CRAZY amount of chocolate and hazelnuts. Why the name then? "Because it looks like one" is the simplest answer. Just like the famous Italian chocolate confection, this torrone is a gigantic candy bar with a bunch of nuts in it!
Making this Chocolate Hazelnut Torrone isn't difficult. You need just a handful of ingredients and it's really all about melting chocolate, brushing it, and pouring it. Once it has hardened, you just have to pop it out of its mold…and even if it doesn't turn out perfect or shiny, you can cover it in sprinkles and it will still look pretty! Be prepared to taste one of the most delicious chocolatey desserts you've ever tasted. Death by chocolate — that's what it is!
I guess the association to the Day of the Dead is somewhat fitting, after all.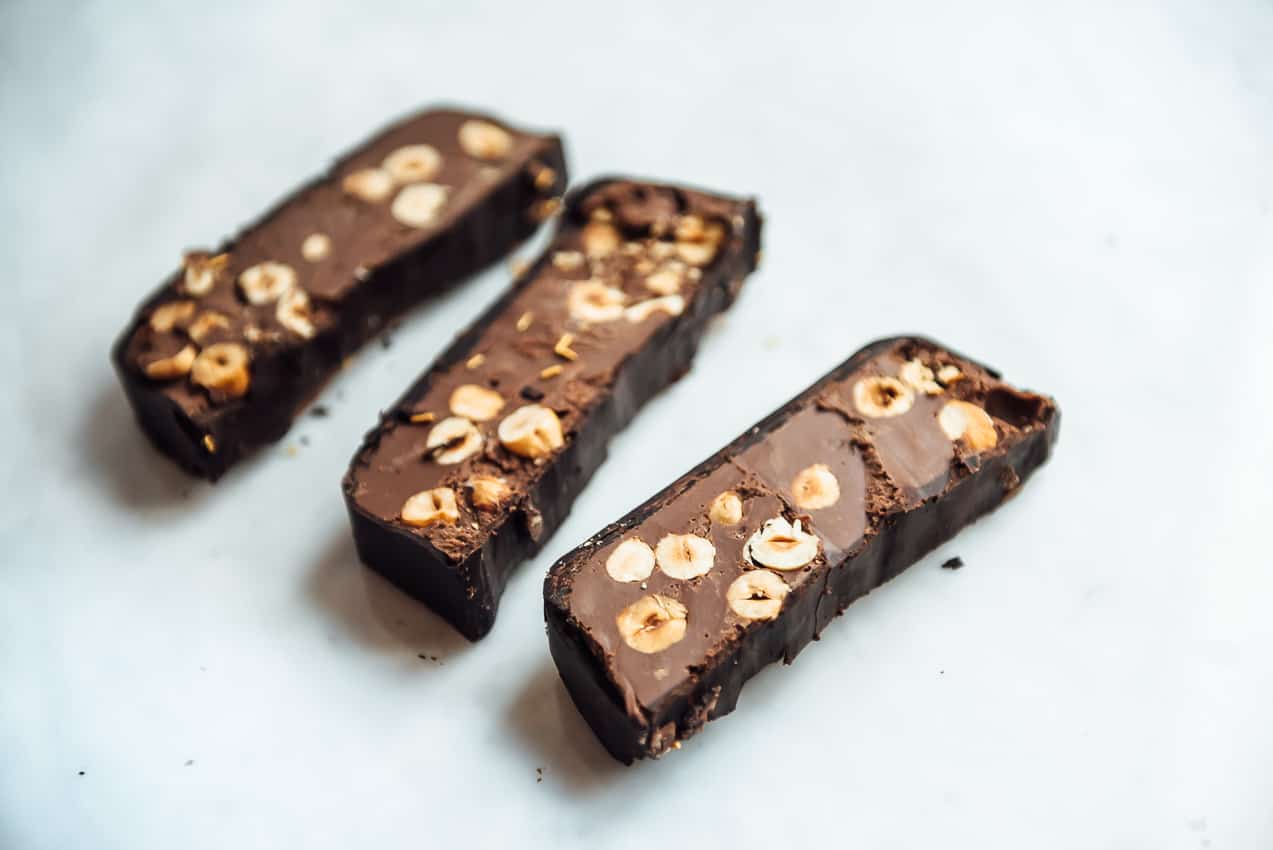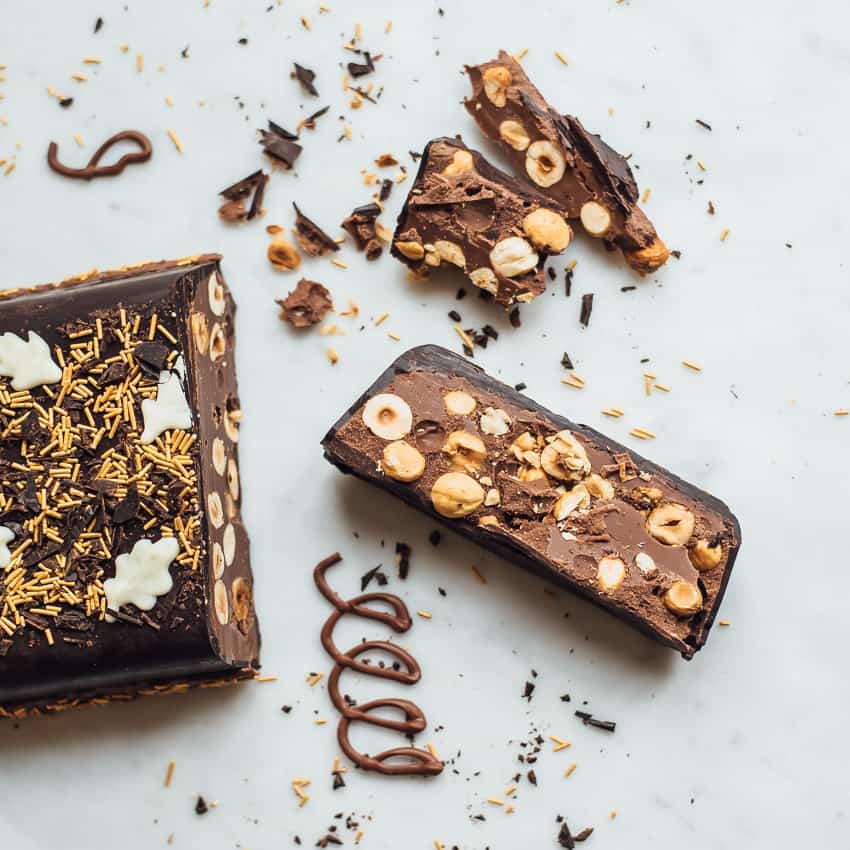 Torrone dei Morti: Chocolate Hazelnut Torrone
Equipment: metal or silicone loaf pan, brush.
Ingredients
350 g dark chocolate, roughly chopped
250 g milk Chocolate, roughly chopped
250 g white Chocolate, roughly chopped
a jar of Nocciolata by Rigoni or 270 g Nutella (see notes)
200 g toasted hazelnuts
Instructions
Divide your dark chocolate in 3 parts.
Take one third of the dark chocolate and place it in a metal or heatproof bowl over a smaller saucepan of simmering water. Make sure the bowl does not come in direct contact with the water. Let chocolate melt, stirring. Remove from the heat a little before it's completely melted. Continue stirring, until completely melted and smooth. Let it cool off a little bit (it should reach body temperature and not feel hot when you touch it). Brush your melted chocolate on the sides and the bottom your loaf pan, forming even coats (this will be the outer shell of the torrone). Refrigerate for 15 minutes or so.
Take another third of the dark chocolate and melt it as well, the same way. Take the pan from the fridge and apply more coats of dark chocolate all the sides and the bottom. If you end up with excess melted dark chocolate, just pour it on the bottom of the pan and spread it evenly. Refrigerate for 30 minutes.
Melt the milk chocolate, white chocolate, and Nocciolata (or Nutella) the same way as above. When completely melted, remove from the heat and add hazelnuts. Give the mixture a few stirs and let it cool off a little bit. Then pour into the pan coated with dark chocolate and spread mixture evenly. Refrigerate for about 1 hour.
Take the other third of your dark chocolate, melt it and then pour it over the cooled filling. Refrigerate your chocolate hazelnut torrone for about 2 hours. Let it stand at room temperature for an hour before serving.
Notes
- You can find Nocciolata by Rigoni at Whole Foods and Wegmans.