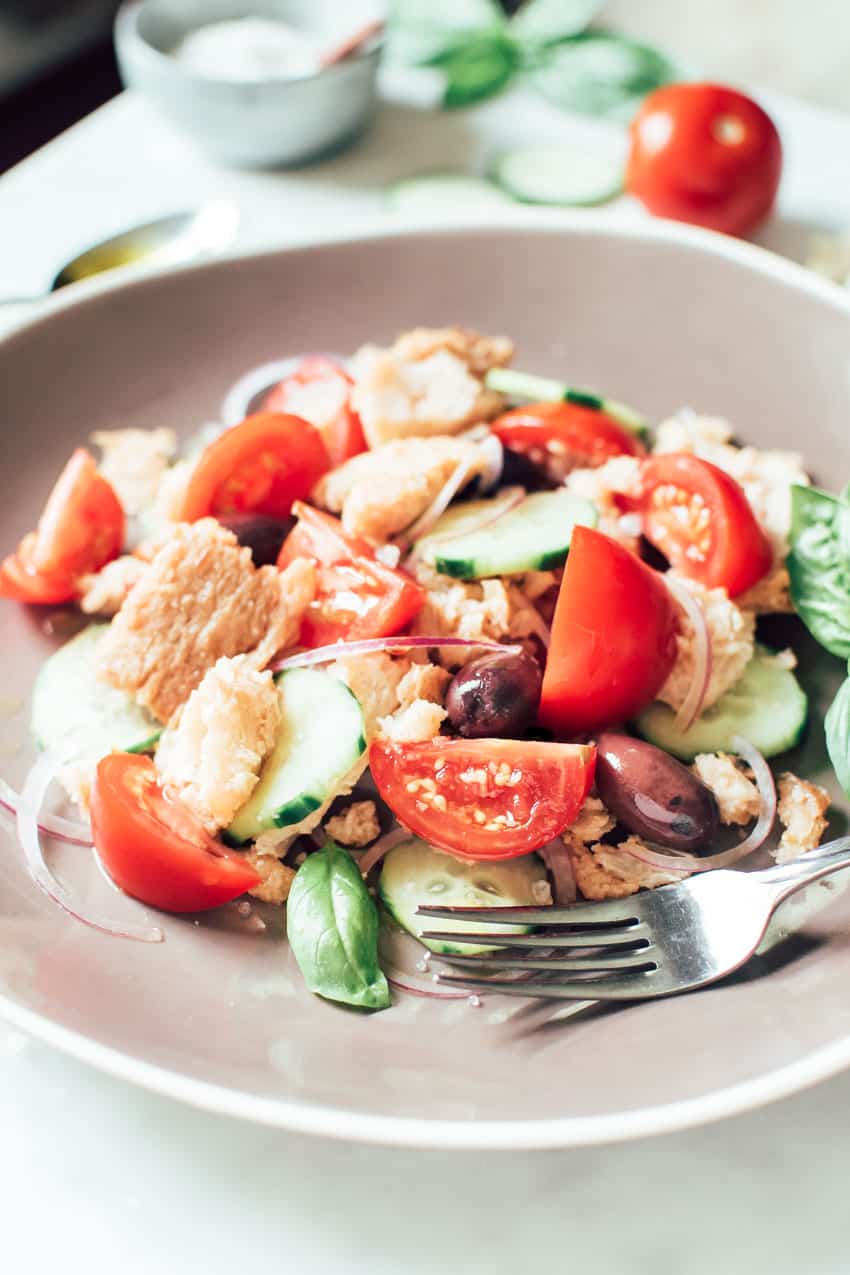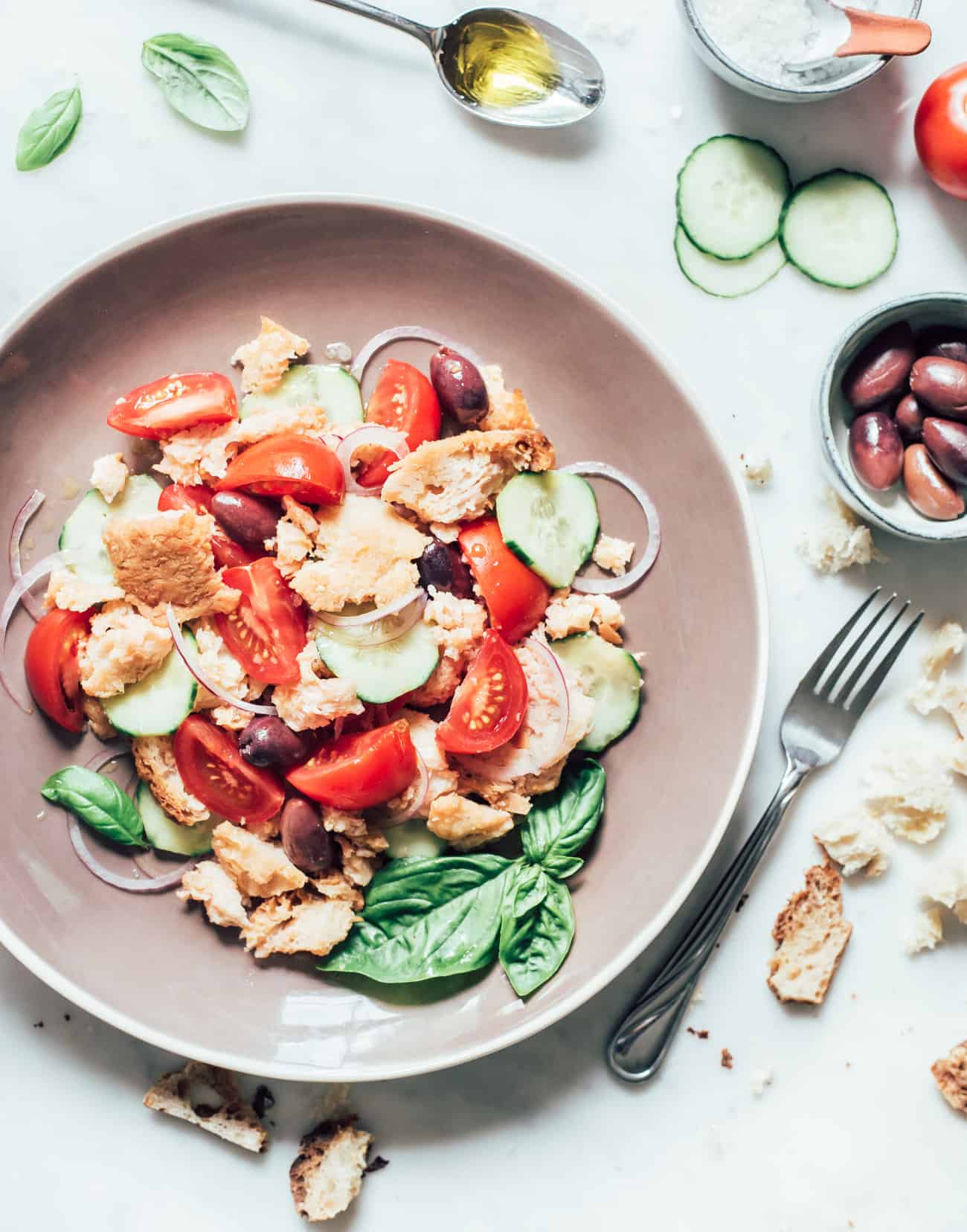 Isn't it funny how sometimes the simplest things impress you the most?
I was 9 years old when I attended my great-uncle's 50th wedding anniversary in Rome, with my family. The reception was held in a beautiful castle just outside the city. There, an impeccable wait staff served multiple gourmet dishes, fine wine for the adults, and a wide array of desserts. Despite all the fanciness and fine dining, that's not where I had the most memorable and delicious food that day.
Shortly after the reception, we got invited to somebody's house. In Italy, when there's a reason to get together and celebrate, the party never ends…and neither does the food! There, I got to taste for the first time a lovely colorful dish: panzanella, a bread-based salad featuring tomatoes, onions, and basil, simply dressed in olive oil and vinegar. Super simple, yet super tasty! I gobbled up my portion and went back for seconds.
Why was this dish was so popular there (and in most central and southern Italy) yet we had never heard of it?? That's a mystery. Thankfully, my mom started making it regularly at home and it soon became a summer favorite in our family.
I then learned this was a dish created out of necessity in times when peasants had few ingredients at hand. Bread was certainly one of the primary foods poor people could rely on, and it's no wonder not even one bit would go to waste. Stale bread turned out to be the perfect base for a delicious summer salad: all it needed was to be soaked in some water, then squeezed dry and dressed in the juices of ripe tomatoes, extra-virgin olive oil, and vinegar. Onion and basil made it all even more tasty.
This recipe doesn't need to be followed very strictly and you can add more or use less of an ingredient, according to your personal preference. I added olives and cucumbers, but you can also add grilled bell peppers, capers, anchovies, tuna or mozzarella!
Here are a couple of recommendations to achieve a state-of-the-art panzanella:
Try to find Tuscan-style bread

, i.e. grainy, thick-crusted, unsalted, country-style bread. This type of bread holds its texture better when wet and doesn't turn into a gluey and mushy white thing.  I know that here in the States, good Italian bread isn't easy to find…let alone trying to find the authentic Pane Toscano.  Check your local bakeries or high-end grocery stores. If you can't find it, an artisanal country bread will do. In any case, please stay away from pre-sliced white bread!

Use only stale bread

for optimal soaking. Stale bread will only take as much water as needed. Be prepared to use some elbow grease to slice up your several-days old bread. (ugh, I know…my least favorite part of this recipe)

Do not over-soak your bread

! Submerge it in water and promptly pull it out when just soft. Squeeze out ALL the water before you mix it with all the other ingredients.
Use only

juicy, tasty, ripe tomatoes

.
Did I tell you panzanella is a perfect quick lunch and it tastes even better the following day?  There you go — you've got 2 more reasons to give it a try!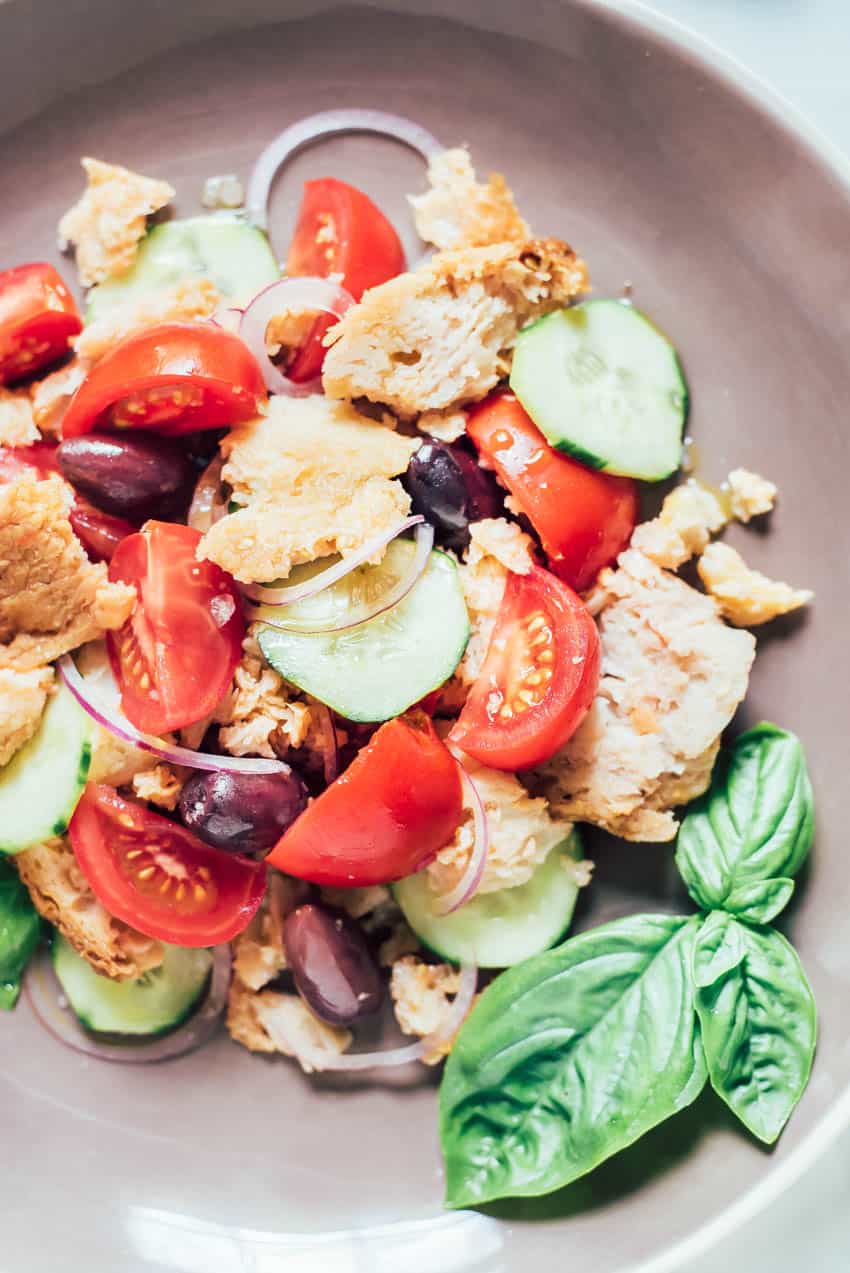 Panzanella: Bread and Tomato Salad
Ingredients
400 g (14 oz) stale Tuscan or country-style bread
½ red onion, sliced very thinly
500-600 g (17-21 oz) juicy tomatoes, room temperature, cut in small wedges
1 small cucumber, peeled and sliced
a handful of pitted kalamata olives
15 basil leaves, washed and dried
3 Tbsp white wine vinegar
a nice drizzle of extra-virgin olive oil
sea salt
freshly ground black pepper
water
Instructions
Fill a small bowl with water and add a tablespoon of vinegar in it. Soak your thinly sliced onion in this mixture for about 20 minutes.
Remove hard parts of the crust from your bread. Roughly cut bread into small chunks. Depending on how hard it is, you can also try to do it by hand to obtain more irregular shapes.
Fill another bowl with water. Working in batches, quickly submerge the bread chunks in the water. Squeeze all the water out of bread chunks and set aside.
In a separate bowl mix tomatoes, onion, and cucumber. Dress with vinegar, extra-virgin olive oil, salt and pepper and mix well. Let stand for a few minutes so the juices will start to flow and collect the bottom of the bowl.
Add bread chunks to tomato mixture. Throw in the basil leaves, torn in pieces. Gently mix it all (I like to use my hands) so the bread absorbs the juices. Taste and correct the seasoning, if necessary, adding more salt or vinegar or olive oil.
Panzanella can be eaten right away but it's better enjoyed if it sits in the fridge for a couple of hours. The taste of this salad improves with time and you can also eat it the following day. Remove from the fridge 15 minutes before serving.