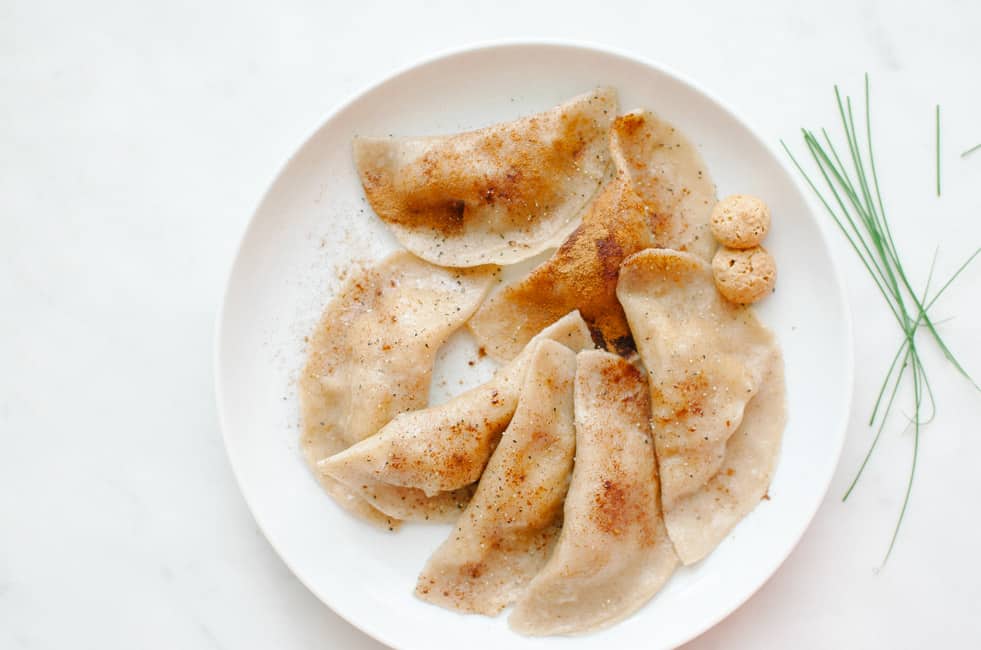 I'm back home! Alabama was nice–but 3 weeks in a hotel room with only a microwave was loooong. Our hotel quality-of-life was definitely improved by the espresso machine we brought from home. Although it's highly probable the housekeeper thought we were a couple of cuckoos, we felt exceptionally proud of our survival forethought.
YAY for being back at having fun in the kitchen!
There's nothing better than homemade "ravioli" to start cooking again. Well, these aren't exactly ravioli per se…but kind of similar. These tasty dumplings are called cjalsons (or cjarsons) and they're traditionally cooked for festivities in the mountains of Friuli (the most Northeastern Italian region and where I call home).
The dough is usually prepared with water, flour, salt and, sometimes, potatoes. The filling usually features a nice combination of sweet and salty ingredients like mashed potatoes, raisins, smoked ricotta cheese, cinnamon, cookies, herbs or chocolate. Like for many other Italian dishes, there are many versions of cjalsons. Back home, we use this recipe: we jazz up the traditional filling by using apple, pear, pancetta, and amaretti cookies. These ingredients give the filling a nice variety of textures and an intriguing flavor: they're sweet with a nice kick of saltiness. The best part is the butter/parmesan/cinnamon finish. I used parmesan cheese (Parmigiano Reggiano!) because it's hard to find smoked ricotta here. If you do find it, use it by all means. Just shave it on top. It's absolutely the best way to serve this wonderful dish.
Expect more cjalsons recipes in the future. I looooove food from Friuli!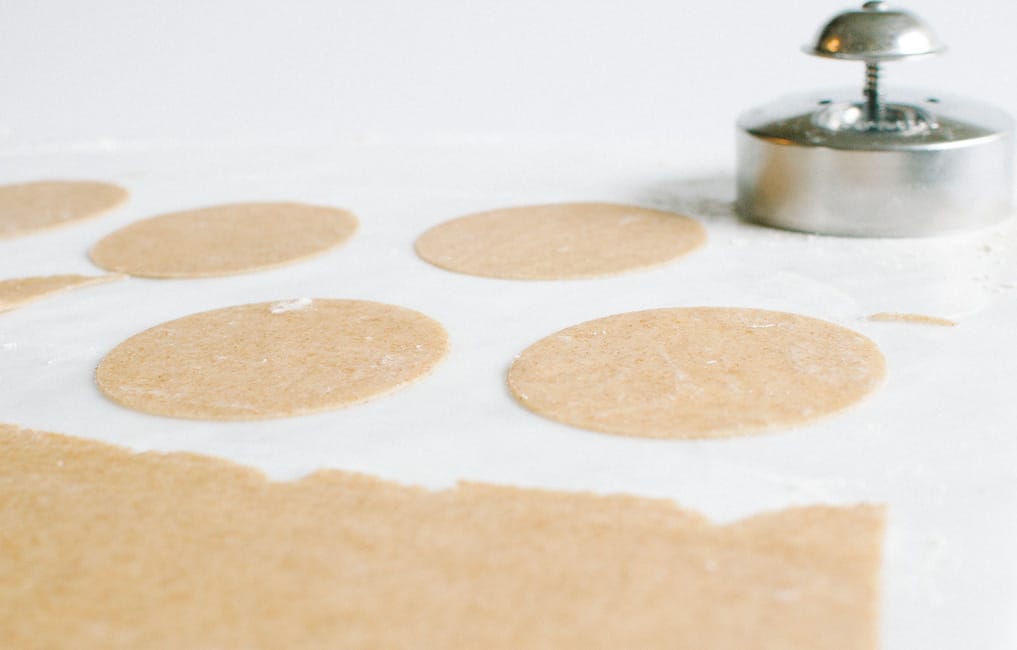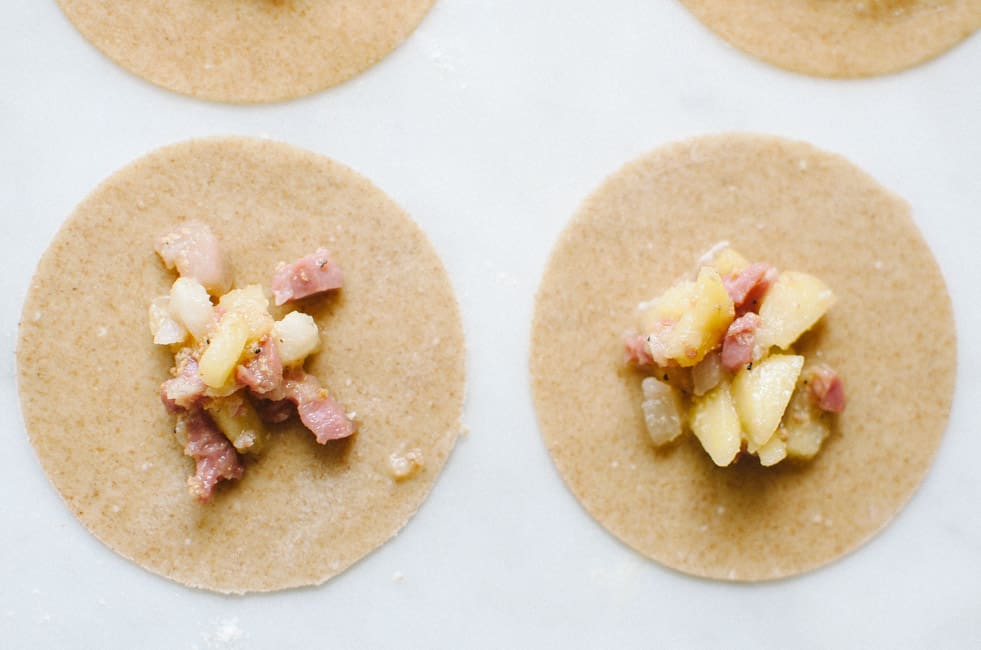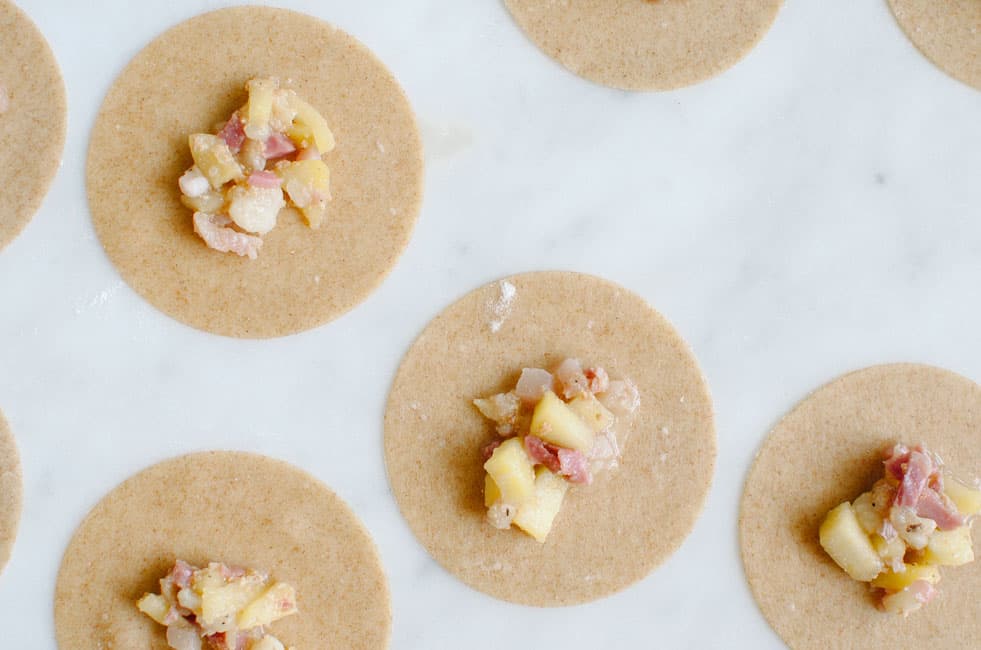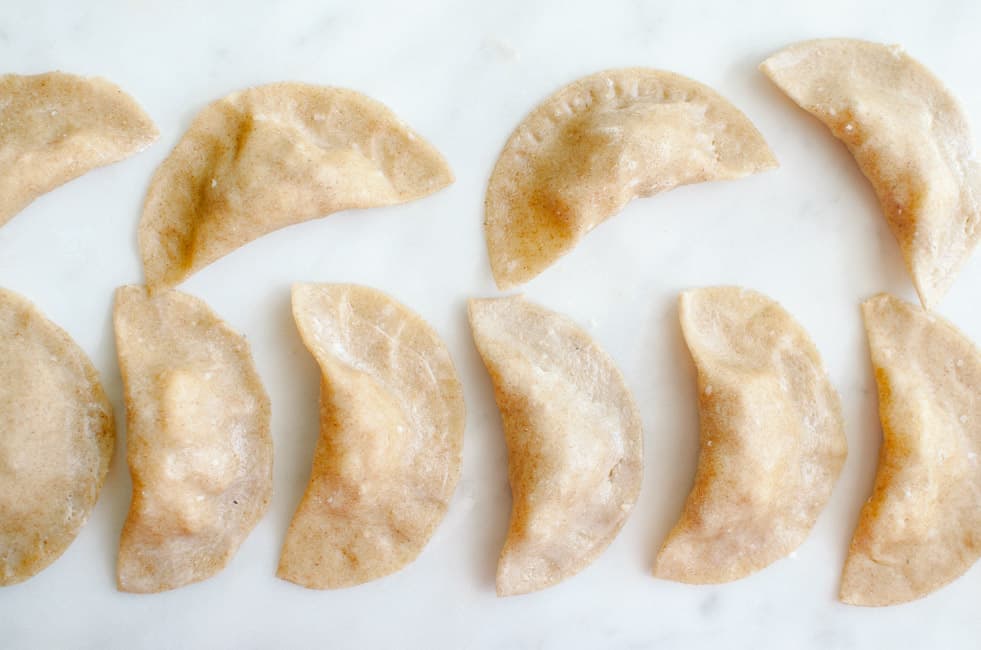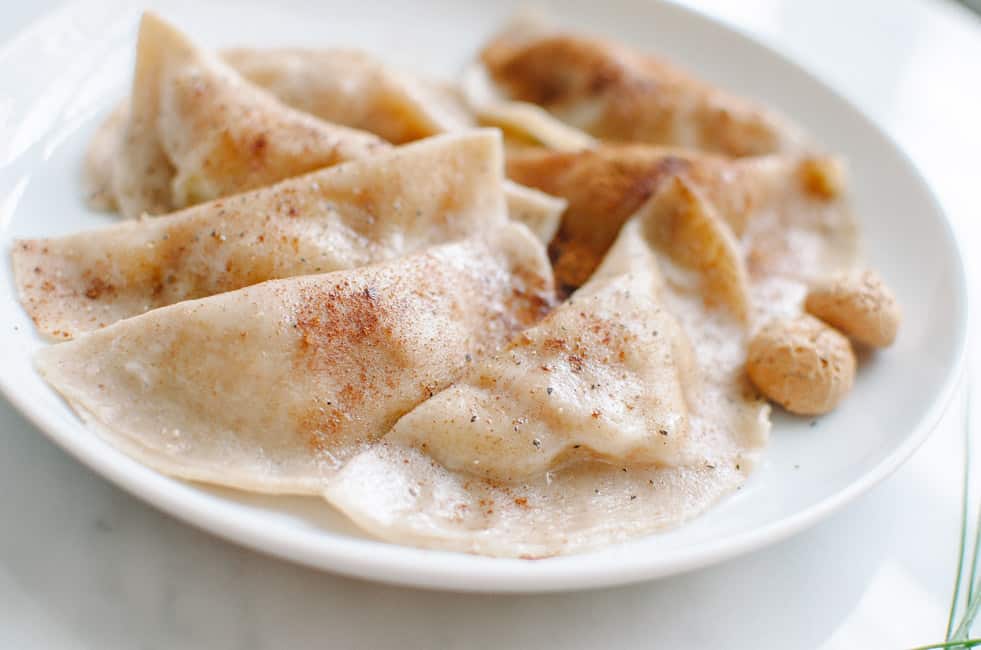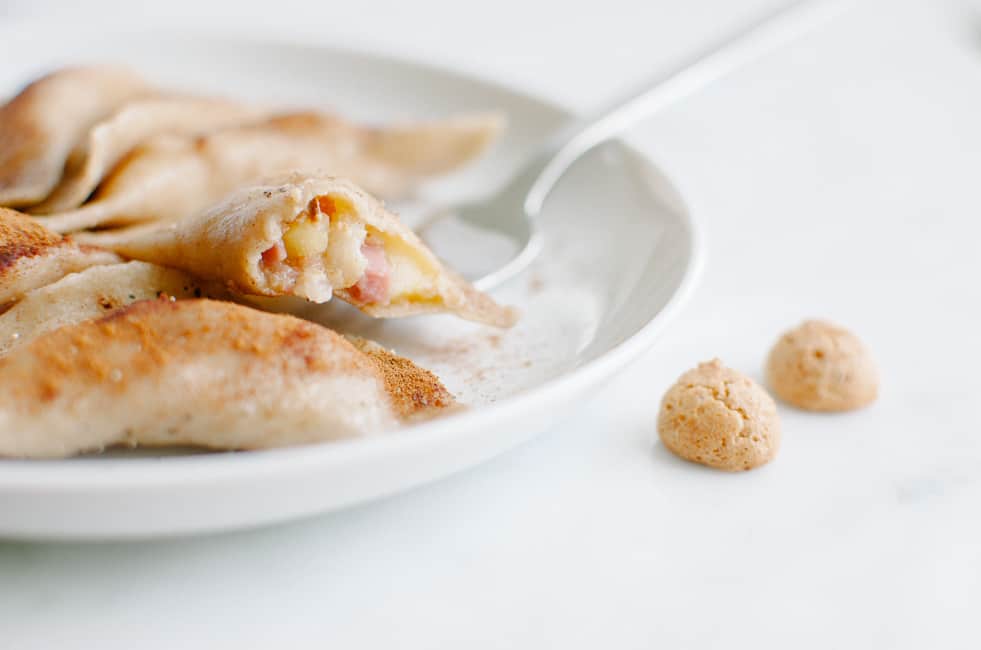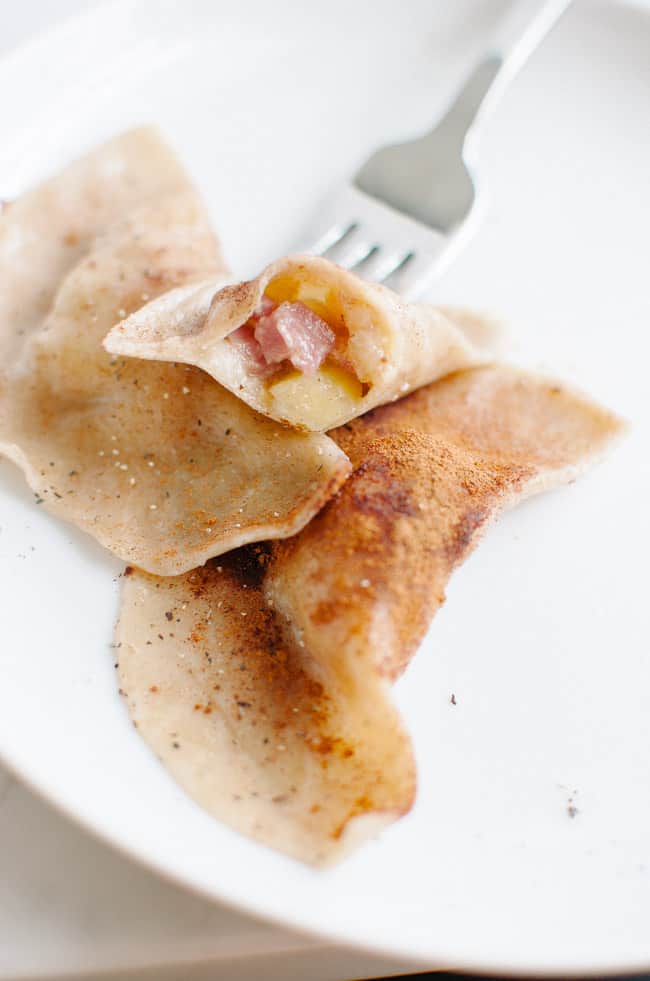 My family's Cjalsons (or Cjarsons)
Ingredients
75 g (1/2 cup) all-purpose flour
75 g (1/2 cup) whole wheat flour
40 gr (a bit less than 3 Tbsp) of butter, melted + 1 Tbsp for final seasoning
40 ml (1.3 oz or 2 Tbsp and 2 tsp) of water
1 yolk
55 g (about 2 oz) of pancetta, minced
½ apple
1 small pear
4 regular-sized (or 10 mini) amaretti cookies, crumbled
pepper
sugar
salt
cinnamon
Instructions
Mix flour, water, melted butter and yolk in a bowl. Once the ingredients are combined, transfer onto a clean surface and knead until dough becomes uniform and smooth. Cover with plastic film and refrigerate for 30 minutes.
Cut the apple and the pear in small cubes (about ¼ inch or 6 mm).
Add minced pancetta to a medium-sized skillet and sauté over medium heat. Once pancetta changes color, add cubed apple and pear. Cook until pear is soft, but not too mushy. Add a sprinkle of sugar, salt, and pepper. Remove skillet from the heat, add crumble amaretti and transfer to a plate.
Take dough out of fridge and roll it with a rolling pin or a pasta machine until it becomes thin (see photos above), adding a bit of flour if necessary (not too much!). Cut rolled dough in 3.5 inch (9 cm) rounds.
With a teaspoon, place a small dose of filling in the center of each round. Brush some water on the outer part of the round. Fold round in half, forming a dumpling and making sure no air is trapped inside. Press the edges together to seal them tightly.
Bring a pot of salted water to a boil.
Melt butter in a large skillet and set aside.
Gently place the cjalsons in batches in boiling water. Remove them with a slotted spoon once they come to the surface and transfer them in a skillet with melted butter over low heat. Cook for about 2-3 min, turning them gently. Sprinkle with cinnamon, pepper and parmesan cheese.