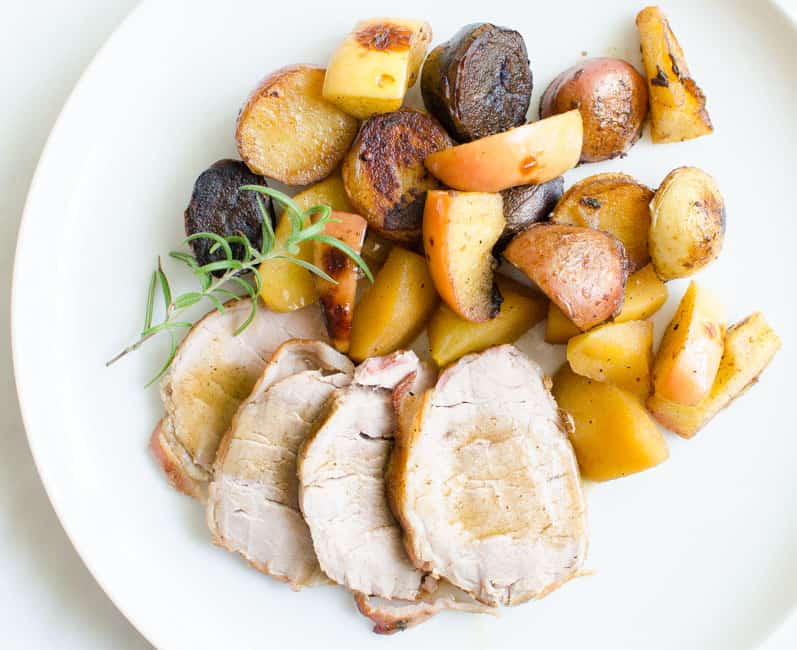 I'm spending a few weeks in Alabama: it's not exactly a vacation, it's more like a temporary relocation. I knew cooking would be a challenge as I'm staying in a stove-less hotel room. I love to eat out and experience different cuisines but, after a while, it gets old and expensive. Also, my already-wavering self-control can last only for so long and, before I know it, I end up ordering delicious meals that aren't exactly light!
While I'm longing for a full kitchen again and I'm enjoying southern food (in moderation), I'm going to share a few recipes I prepared and photographed a few days ago, from the comfort of my home.
I tried this delicate pork tenderloin recipe for the first time on Thanksgiving last year. Cooking a whole turkey seemed a little bit too much for just me and my husband! While searching for an appropriate meat substitute, I stumbled upon this pork recipe on an Italian cooking blog. We tried it and we loved it so much it quickly became a staple for special occasions all year round…and even for weekend dinners! If you scroll down, you'll also find the recipe for the pan-roasted apples and potatoes you see featured in the pictures.
Did I mention the house will smell fantastic while you're cooking this delicious dish? I love the aroma of roasted meat: it's comforting and inviting, and it brings back memories of my Sundays' endless Italian lunches…Writing about nice, home-cooked food from my stove-less room is becoming really painful. Somebody lend me a real kitchen, please!
PANCETTA-WRAPPED PORK TENDERLOIN WITH APPLES
Source: adapted from Siciliani Creativi in Cucina
Servings: 2-3 |Prep Time: 20 min | Cook Time: 40 min | Rest time: 5 min | Total time: 1 h 5 min
INGREDIENTS
450 g (1 lb) pork tenderloin
kosher salt
freshly ground black pepper
3 thick slices of pancetta
2 small sprigs of rosemary
1 1/2 Tbsp butter
a drizzle of extra-virgin olive oil
3/4 cup dry white wine
1 onion, cut in big sections
1 carrot, cut in chunks
1/2 celery stalk, cut in chunks
1 or 2 apples, peeled and sliced in wedges, then halved
2 leaves of sage

INSTRUCTIONS
1. Cut excess fat from pork tenderloin. Rub meat with salt and pepper and arrange pancetta around it. Tie it with cooking twine (here's a good tutorial). Insert a couple of rosemary sprigs between the meat and the twine.
2. Heat 1 1/2 tablespoons of butter and a splash of extra-virgin olive oil in a cast-iron dutch oven. Place pork tenderloin in the casserole, turn heat to medium-high and sear the meat on all sides until you obtain a golden brown crust all around. [Do not poke the meat with a fork or it will release its juice. Use two spoons to roll it on each side.] This step may take about 10-12 minutes.
3. Pour in wine and add celery, onion, carrots, and sage. Cook meat and vegetables over medium-high heat, until liquid is reduced to one-third.
4. Add apple pieces, turn heat to low and cover. Cook for 20-25 min.
5. Remove pot from heat and transfer tenderloin to cutting board. Tent with aluminum foil and let rest for about 5 min.
6. Remove all veggies and apples from dutch oven. Transfer cooked apple chunks to serving platter and discard other veggies. Place dutch oven containing cooking juices back on the stove and turn heat to medium-high. Deglaze with wine or water and cook until you obtain a shiny and dense gravy. Remove dutch oven from heat and filter gravy.
7. Remove twine from the tenderloin (keeping the pancetta in place). Slice the meat and place it on a serving platter, arranging cooked apple pieces around it. Pour a bit of the gravy on top of the meat.
….While the meat is cooking….
PAN-ROASTED POTATOES AND APPLES
Servings: 2-3 | Prep time: 5 min | Cook Time: 20 min | Total time: 25 mi
INGREDIENTS
400 g (14 oz) baby potatoes, washed and halved, skin-on
1 1/2 Tbsp butter
a couple of leaves of sage
1 apple, sliced in wedges, skin-on
salt & pepper to taste
a pinch of cinnamon
INSTRUCTIONS
1. Half-cook small potatoes halves by boiling them for about 8 minutes. Drain potatoes and set aside.
2. Heat butter on a skillet over medium-heat. Add potatoes and sage. Stir often.
3. Cut apple wedges in half. Once potatoes have reached a light brown color (but aren't cooked through yet), add in apple pieces. Keep stirring to prevent burning. Add a pinch of cinnamon and a bit of water, if necessary, to avoid burning.
4. Once cooked through, add salt and pepper to taste. Serve with sliced pork tenderloin.
Buon appetito!
-Lisa