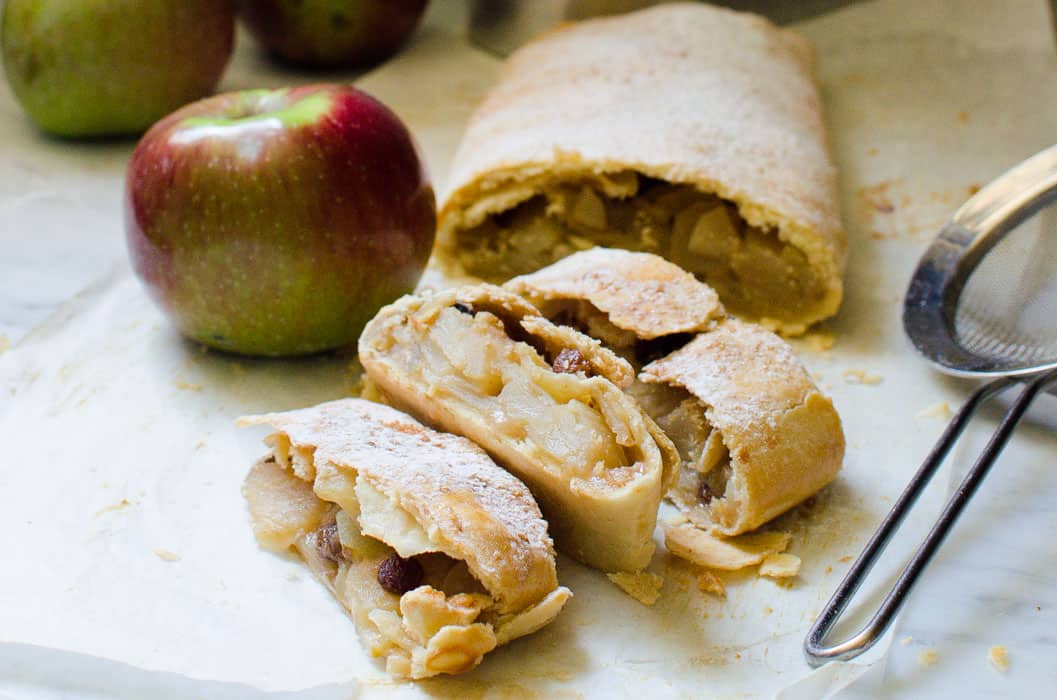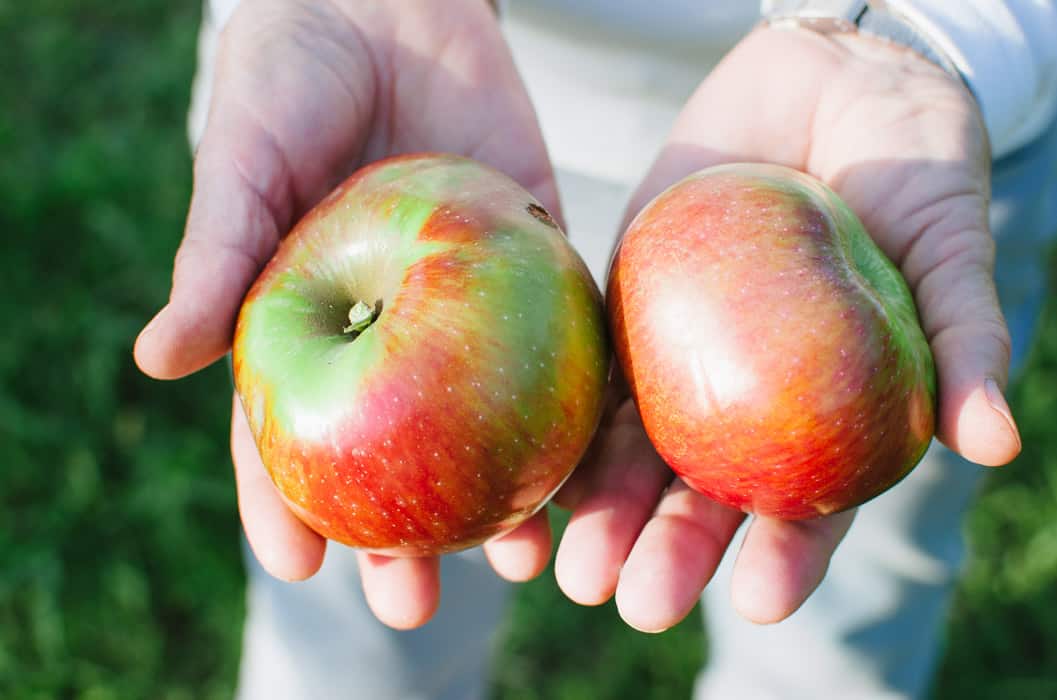 I know apples are good for you, you should eat-an-apple-a-day-to-keep-the-doctor-away, yadda yadda yadda…but I gotta confess I'm not a big apple eater. My poor little jaws easily get tired at munching the quintessential healthy fruit. Crunch, cruuunch, cruuuuunch. Can I have a softer, juicier pear instead? [If you read me for the first time, I'd like to specify I'm not 80 years old and I have all my teeth in place.]
Anyways, I'm sure you figured I wouldn't present you with a recipe I wouldn't eat myself. That's right – because I DO enjoy eating apples when they're cooked and I love them in pretty much anything – filled pasta, meats (remember my Cjalsons and Pancetta-wrapped Pork Tenderloin with Apples?)… and, of course, desserts! So, an apple strudel IS totally something I would eat repeatedly and like there's no tomorrow — especially these days, because it's so tender and comforting it's all I need on a gloomy fall afternoon to cheer myself up. Well, I'll actually take it with a cup of hot tea and a warm blanket to wrap myself in.
Strudel means "whirlpool" in German and it refers to the technique of rolling up of a generous fruit filling in thin dough. This dessert is commonly prepared in the northeastern Italian regions that were once part of the Austro-Hungarian empire; therefore, it totally belongs to the culinary heritage of my home region, Friuli Venezia Giulia. Around this part of Italy, the dough is often made with extra-virgin olive oil and the filling looks a bit less dense than the Austrian version. Also, we like to give the dessert a nice kick by adding a bit of grappa to it.
For this strudel I used some of the apples I picked from my dad's trees. As you can see, they don't look perfect as no pesticides were used (it took me just a couple of minutes to get rid of the flawed parts). They're definitely natural and delicious. Now, please, let's cook them!
Apple Strudel [ Strudel di Mele ]
Author:
Adapted from La Cucina del Friuli Venezia Giulia, Morganti Food
Ingredients
2 cups (8.8 oz or 250 g) flour - better if 00 flour
1 egg
3½ Tbsp (25 g) unsalted butter, softened
2 scant Tbsp (25 g) extra-virgin olive oil
1 pinch of salt
water
-
5 apples
2 Tbsp (30 g) pinenuts
4 Tbsp (30 g) sugar
1.4 oz (40 g) raisins
½ cup (100 ml) of grappa (or rum)
¾ cup (70 g) plain breadcrumbs, divided
[optional] 4 plain cookies/biscuits, crumbled (*see notes)
a sprinkle of cinnamon
the juice and grated zest of one organic lemon
1 egg for egg wash
confectioners sugar, for dusting
Instructions
On a clean surface, combine flour, egg, softened butter, salt and a few drops of lemon juice. Knead dough, adding just enough water to obtain a smooth and soft texture. Form a ball and cover it in plastic film. Let rest for an hour.
While dough is resting, prepare the filling. In a small bowl, toss the raisins with grappa (or rum) and a bit of water. Let rest for about 20 minutes.
Finely grate the zest of your lemon and strain its juice into a big mixing bowl. Peel apples, remove their core, and cut them in quarters. Divide each quarter in small slices (see photo). As you cut them, add them to the bowl containing the lemon juice to prevent them from darkening.
Lightly squeeze raisins from the liquid and add them to the fruit mixture. Add sugar, pine nuts, crumbled cookies, cinnamon, and ½ cup of breadcrumbs. Mix gently all ingredients.
Preheat oven to 360°F.
Place a big piece of parchment paper on your working surface. Place the dough ball on the paper. Lightly dust your rolling pin with flour and roll out the dough into a very thin rectangle that should be slightly longer than your baking tray.
Sprinkle the remainder (1/4 cup) of the breadcrumbs on top of the rolled dough. Arrange the apple mixture in a long mound along the side that's closer to you. Roll the strudel, helping yourself with the parchment paper: lift the paper from the smaller long side, and fold dough onto the mixture. You can either decide to keep rolling one side or fold the other side on top of the mixture, over the other rolled side....whichever is easier for you.
Cut off excess dough from ends and fold them in to seal the strudel. Lifting the parchment paper, transfer strudel onto a baking tray. Bake for 40 minutes, until the crust reaches a golden color.
Strudel is best served at room temperature with a bit of vanilla sauce.
Notes
"Plain cookies" are basic generic cookies usually made of butter, egg, flour, and sugar. In Italy we simply call them "biscotti" and we usually eat them for breakfast. You could also use other kinds of cookies as long as they don't feature fancy fillings or ingredients.