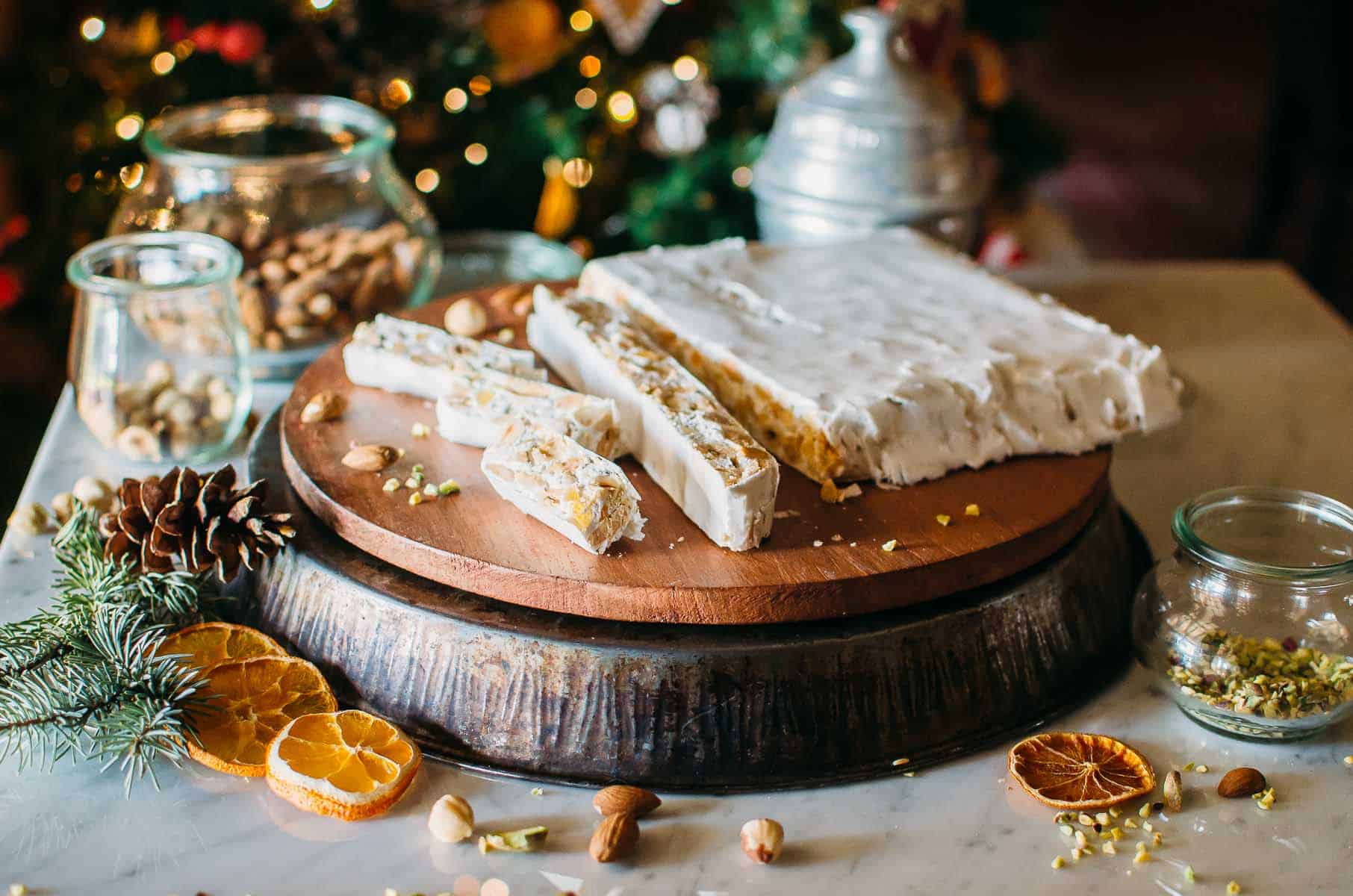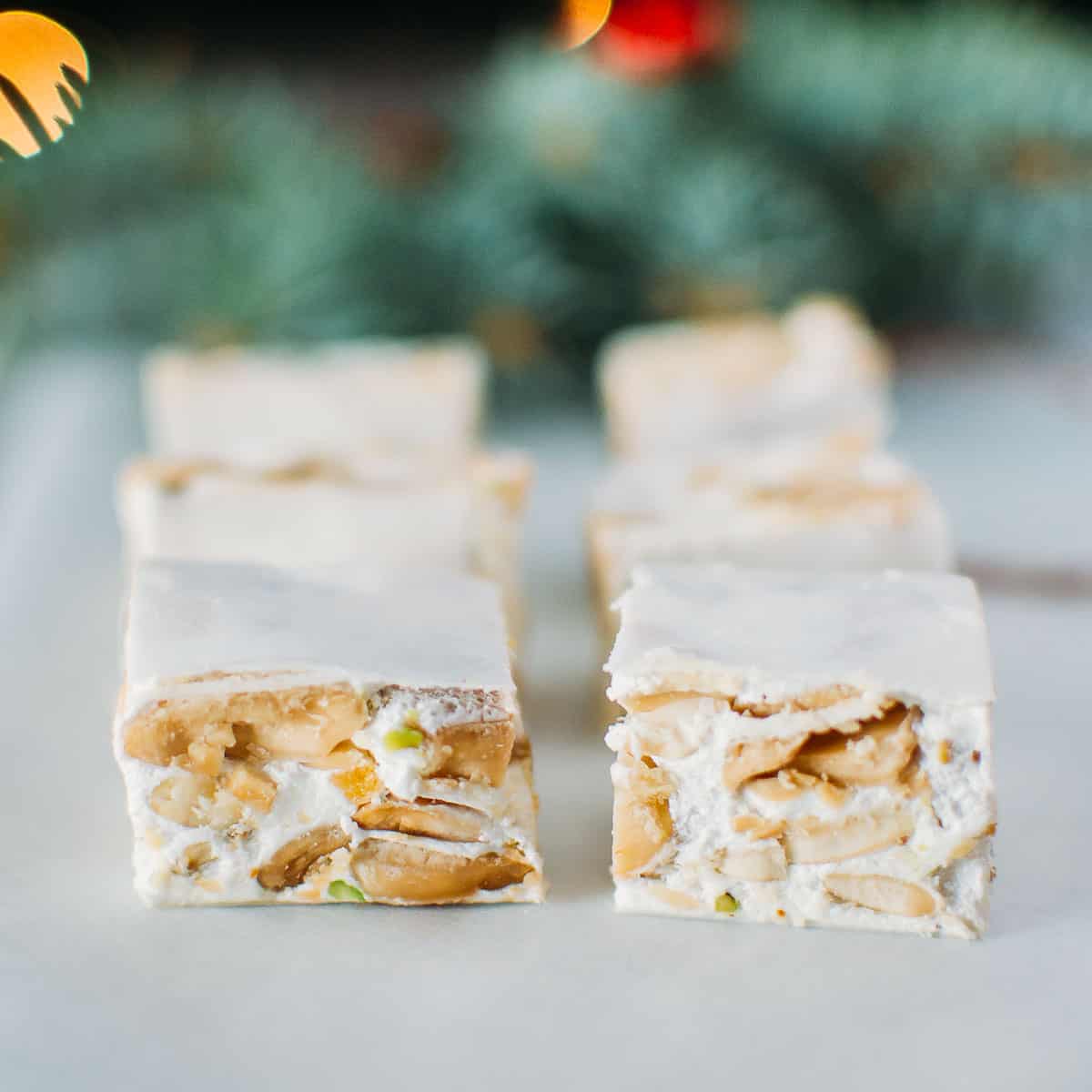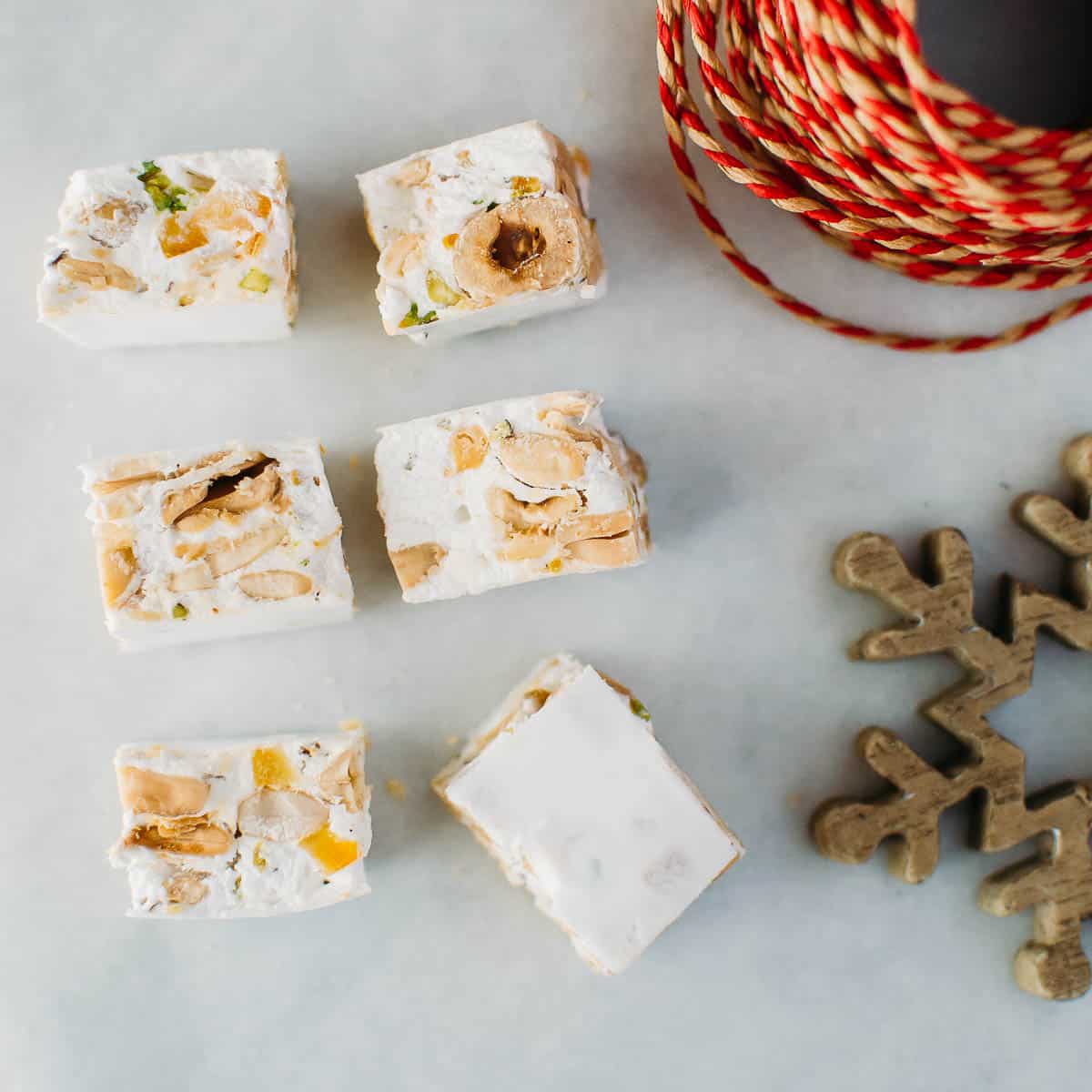 For those who haven't experienced torrone before, you are in for a treat.Torrone is SUPER yummy and definitely one of the most traditional Christmas treats in Italy.  It wouldn't feel like Christmas, if we didn't finish dinner cutting a big bar of torrone into small pieces so the whole family could enjoy it. When I was a kid, I regularly found a bunch of delicious little torrone bars (torroncini) in my Christmas stocking along with chocolate coins wrapped in golden foil and a pack of cigarette-shaped chocolate candies (…so wrong, I know).
Torrone is pretty much a white nougat, i.e. a mixture of honey, sugar, whipped egg whites and toasted nuts, all held together by sheets of flavorless wafer paper. It can vary in consistency, shape, thickness, and flavor. This recipe is for a soft and chewy torrone — it's loaded with toasted almonds, hazelnuts, and pistachios, with small bits of candied orange.
Although making torrone may seem intimidating, I wouldn't say this recipe is extremely difficult. You just have to be precise and carefully follow the instructions (there are a couple of steps that need to happen in a very sequential way). If you can't find edible wafer papers at your local specialty store, you can easily order them online.
I really think torrone should be an all-year treat. It's too good to reserve it just for the holidays!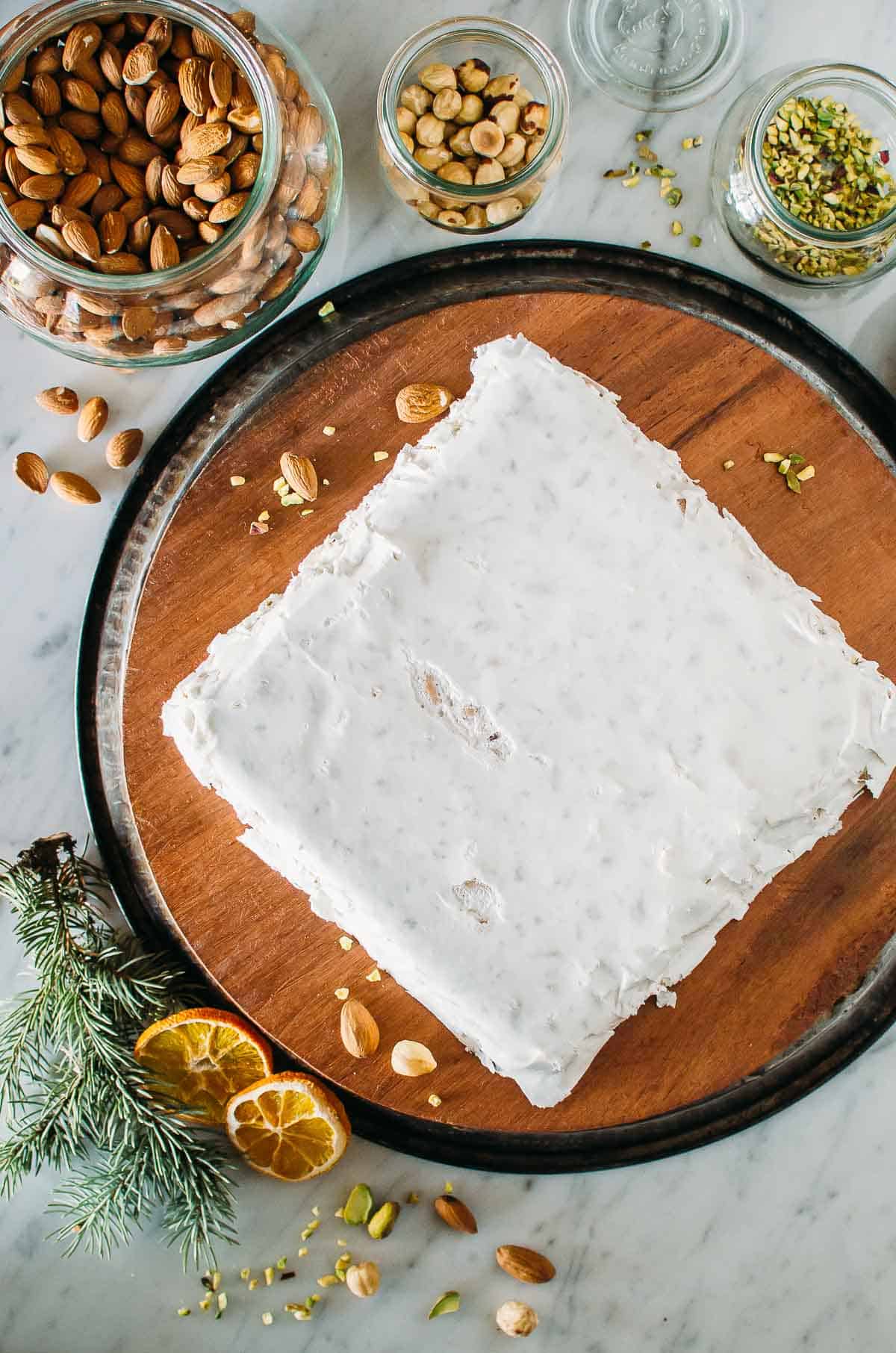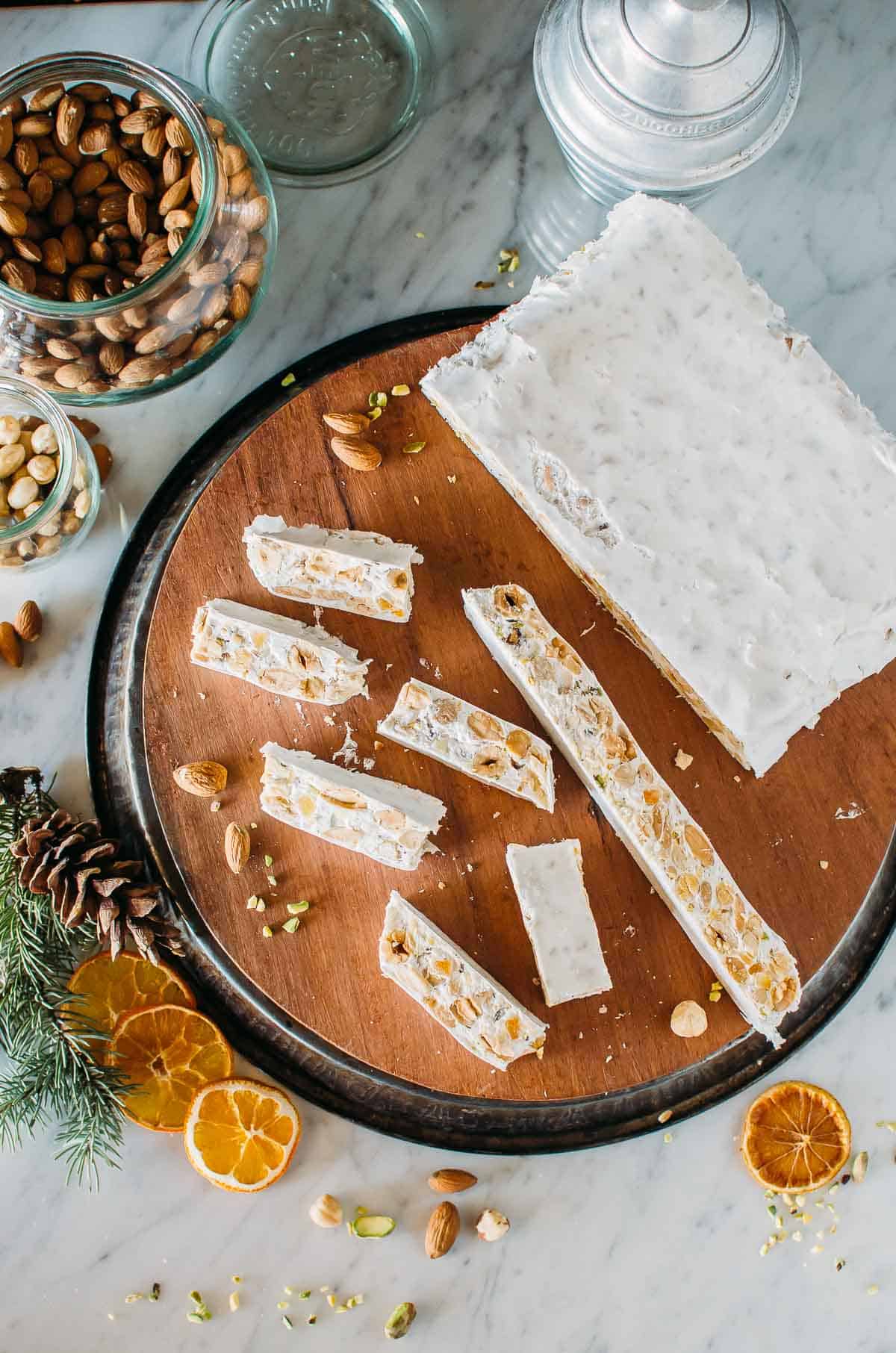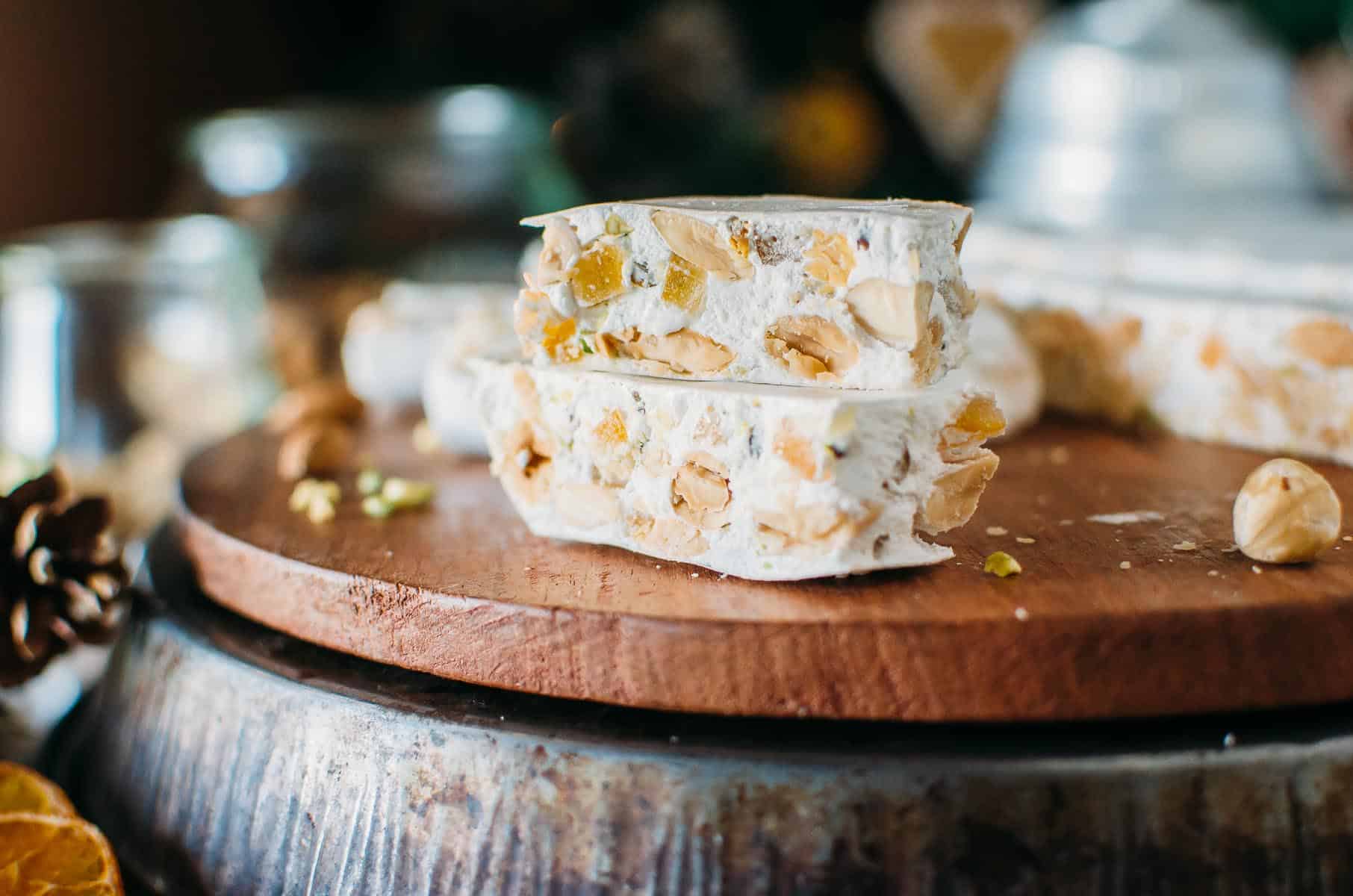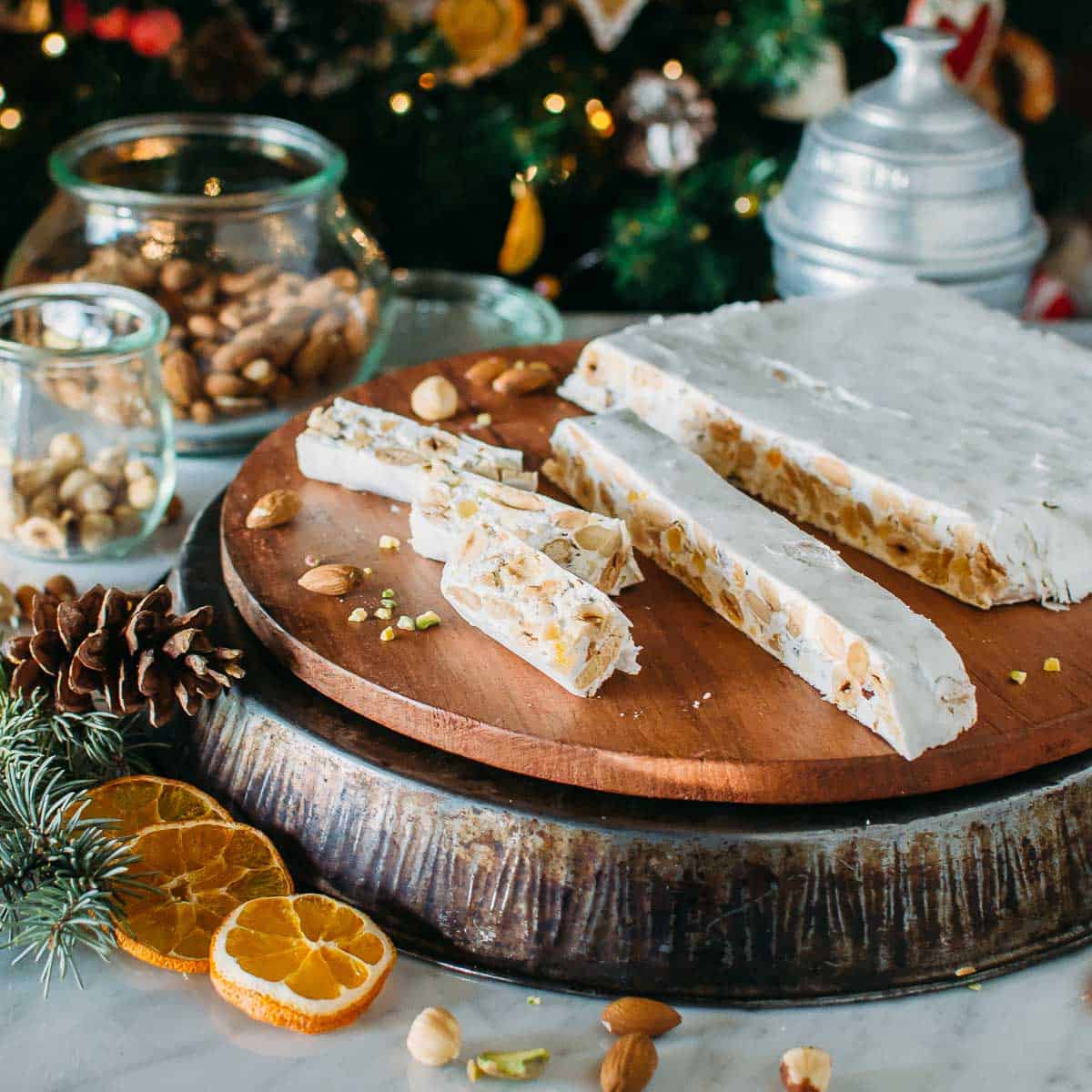 Soft Torrone: Italian Christmas Nougat Candy [ Torrone Morbido ]
Necessary equipment: digital scale, digital candy thermometer (even better if you have two), 8x8 inch deep baking dish or pan. If you don't have a stand mixer, have somebody help you.
Ingredients
200 g granulated sugar
67 g water
17 g liquid glucose
133 g mild honey
33 g egg white (that's about 1 egg)
17 g sugar
55 g candied orange peel, chopped finely
222 g almonds, peeled
90 g hazelnuts, peeled
40 g pistachio, peeled
2 or 3 sheets of edible wafer paper
Instructions
Lightly oil the pan and line the bottom and the sides with wafer paper, previously trimmed to fit.
Turn oven to 360°F (180°C). Place hazelnuts, almonds and pistachios on a baking tray and bake until toasted (about 15 minutes). Open the oven door to release a good amount of heat and then close it again (the toasted nuts need to be hot when they're added to the final mixture)
Combine 200 g sugar with water and glucose in a small pot and place over heat, to make the syrup. (You'll eventually have to bring it to 291°F/144°C).
In the meanwhile, pour honey into another small pot and place over stove, without turning the heat on.
Using a stand mixer, start whipping egg whites, and then add 17 g of sugar. Leave the mixer on as you proceed to the next steps.
When the syrup (sugar/water/glucose) has reached a temperature of 240°F (116°C), turn on the heat under the pot containing the honey. When the honey registers 255°F (124°C), pour it into the bowl containing the egg whites as the mixer is whipping.
By the time you have poured the honey into the egg whites mixture, the syrup should have reached 291°F (144°C). Pour it immediately into the stand mixer bowl while it's whipping. When it's all blended, turn mixer off.
[Execute the following steps very quickly as the torrone will harden fast]Take toasted nuts out the oven and add them into the mixing bowl while they're hot. Mix the mass using a wooden spoon for few seconds. Pour immediately into your pan lined with wafer paper. Using a spatula lightly greased with oil, distribute the mixture evenly across the pan. The ideal height of the torrone is about 1 inch. On top add another layer of wafer paper and use another tray to push down and ensure an even surface.
Let cool completely. You could glaze with melted dark chocolate, if you like.
To serve, cut into small bars.
Notes
Since a good amount of precision is needed for this recipe, I left all measurements in grams. If you have a digital scale you can easily switch from oz to grams.
Since you need to check the temperature of two different ingredients (which are both quite sticky), using 2 thermometers is ideal. I used one, but it's a bit of a pain cleaning it each time I switched pot.
Torrone keeps in an airtight container in a dry place at cool room temperature 2 weeks.
Did you make this Soft Torrone recipe?
Please leave a comment and let me know how it turned out for you! Also, don't forget to share a picture on Instagram with the hashtag #veryeatalian!