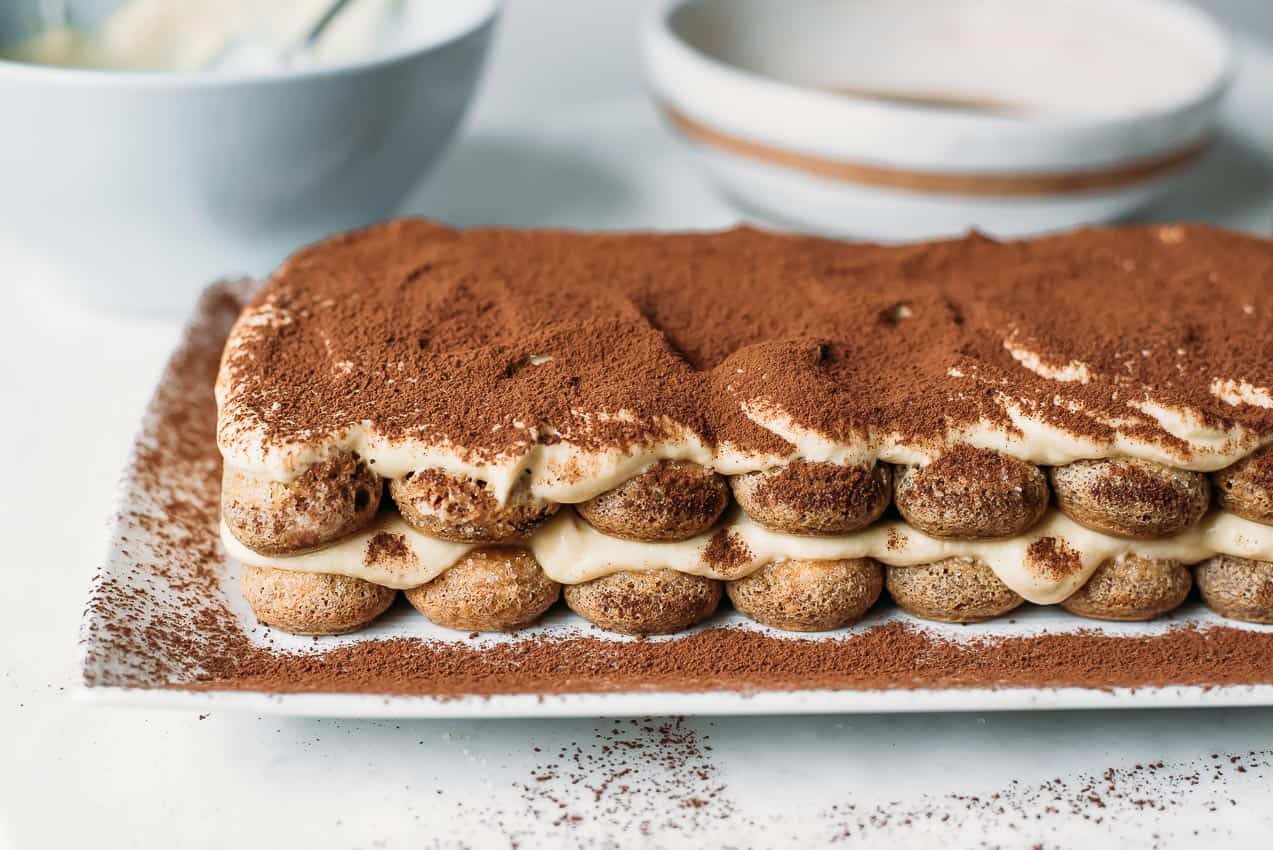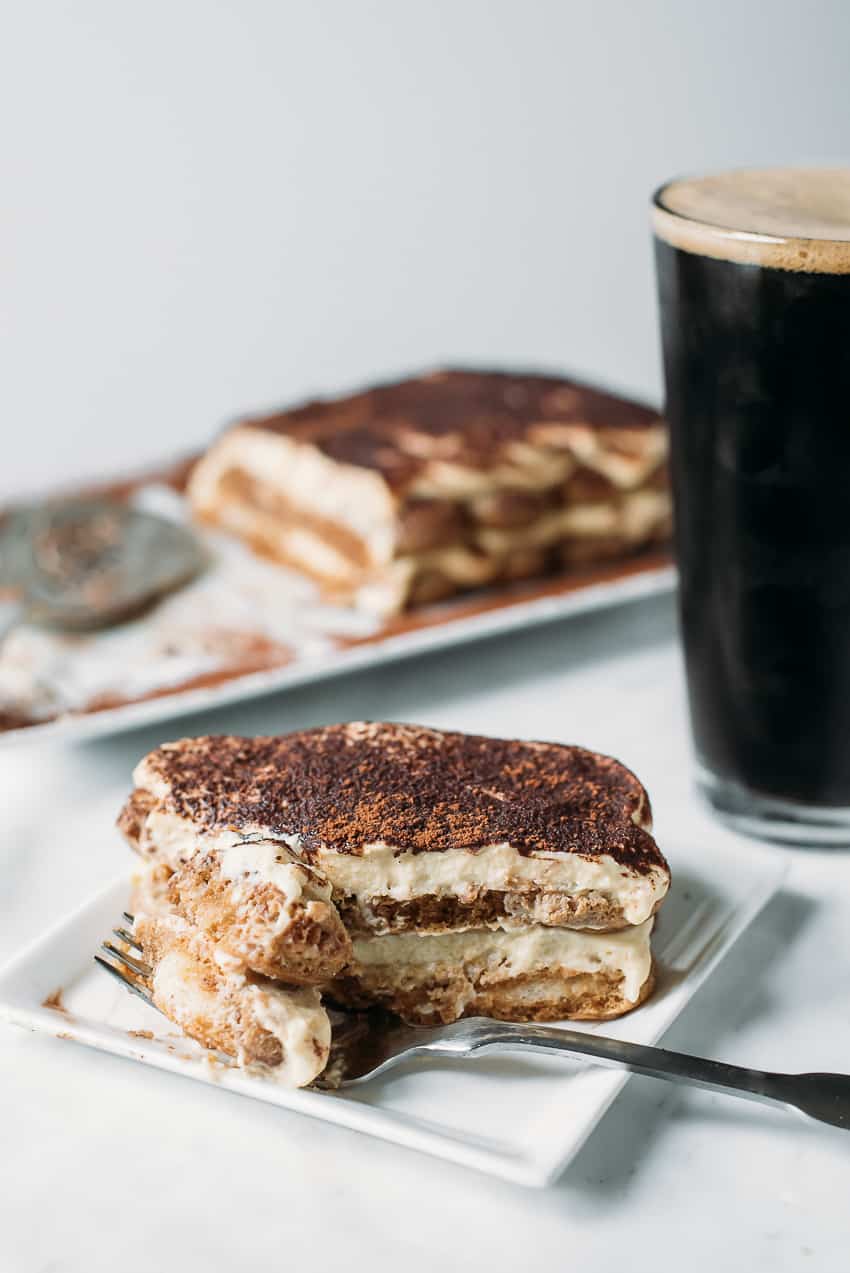 As my little Italian tribute to Oktoberfest, I managed to put some fine dark beer in the most iconic of all Italian desserts: tiramisu'!
…and what do you get when you use BEER to make TIRAMISU? An unconventional, aromatic, delizioso BEER-AMISU'!
Does it sound crazy? Not really. Back in Italy, this interesting take on the traditional Italian trifle is actually well known and it's definitely something beer lovers get a kick out of. As you may imagine, the most important part of this recipe was choosing the right beer that would go well with coffee. I didn't have to look too far because the very Alexandrian award-winning Port City Brewing Company, had the kind of dark beer I was looking for: a robust Porter featuring bittersweet chocolate and roasted coffee notes. PERFECT!! (…even if not so Oktoberfest-ish!)  If you get the chance to get a hold of their Porter, make sure you grab more than this recipe calls for, because, rest assured, you'll definitely want to enjoy it separately (it won the silver medal in its category at the 2015 Great American Beer Festival!).
In beeramisu', you'll be able to pick the aromatic beer notes from the insanely delicious beer-flavored zabaglione, and the mixture of coffee & beer in which the savoiardi cookies are briefly dipped. Believe me, it's way more delicate than you can imagine.
I warn you, like for any tiramisu', the dipping part is the trickiest: it has to be quick…but not too quick (1 to 2 seconds usually work for me)! You want the cookie to be soft and absorb just the right amount of liquid. A good way to do this is trying out a few cookies before you commit to the first layer: the center of the cookie should remain lightly colored and it should definitely hold its texture! Be aware that a hot or warm soaking mixture will make your cookie become soft super quickly.  
Bottom line: no mushy or cakey beeramisu', PLEASE.
It's recipe time now. Cheers! Or even better…Ein Prosit!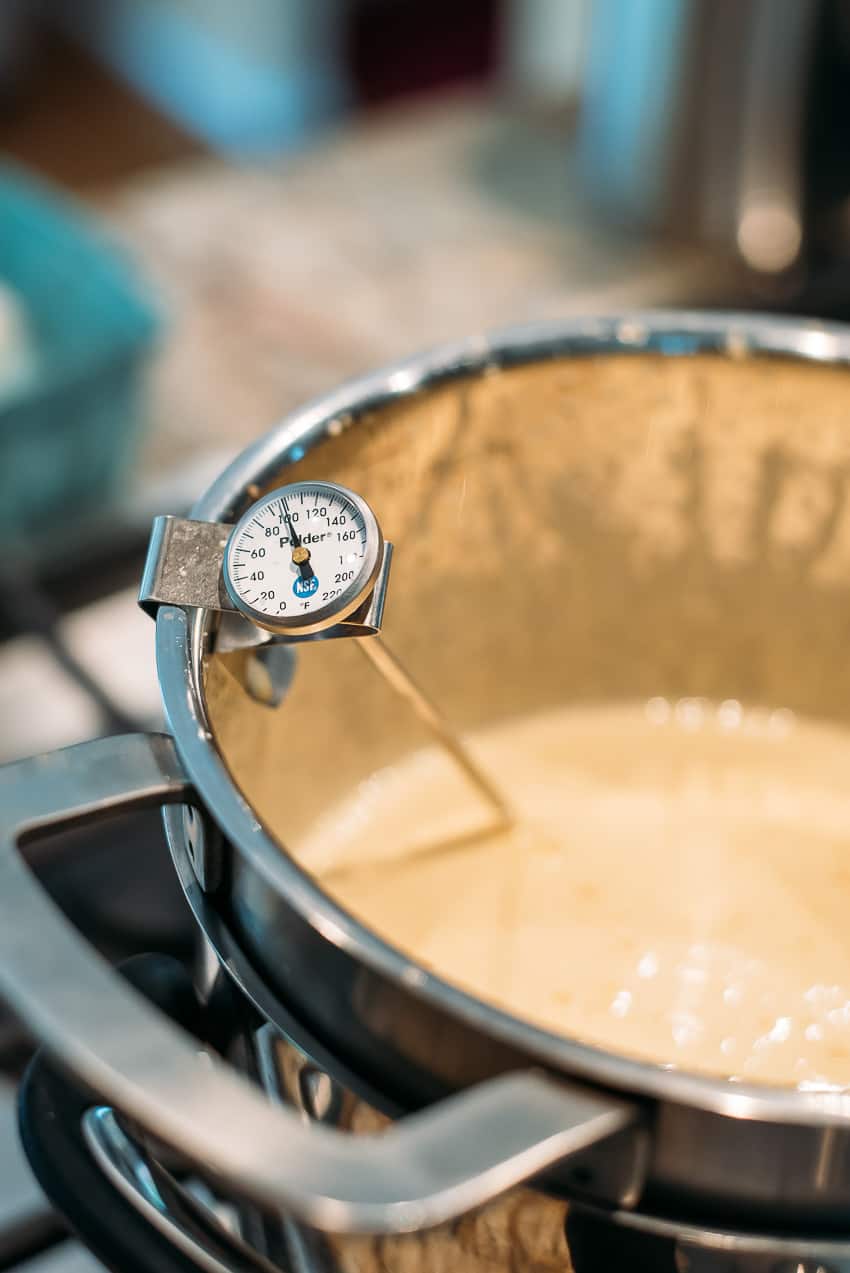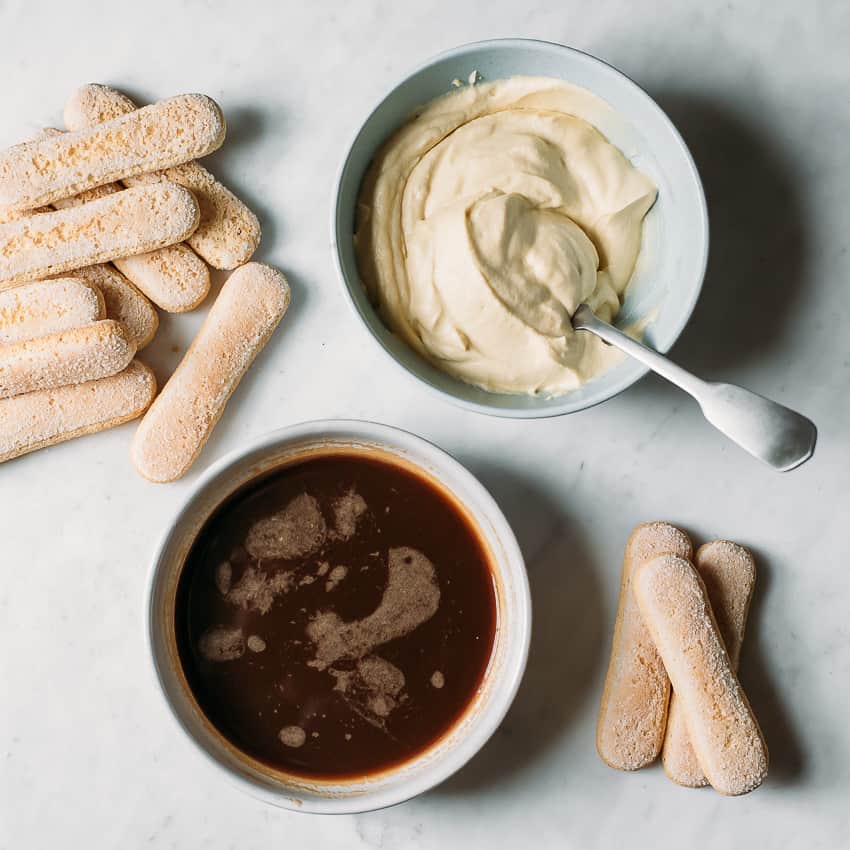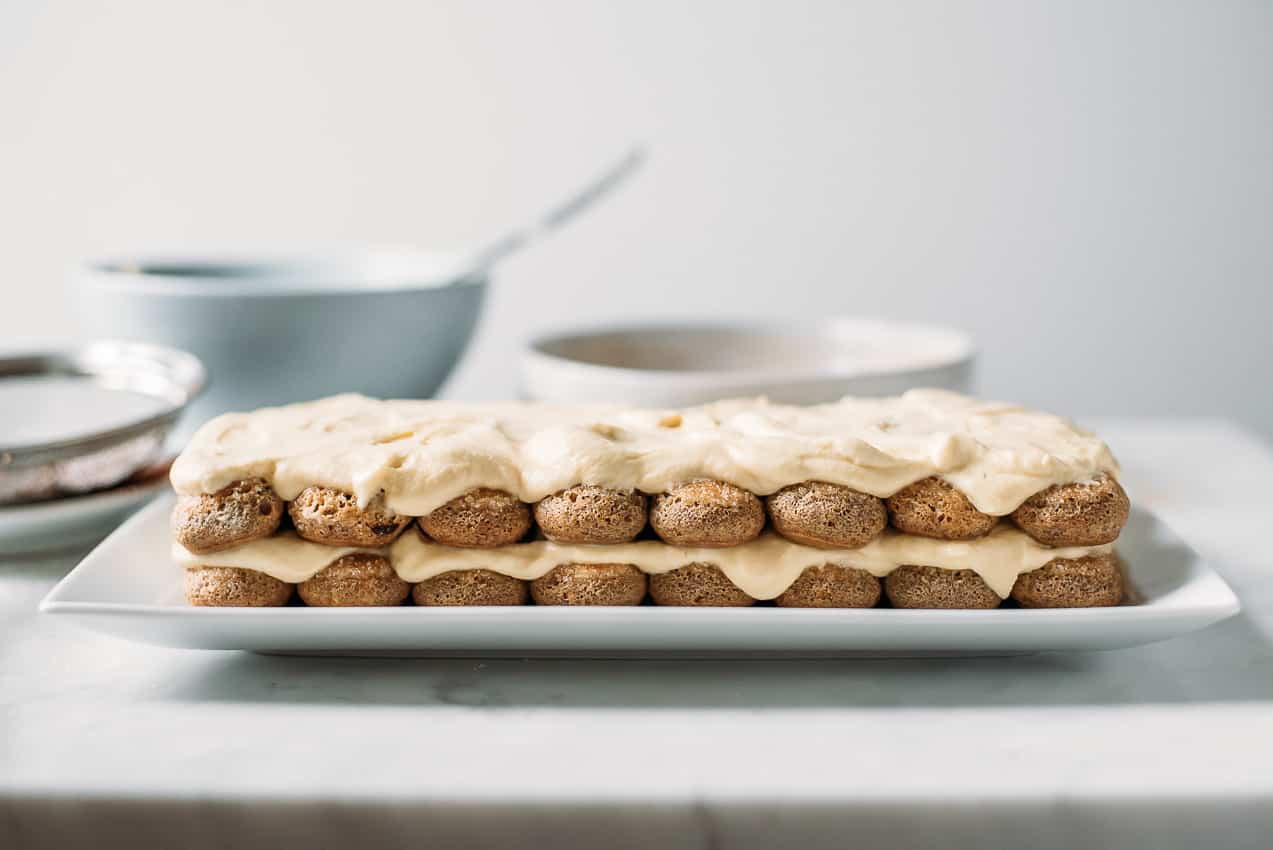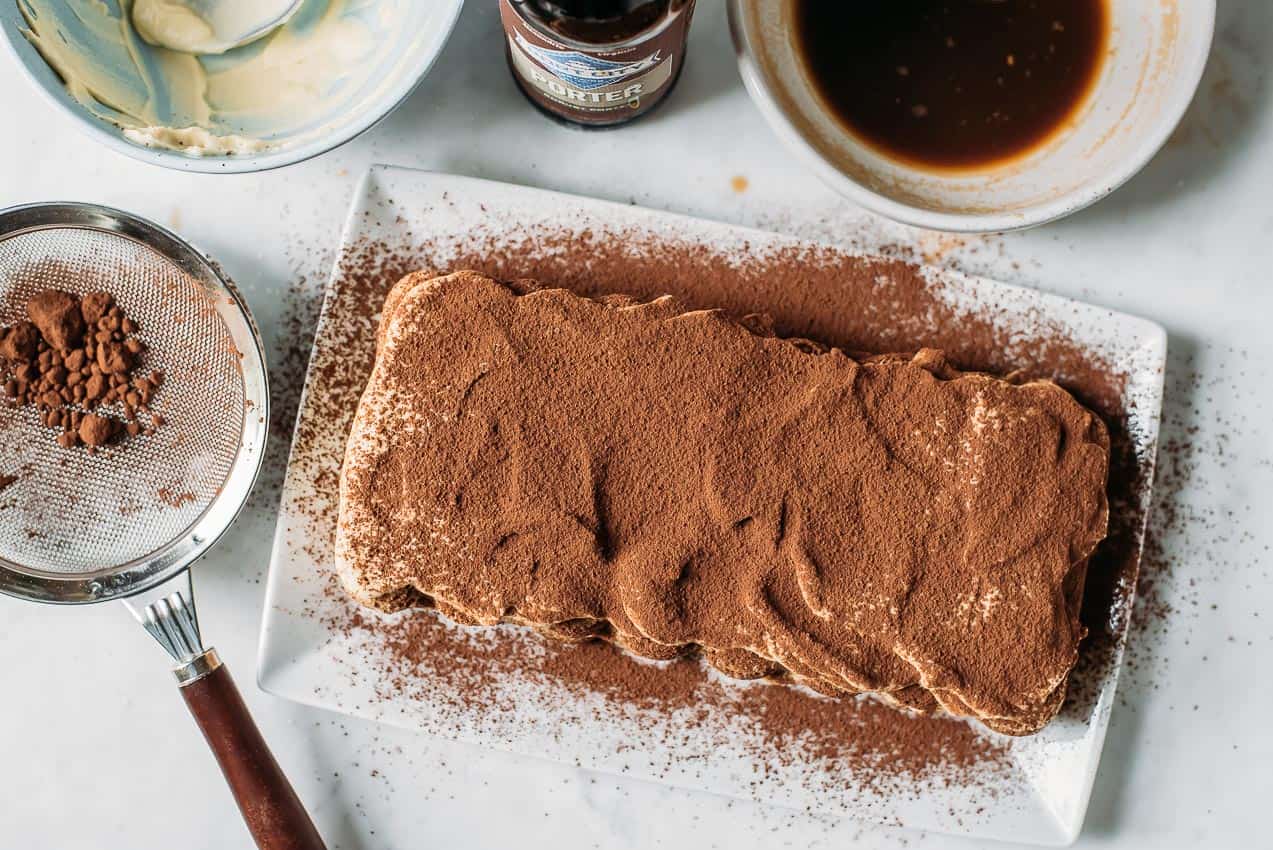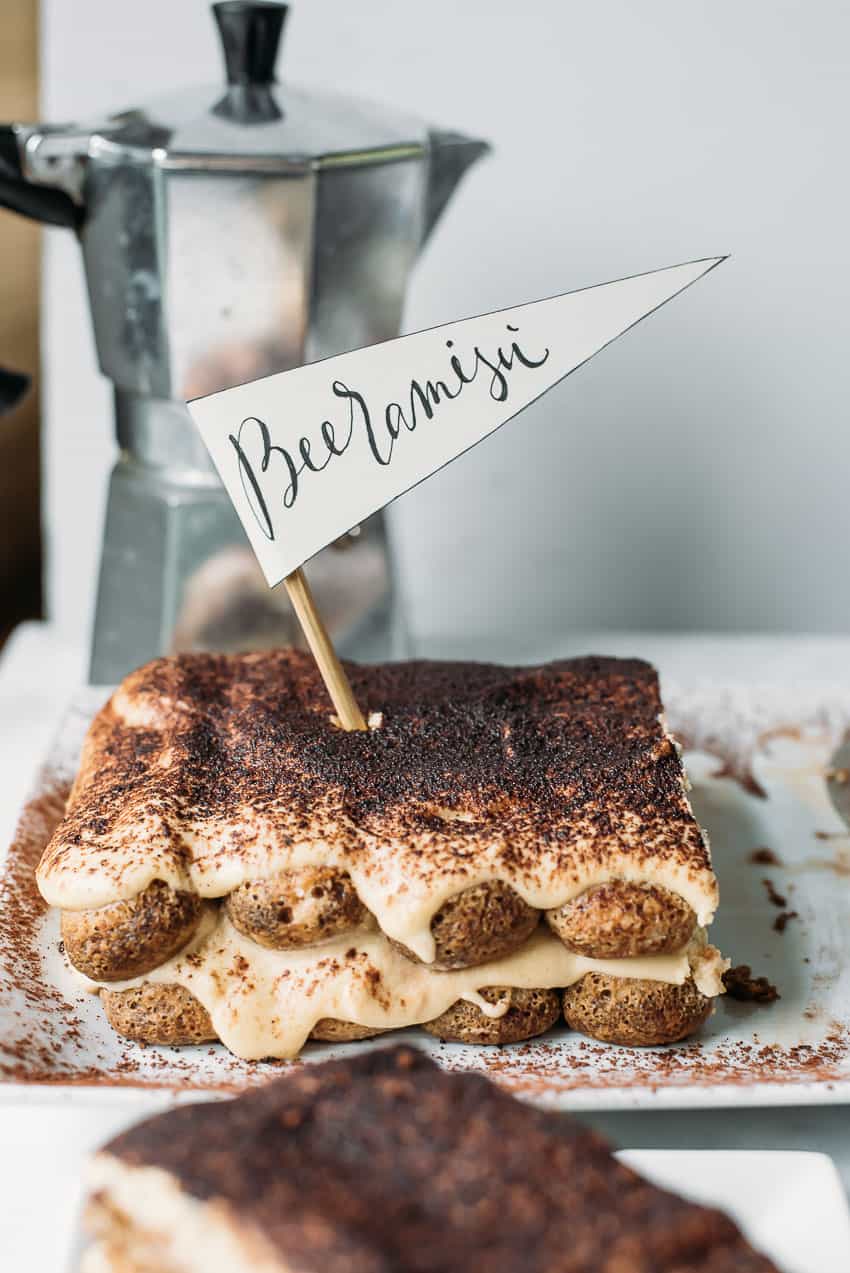 Beeramisu (Birramisu')
Equipment: electric mixer, digital thermometer, double boiler, espresso maker (or moka machine)
Ingredients
120 ml (1/2 cup) heavy cream, cold
100 ml espresso or moka coffee
25 g (2 Tbsp) + 70 g (6 Tbsp) granulated sugar
3 egg yolks
100 ml (1/2 cup) + 30 ml (2 Tbsp) Porter beer
150 g (2/3 cup) mascarpone cheese, room temperature
140 g (16 cookies) savoiardi cookies (aka ladyfingers)
Cocoa powder
Instructions
First off, whip the heavy cream to stiff peaks and refrigerate until ready to use.
Brew your espresso (I used my Moka machine) and dissolve 25 g (2 Tbsp) of sugar in it. Set aside.

Beer Zabaglione
Using an electric mixer, whip the eggs with the sugar for about 5 minutes, until you obtain a smooth and thicker cream. Add 30 ml (2 Tbsp) of beer to the cream and whip for 2 more minutes.
Bring a double boiler to a boil and turn heat to low. Place your egg/sugar/beer mixture in your double boiler. Turn heat to low and, using a whisk, continuously whip the mixture. After 7-10 minutes of gentle cooking and continuous whisking, check the temperature with a digital thermometer. When it registers 145 F (62 C) and it turns into a thick and frothy cream that holds a ribbon, your beer zabaglione is ready. Be sure not to over cook it! Set aside and let it cool down.

Beeramisu Cream
Give your mascarpone cheese a couple of stirs to loosen it a bit, then add it to the pot containing your beer zabaglione. Mix well with a whisk until all lumps are gone.
Fold in your whipped cream. Mix well, cover and refrigerate.

Coffee/Beer mixture
Pour 100 ml (1/2 cup) of beer in a small pot and bring to a boil. Cook for 1 minute to let the alcohol evaporate. Add to bowl containing the coffee/sugar mixture you previously prepared.

Final Assembly
Quickly dip savoiardi cookies (ladyfingers), one at a time, in the coffee/beer mixture and place them side by side on a rectangular dish or tray. This is a very delicate step: you want your cookies to get enough liquid but not become too mushy.
Once you finish the first layer, spread ½ of beeramisu' cream on top. Repeat again with another layer of soaked cookies and top with the rest of the beeramisu' cream.
Dust with cocoa powder and refrigerate for at least 4-5 hours before serving! It's even better if you let it rest a night in the fridge.