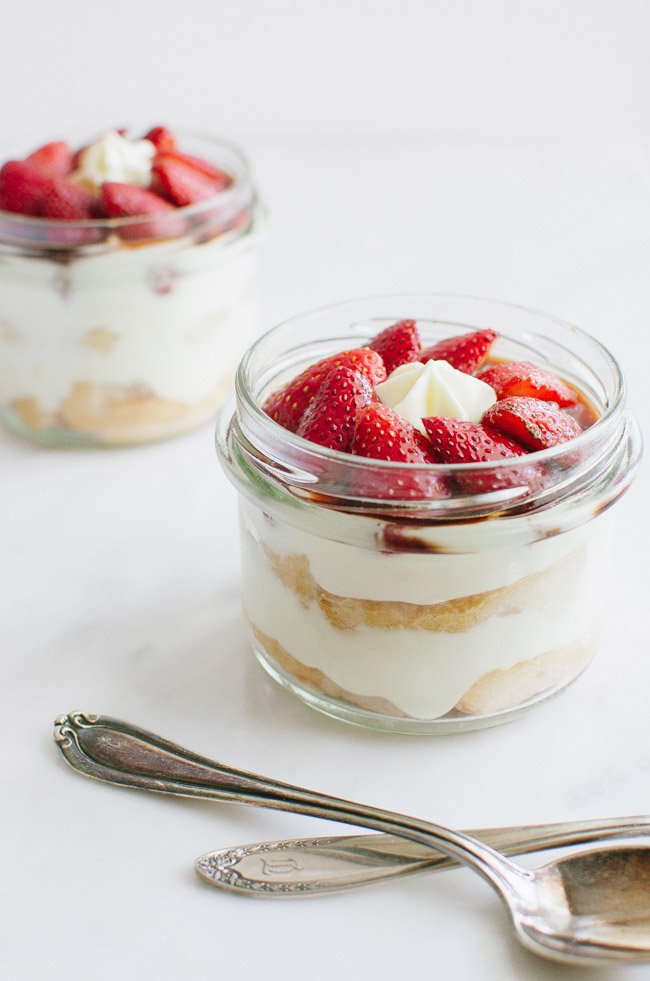 Today's post is short and sweet. It's especially sweet because I made this strawberry tiramisù to celebrate Mother's Day.
I left Italy almost a year ago and not a day has gone by that my mom and I haven't talked to each other. She's the sweetest, wisest, strongest, and most positive person I've ever known…and I love her with all my heart.
Ti voglio bene, mamma.
Strawberry Tiramisu
Serves:
2-3 people (three 8 oz-jars or 2 small bowls)
Ingredients
1 egg yolk
2 Tbsp sugar (+ 3 tsp divided)
4 oz mascarpone cheese
½ cup heavy cream
10-12 savoiardi cookies
¾ cup orange juice
3-4 strawberries, juiced
12 small strawberries, halved and stems removed
1 drizzle of balsamic glaze
¼ lemon, juiced
Instructions
In a small bowl, mix together the halved strawberries, the juice of ¼ lemon, 2 tsp of sugar, and a drizzle of balsamic glaze. Mix well until sugar is dissolved. Cover with plastic wrap and refrigerate.
In another bowl, beat the egg yolk and 2 Tbsp of sugar with a handheld mixer or with a whisk, until you obtain a thick, smooth cream. Add in the mascarpone cheese and gently mix with a spoon until all lumps disappear.
Whip the heavy cream in a separate container to stiff peaks. Gently fold the whipped cream into the egg/sugar mixture, carefully stirring with a spatula. [Tip: If the cream is too thin, cover it and refrigerate it until it becomes firmer]
In a separate small bowl or deep dish, pour the orange juice, 1 teaspoon of sugar, and the juice of 3 strawberries (you can juice them by pressing them against a strainer). Mix well, until sugar is dissolved.
Break the cookies in small pieces to form a layer that fits inside your jar or bowl. Before forming a layer, dip each piece of cookie in the juice mixture for about 3-4 seconds (smaller pieces will require less time!). The soaked cookie shouldn't be too dry or too soggy. Form a layer by arranging each piece of cookie side by side, without leaving any gap in between.
Pour a layer of the cream mixture on top, alternating with another layer of cookies dipped in juice. The final layer of the tiramisù should be cream.
Arrange the balsamic-glazed strawberries on top. Cover the tiramisù with plastic wrap and refrigerate it for 2-3 hours. Eat within two days.
Notes
If you prefer, you can replace the orange juice with milk.

You can easily double or triple this recipe and use a more traditional baking dish, instead of jars or bowls.

The traditional tiramisù contains raw eggs. Use only fresh and clean eggs with intact shells and avoid any contact between the yolk and the shell.