I'm a firm believer there's only one pizza deserving of the name: a light, thin-crust pizza topped with just enough quality ingredients. No fancy deep dish pie, with cheese-filled crust or multi-layered toppings can compare to the wonderful, simple, and tasty delight of a traditional Italian pizza.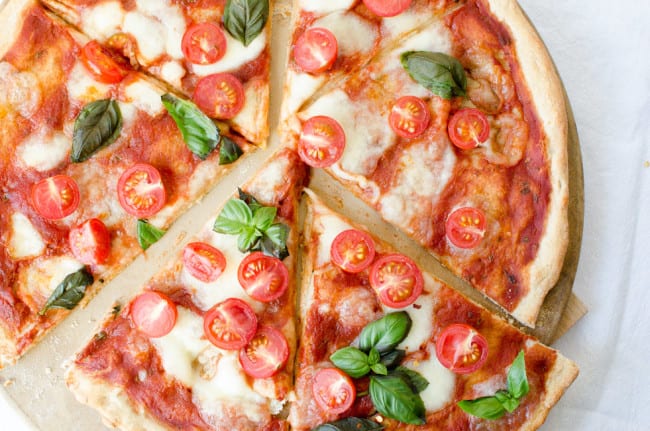 Now that you know how particular I am about this Italian "sacred food", you'll also be able to understand how frustrating it was for me to find a legitimate pizza once I left Italy. When my husband and I arrived here, we initially tried a couple of  restaurants claiming to serve the real Italian-style pizza. After tasting entirely burnt crusts and too-plastic-to-be-real-mozzarella, I decided it was just time to improve my own home-made pizza recipe.
Believe it or not, even for the average Italian home cook it's quite hard to achieve a crust similar to the one you'd taste at a pizzeria–one with a great wood oven to give the crust incredible flavor and texture. Unfortunately, I'm a regular person with a regular kitchen…and no plans for installing a commercial pizza oven. However, after a bit of research and a couple of adjustments, I think I've managed to achieve a pretty legit home-style pizza.
There are a few tricks you need to know and I included them in the recipe below. I didn't bother adding a bunch of toppings; for good pizza you just need a couple of high-quality ingredients. The key is keeping it simple!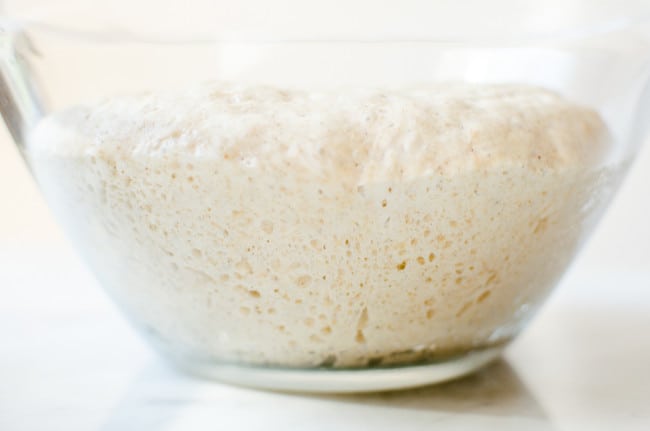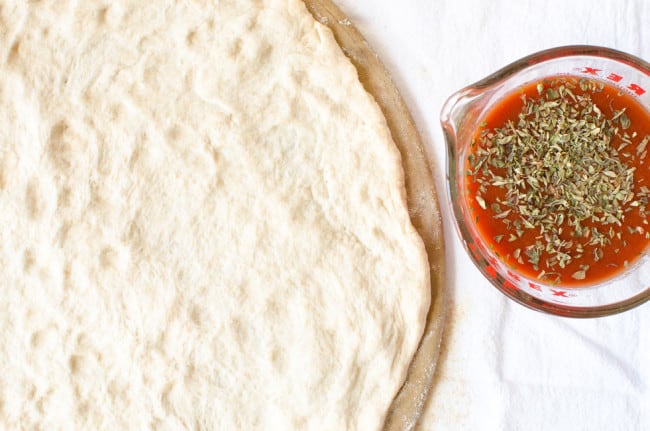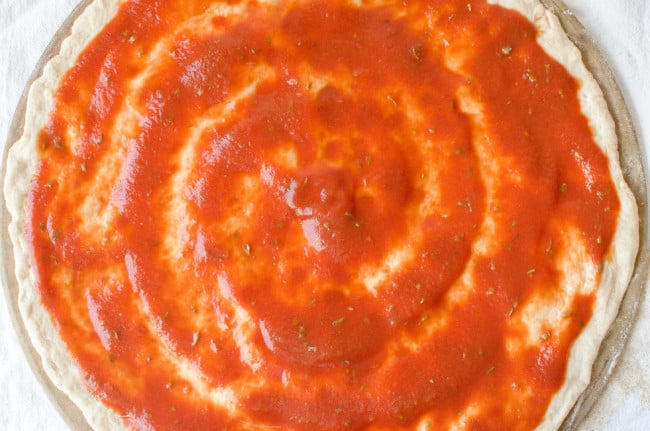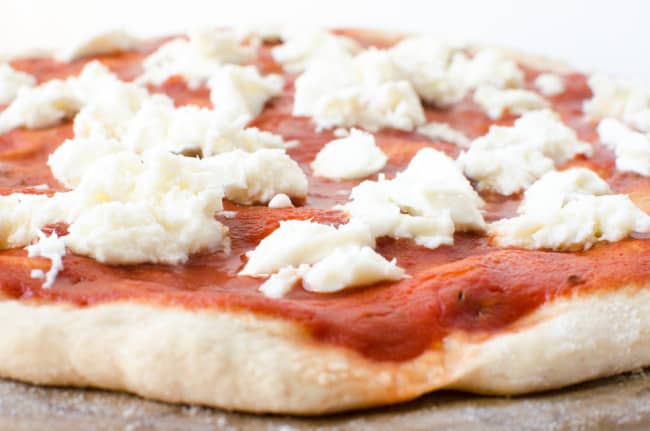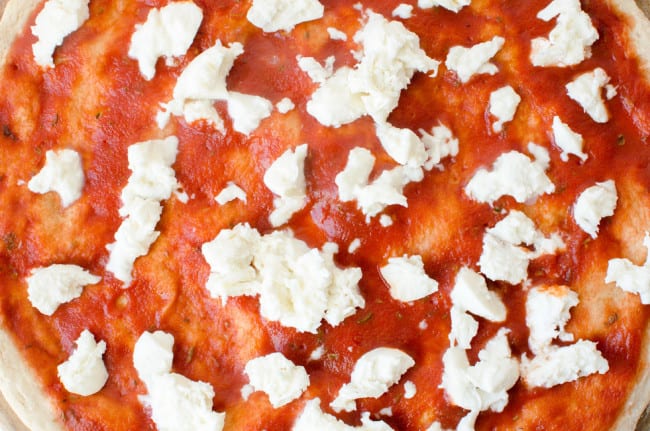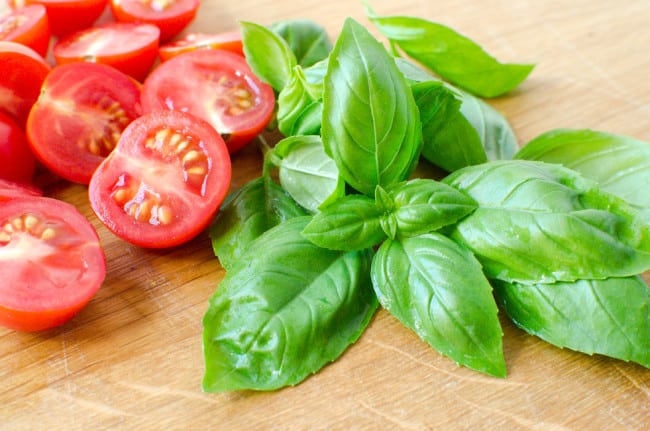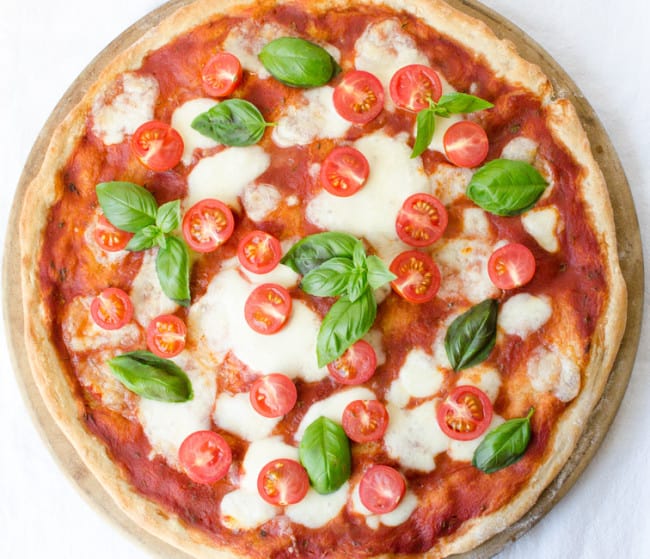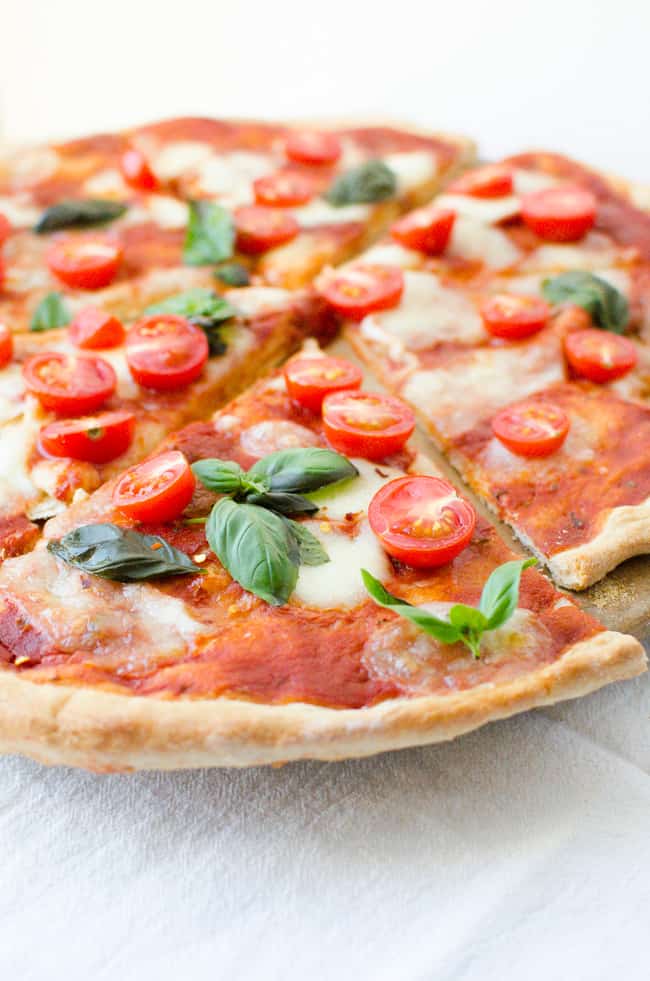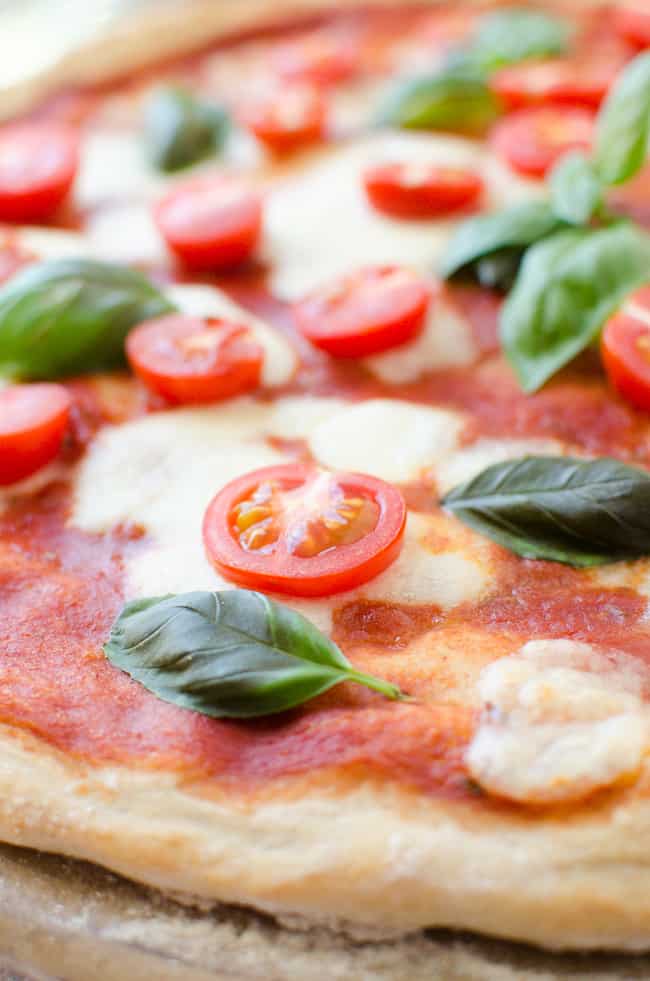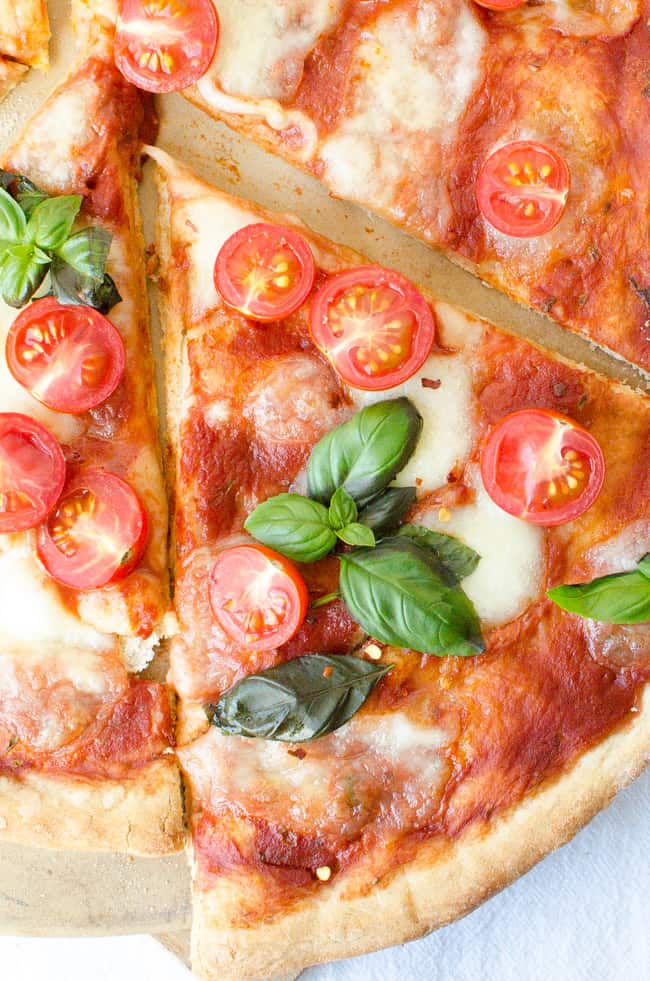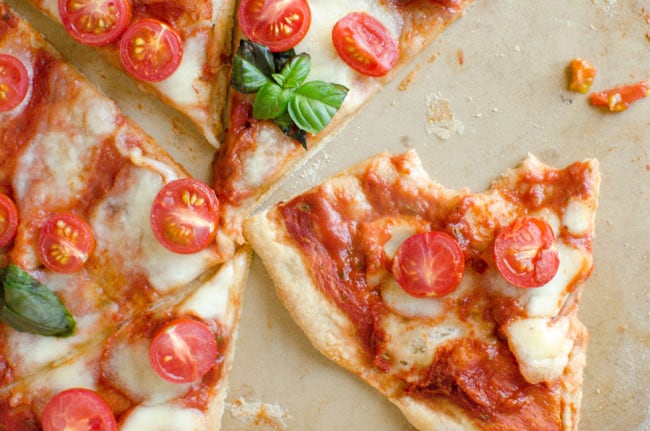 PIZZA MARGHERITA WITH CHERRY TOMATOES
Servings: 2 | Prep time: 20 min | Rest time: 2 hours | Bake time: 16 min
NOTE: In this recipe I used two different types of flour. You can use just one, as long as you keep the  same ratio of flour/water (250 g/150 ml). Once again, I recommend using a digital scale to achieve best results!
Recommended equipment: 15″ pizza stone
INGREDIENTS
200 g (7 oz) finely milled Italian flour (Tipo "00") or all-purpose flour
50 g (1.8 oz) whole wheat flour
150 ml (5 oz) lukewarm water
3.5 gr (1/2 packet) active dry yeast
1 tsp sugar
1/2 tsp salt + 1/2 tsp salt for the sauce
200 ml (6.7 oz) unsalted strained tomatoes — the best quality you can find
a sprinkle of dry oregano
200 g (7 oz) mozzarella cheese (ovoline or bocconcini), drained and shredded — the best quality you can find
10 cherry tomatoes, halved
10-12 basil leaves
INSTRUCTIONS
1. Dissolve yeast and sugar in a glass of lukewarm water. Sift the flour in a medium-sized bowl and add the yeast/water/sugar mixture in it. Work the dough with your hands and knead until all ingredients are well incorporated. Add salt.
2. Take the dough onto a clean work surface and start kneading until it reaches a soft, elastic, and smooth texture.  Take the dough and bang it on the work surface, about 6-7 times. Form the dough into a ball and place it in a bowl, covered with a clean dishtowel. Let it rest for 2 hours in a dry place.
3. While the dough is resting, prepare the tomato sauce by combining the strained tomatoes with 1/2 tsp of salt, 1 tsp of sugar and a sprinkle of oregano.
4. After the dough has rested, turn oven to 450°F. Dust the pizza stone generously with flour. Take the dough, form a small disk with your hands and start pulling out the sides, stretching it until it covers the whole pizza stone [don't overwork it!]
5. Spread the tomato sauce on the pizza dough with a spoon, leaving an edge for the crust. Bake for about 8 minutes.
6. Remove pizza from the oven, sprinkle the shredded mozzarella on top and bake pizza for 6 more minutes.
7. Remove from the oven and add cherry tomato halves, cut side-up. Bake for 2 more minutes, until the mozzarella is lightly brown-colored and the crust is golden.
8. Remove pizza from the oven. Add fresh basil leaves on top and let it sit for about 5 minutes before serving.
Buon appetito!
-Lisa