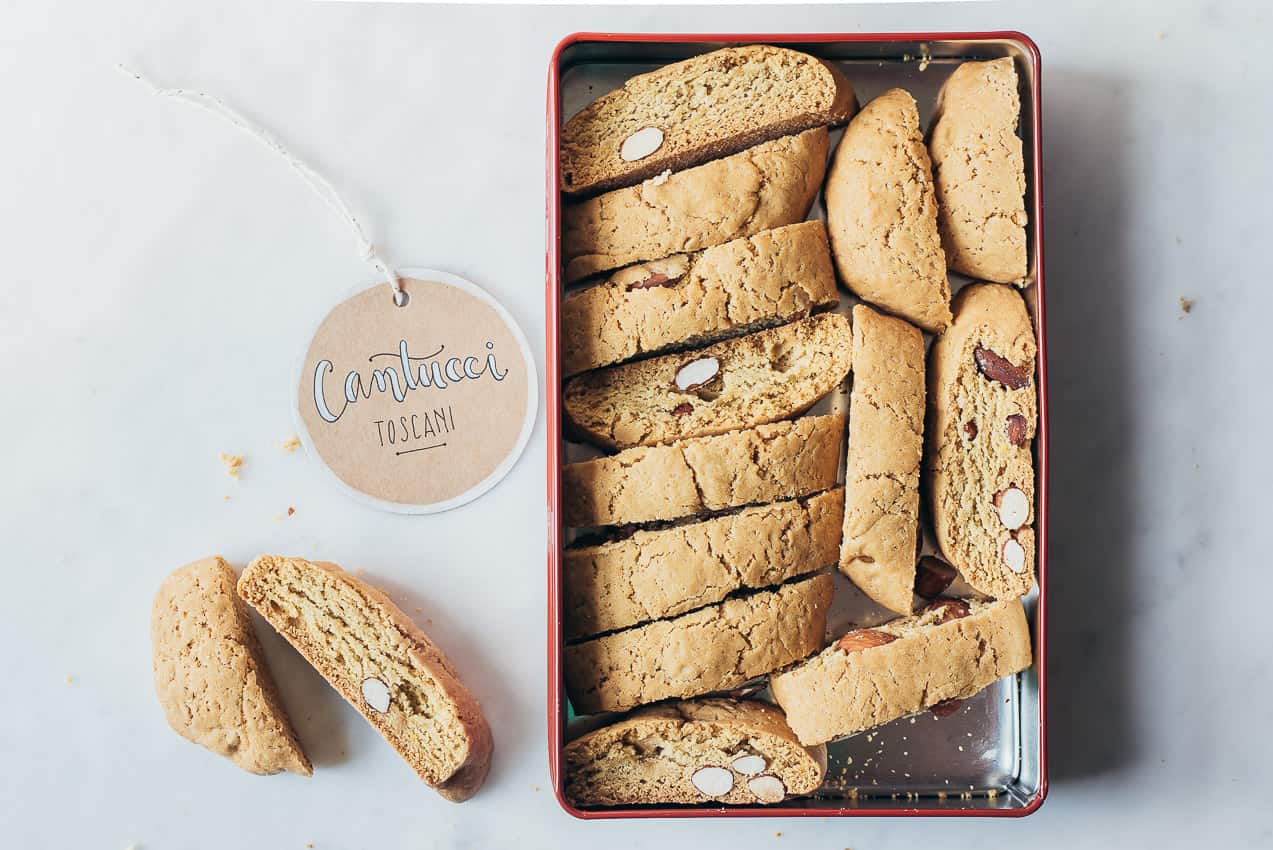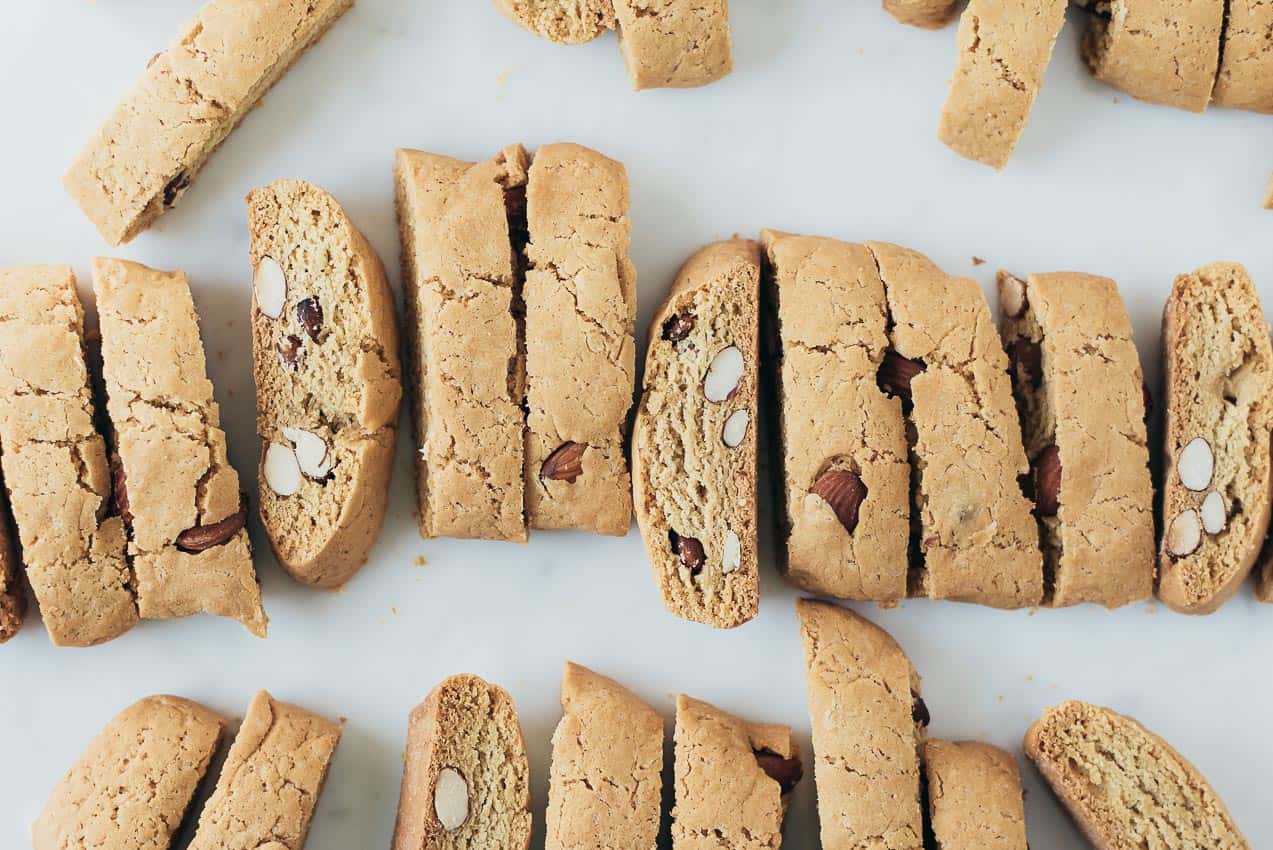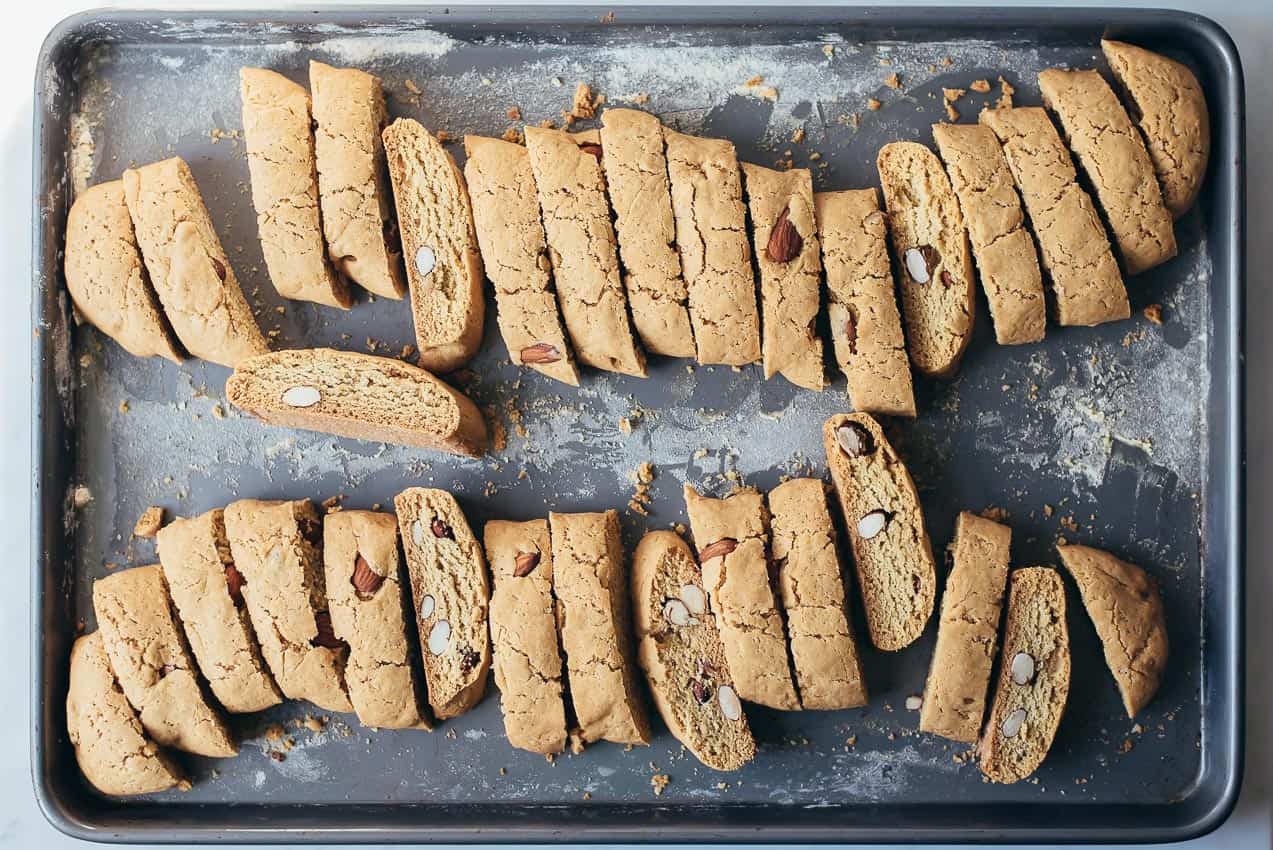 Isn't it amusing when a word changes its meaning when used in a different country or culture? I can't help but think of that GEICO spot that's been running on TV, with kids playing in a backyard pool yelling "Marco!" ,"Polo!", "Marco!", "Polo!"; the baffled Italian explorer, with his chest deep in the water and dressed in 13th century clothes, desperately tries to make himself noticed: "Ragazzi, sono io Marco Polo!".  When I first saw it on TV, I was confused just like poor Marco Polo. I was able to get the humor, only after my husband explained the game to me. Now, every time I see it, I crack up!
Just like I was completely oblivious of the fact that the name of an Italian explorer was used for a game here in the States, I had no idea the Italian generic word "biscotti" was used abroad to indicate what in Italy we call Cantucci, a specific kind of cookie. In Italian, the word "biscotti" simply means "cookies", i.e.: the general category of baked goods. Funny, right? Basically, the way English-speaking people use the word "biscotti" seems to be an unintended synecdoche for Italians. (Grammar geeks, correct me if I'm wrong). "Biscotti" also means "cooked twice" and refers to a baking technique that involves a "double-baking process" that yields crunchy and long-lasting baked goods.
When I lived in Italy, I'd hop on a train to Tuscany and savor the Cantucci right there, from local bakeries. If it wasn't during one of my trips, I'd get my Cantucci fix from my brother who frequently travels for work in that area and always brings home a bunch of Tuscan goods (ricciarelli, fiorentina steaks, black truffles, pici… just to name a few). Now that I'm thousands of miles away from Tuscany or my special supplier, I'm totally SOL and have no choice but to bake them myself!
There must be something like dozens of variations of these delicious crunchy cookies…I've seen them studded with different kinds of nuts or brightened up by colorful pieces of dried fruit. The original version simply features almonds. I was a little intimidated as they somewhat look difficult to make but I'm relieved to say "FEAR NOT"! I got this little, home-style recipe from one of my Tuscany cookbooks. I'm so glad I didn't leave it behind during my move overseas!
These cookies are a real masterpiece and their unique crunchiness softens up when it meets Vin Santo, a sweet Tuscan wine in which they're traditionally dipped. Since Vin Santo isn't easy to find around here, I dip my Cantucci in coffee — and they're equally delicious.
If you'd like to learn more about Cantucci, check out these links.
–> I love how Emiko writes how these cookies became the common language among her families.
–> Did you know eating Cantucci is an art that requires patience?
–> Read more history details behind Cantucci on Jul's blog.
–> Domenica's recipe for Cranberry Hazelnut Biscotti is definitely on my baking list this Thanksgiving.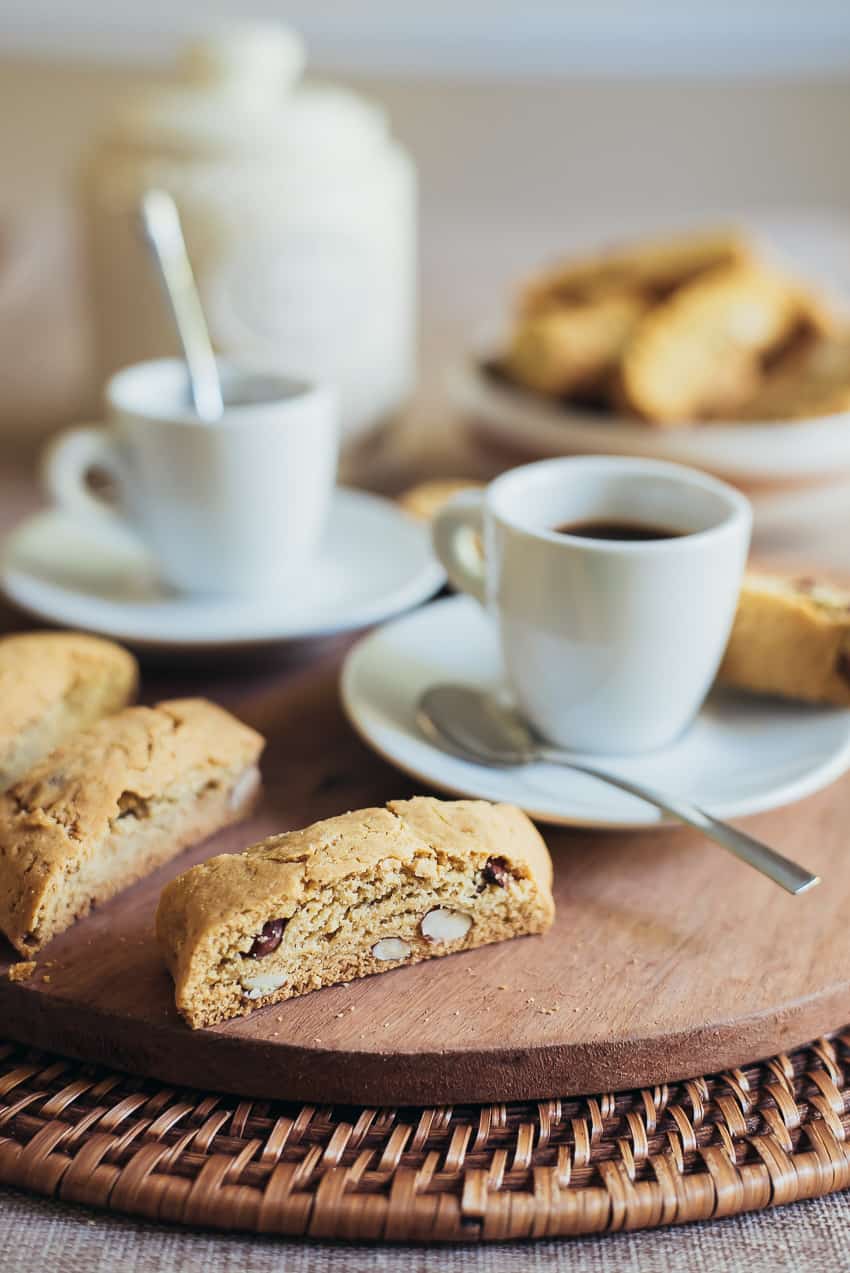 Here's a little cute bag of cantucci I prepared for my neighbor. Did I ever tell you I love hand lettering??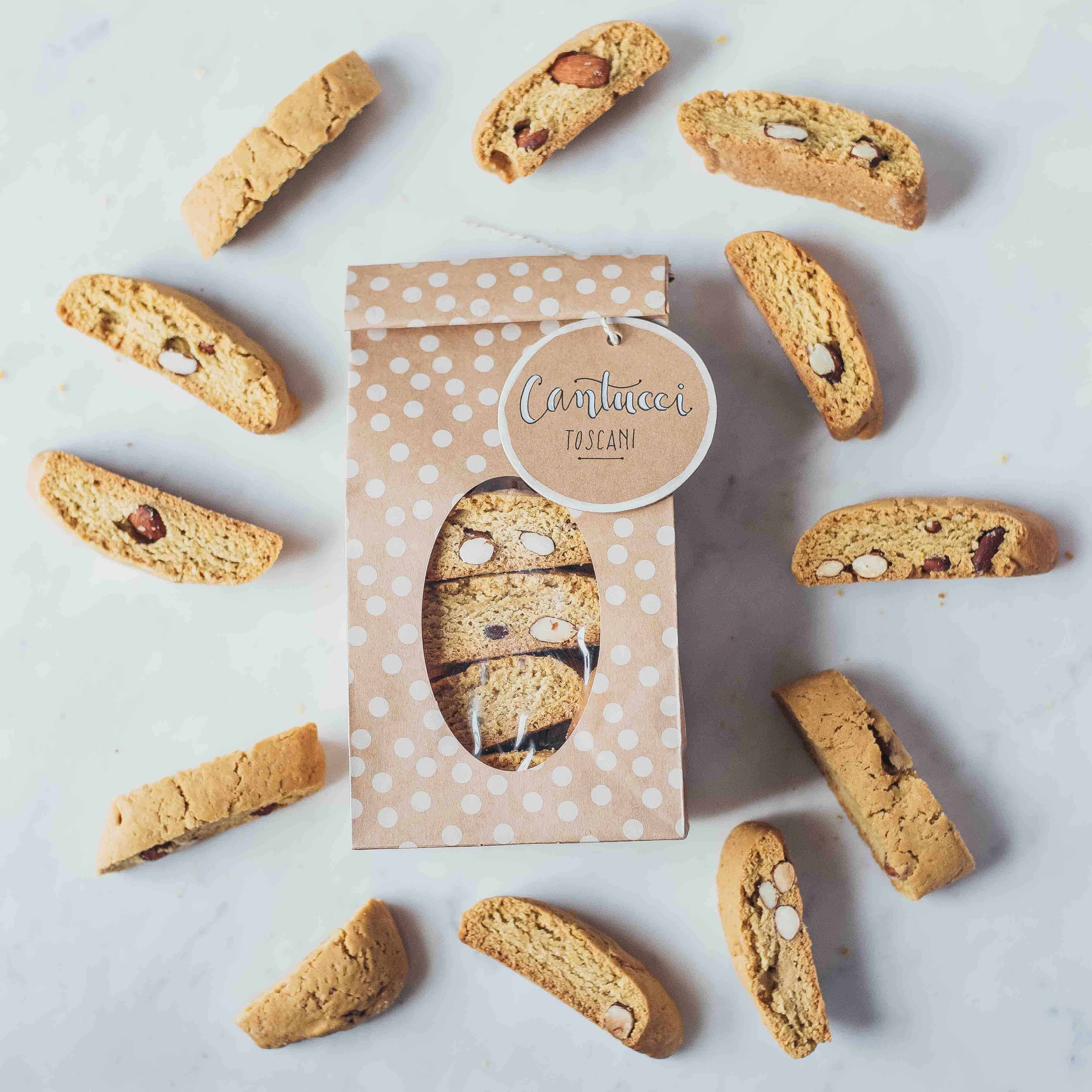 Cantucci [Tuscan Biscotti]
Ingredients
3 large eggs
180 g (scant 1 cup) cane sugar
100 g (1/2 cup) extra-virgin olive oil
50 g (scant ¼ cup) unsalted butter, softened
100 g (3.5 oz) whole almonds, skin on
the zest of a lemon
1 tsp baking soda
"00 flour" or all-purpose, as needed (I used about 330 g or 2⅔ cup)
Instructions
Preheat oven to 360 F.
In a bowl or using a stand mixer, mix the eggs with the sugar.
Add softened butter, extra-virgin olive oil, lemon zest, baking soda. Mix well with a whisk, making sure all lumps of butter are gone. Add almonds and mix again.
Gradually add as much flour as needed to get a manageable and workable, slightly sticky dough. I used about 330 g (2⅔ cups).
Line a baking sheet with parchment paper. Divide dough in 2 pieces. Form 2 logs, about 2-inch wide (5 cm) and a little less than an inch high (2.5 cm). Make sure you leave some space between them as they will rise while baking. Bake for about 20 minutes.
Remove from the oven and turn off oven.
Leave the logs on the baking sheet and cut each log diagonally in small pieces (about ¾ inch or 2 cm wide). Place baking sheet back in the turned-off oven and leave for 30-40 minutes.
For crunchier cookies leave in the oven until it completely cools down.