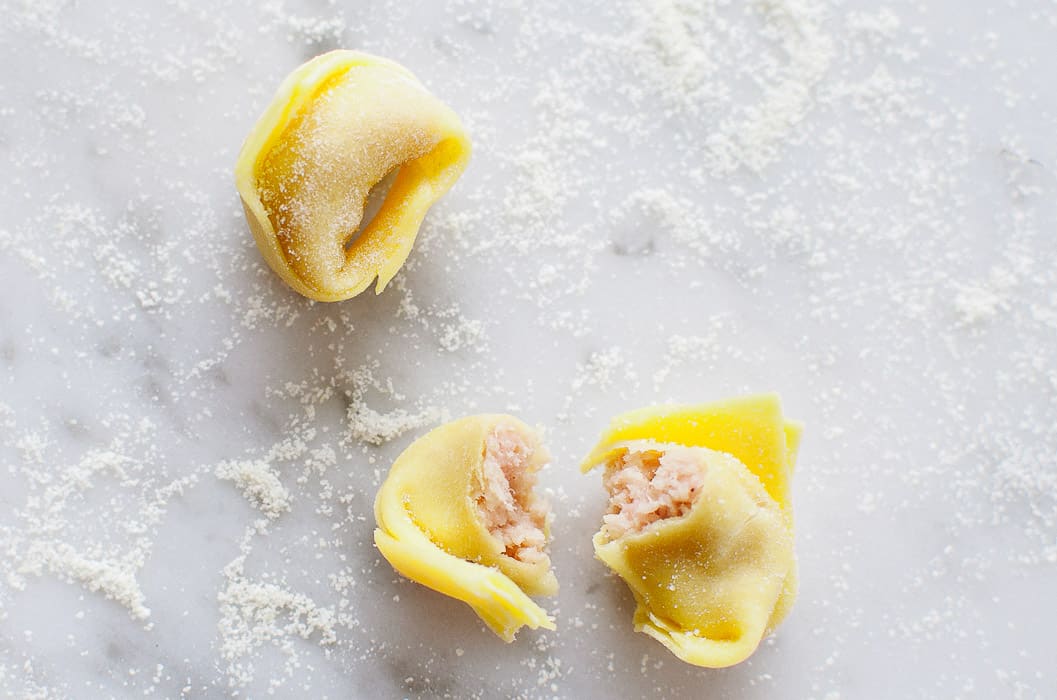 When I was little and all the way until I was in my early 20s, fall and winter Sunday meals regularly started with a hot bowl of tortellini in brodo. Right before going to church, my grandma would place a big pot of water on her wood stove; she'd dump an onion, a few ribs of celery, and a couple of carrots in it; then she'd add a big piece of beef and a few pieces of stewing hen that would simmer for a good couple of hours. The smell of the broth was so inviting, whoever was around would sneak in and scoop some out into a little cup and dip a little piece of bread in it. If the broth was made from scratch, the tortellini weren't, as my grandma would always buy them from the grocery store. These days we don't make this dish as often as we used to, but when we do, we savor every bit of it. If you ask me, NOTHING is as comforting as a nice cup of tortellini in brodo; not only does it warm up my belly, it also brings back sweet memories of our long Sunday lunches, spent around the crowded oval table in my grandparents' kitchen.
I'm sure you can now imagine my excitement when, last week, I was able to take my camera into the magic world of a tortellini-making shop in my town, Pordenone.
Martina Cavallini, the owner, is a humble and passionate woman in her thirties, who decided to quit an admin job that was taking her too far away from her family—to pursue her dream to open an artisan pasta shop. In today's uncertain Italian economy, it sure takes some guts to leave a safe job to drastically change career and become an entrepreneur. I'm sure her determination along with the passion for pasta-making she inherited from her grandmother were two great drives. Her grandmother was a native of Carpi, a small town in the middle of the culinary paradise called Emilia Romagna.
Although Martina also makes tagliatelle and gnocchi, she is known for her delicious tortelli and ravioli filled with seasonal, high-quality ingredients like pumpkin, figs, mushrooms, plums, and local cheeses. I was pretty pleased to find out she also makes vegan and dairy-free artisan pasta! When she took me in the back of her "lab", she said she would show me how to make tortellini. My heart rejoiced. Although I enjoy making fresh pasta and I occasionally make ravioli, I never made tortellini before!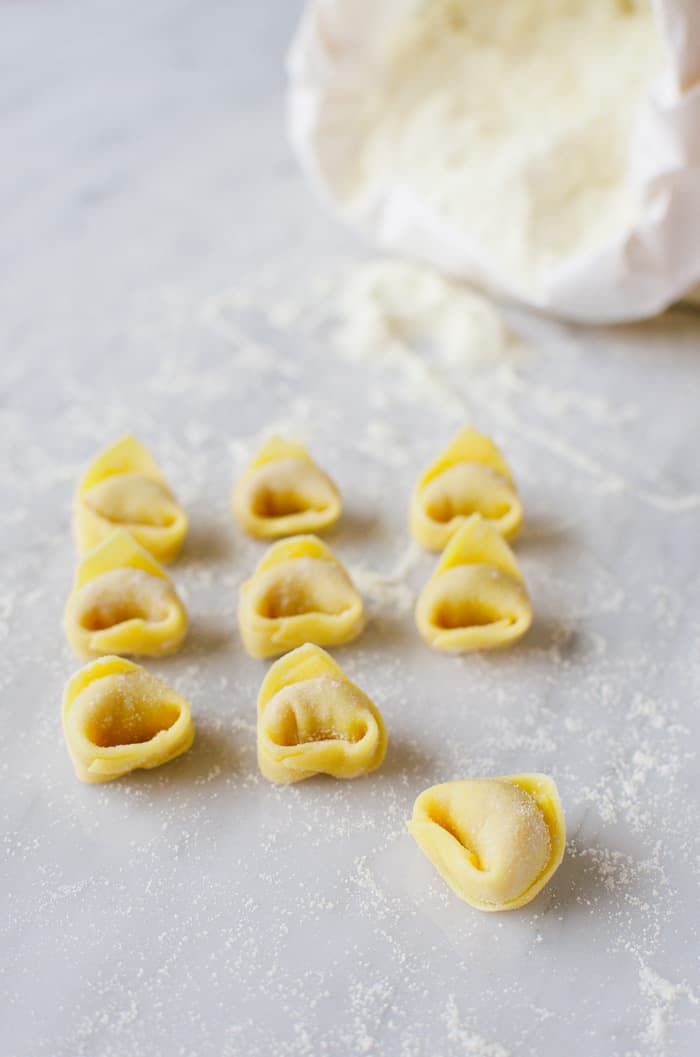 With the help of a pasta machine, she quickly rolled out a small piece of dough into a beautiful, long, and thin sheet that she briefly laid on her arms, in a sort of cute and cuddling way, and then transferred to her wooden working table. There, she cut it with a 5-wheel pastry cutter in many small squares. Then, she placed a penny-size piece of filling in the centre of each square. The tortellini filling is typically made of a magic combination of beef, pork, Parmigiano Reggiano cheese, nutmeg, egg, prosciutto crudo, and mortadella — all ground up into a paste.
The folding/shaping part was what I was looking forward to and she was so quick at it, I pretty much blinked my eyes and when I opened them again, she had already made a perfect, petite, plump, and cute tortellino.
***Mother of tortellini!!***
Luckily she had many more to go so I had the time to capture all the steps with my camera. She made it look SO easy. Did you know " le sfogline", a.k.a. the pasta ladies in Emilia Romagna, make the smallest tortellini by wrapping them around their pinky?? Martina told me the traditional tortellini are supposed to be so small you should be able to hold 5 in your spoon.
Short of making your own tortellini or coming to Pordenone to pay a visit to La Sfoglia D'Oro – I Tortellini di Martina, I hope you're able to find a good shop in your town that makes delicious tortellini like Martina does. If you do, PLEASE, do yourself a favor and invest time in making a flavorful and rich broth to cook them in…Try capon, if you can find it, or stewing hen. They make the best broth!