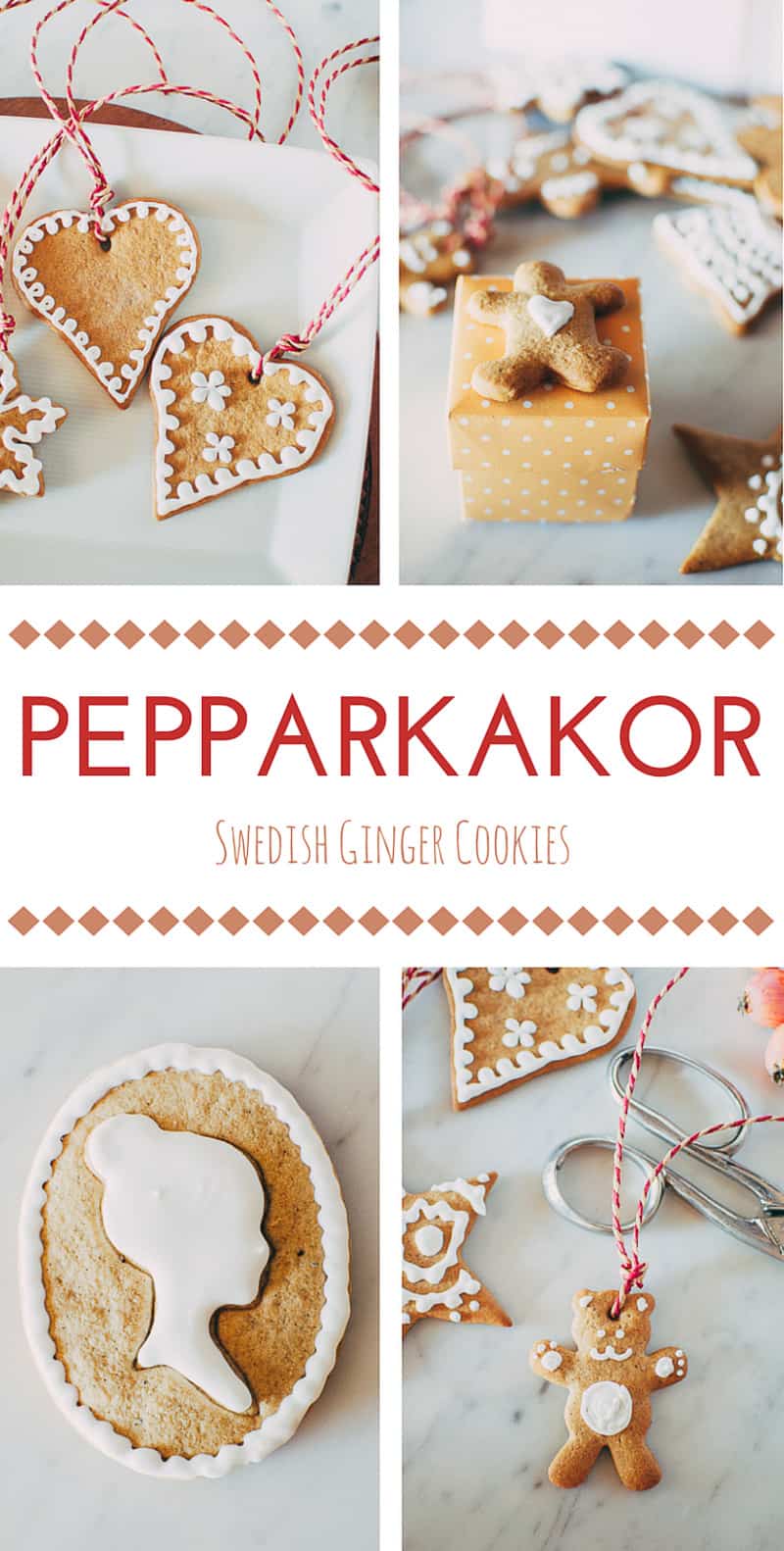 Yeah, yeah, yeah. Pepparkakor aren't "very EATalian", I know…BUT they're cookies I always love to bake around Christmas, so they've rightfully earned their place on this blog. Not only do they bring out the Christmas spirit in the house with their wonderful scent, they also spark my creativity. As you can see from the pictures, I went a little crazy with shapes and icing decoration!
Besides being cute Christmas tree ornaments, I found they also make the perfect nice little addition to a rustic gift wrapping.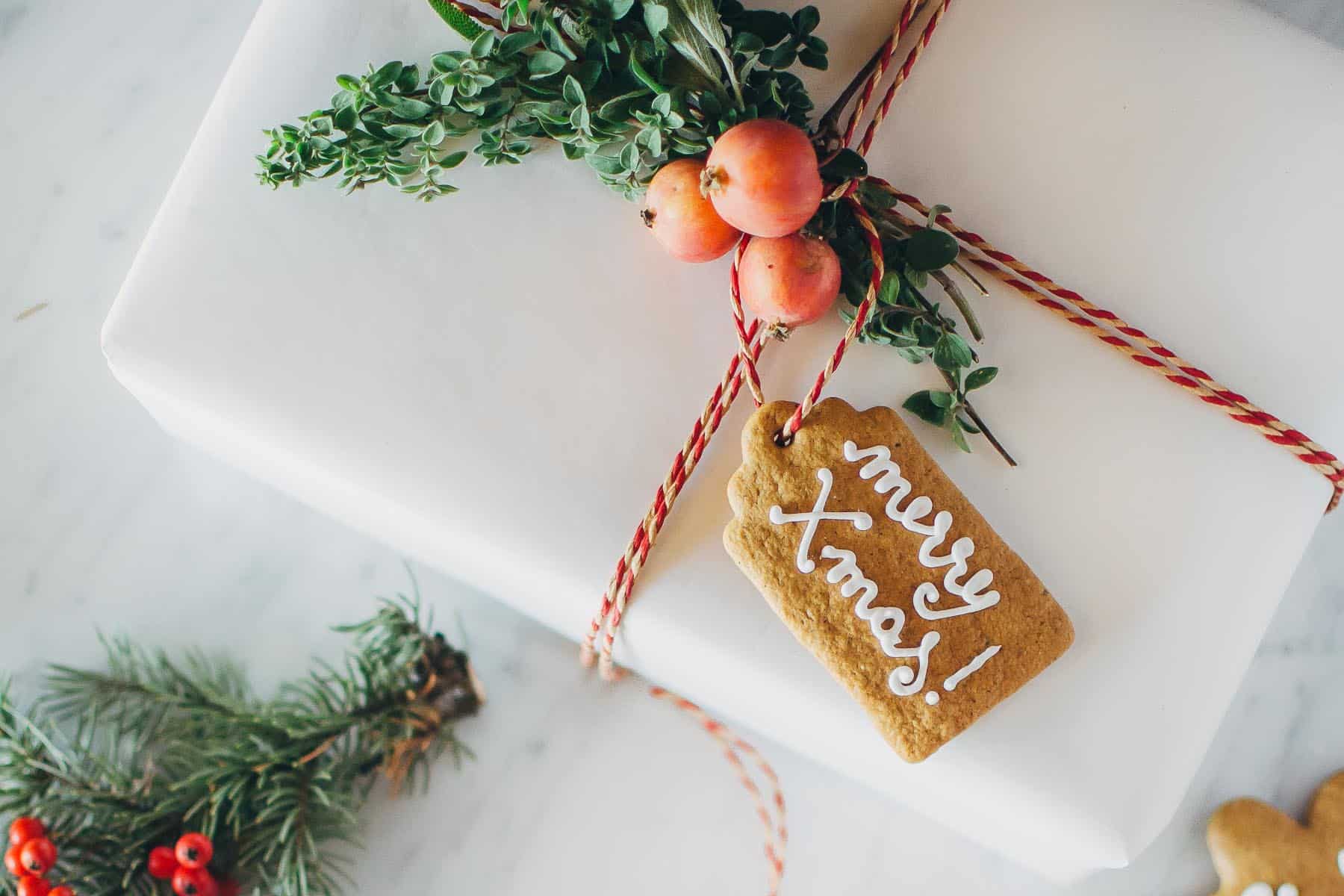 If you'd like to create a rustic package for your Christmas gifts as well, I've got some tips for you:
Wrap your gift with plain paper: craft paper or plain white paper are ideal.
Tie it with a simple gift string — twine works perfectly! (I used an IKEA Christmas gift ribbon).
Add some greens for a more rustic look: a small branch of pine or a rosemary sprig will do. Since our rosemary bush is kind of small this year, I used fresh oregano. I love its scent and look but I recommend using it only if you know the gift will be opened that very same day!
For a nice splash of color, add a few berries (rose hips, Christmas berries, or whatever berry you can find).
Tie your ginger cookie for a cute final touch. You don't necessarily need to have a tag-shaped cookie cutter…any shape will do! Also, if you're not into decorating your cookies with icing, that's fine…the gingerbread's rustic and simple texture is just perfect as is.
This idea is also a smart way to use up some of the cookies in case you made tons of them (like I did). 
Scroll down to get the recipe and see more photos of fun-shaped ginger cookies!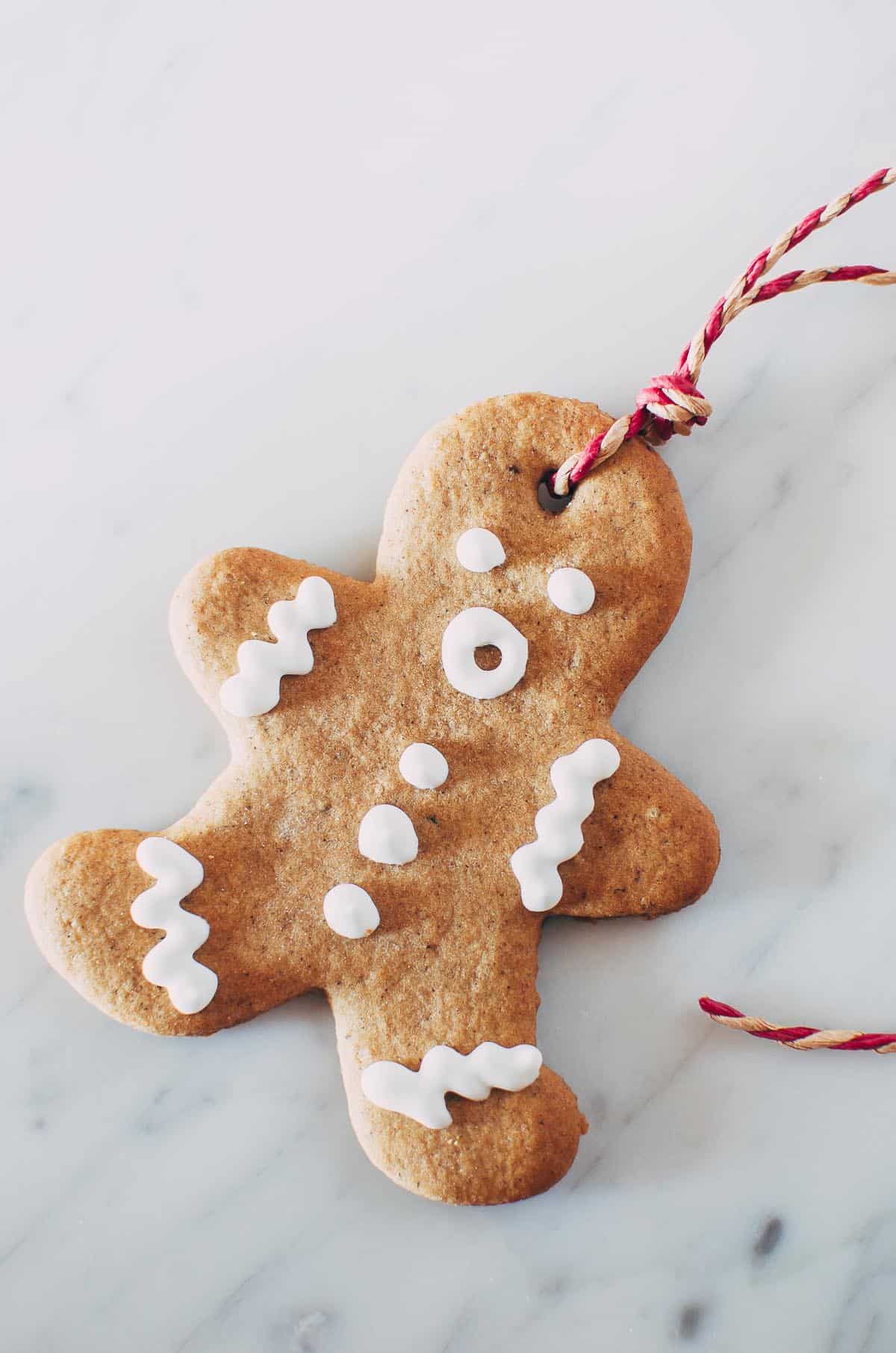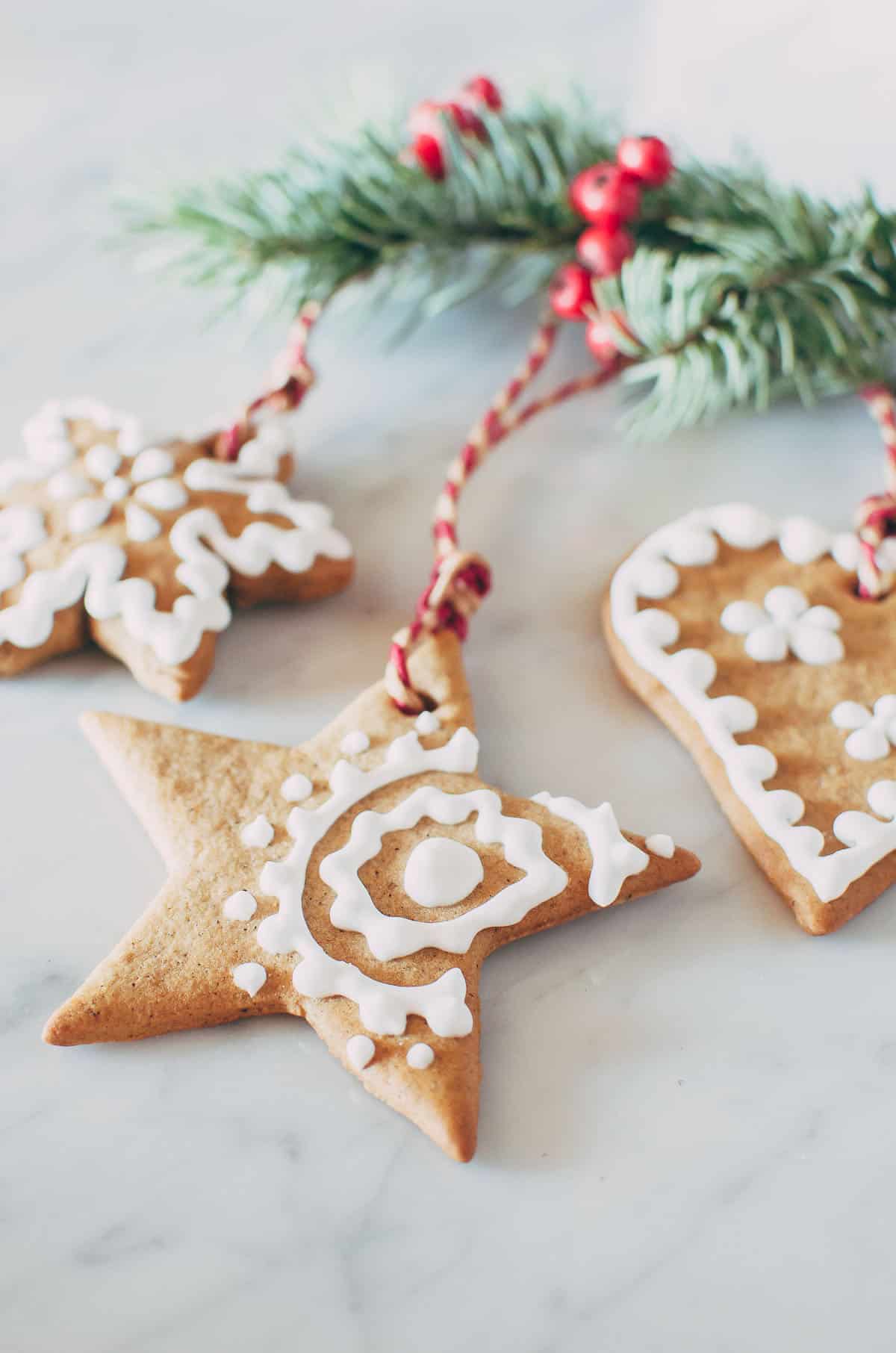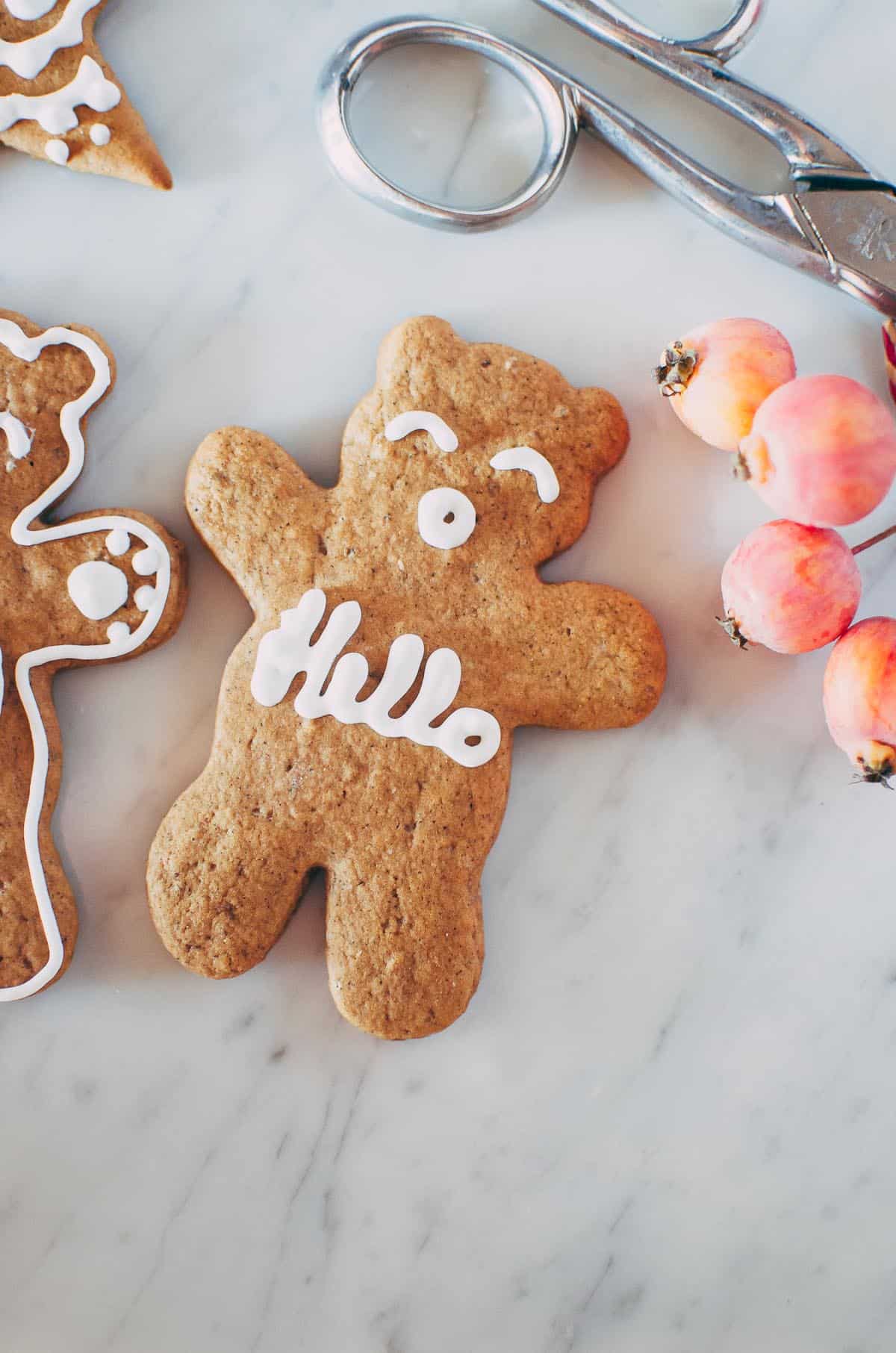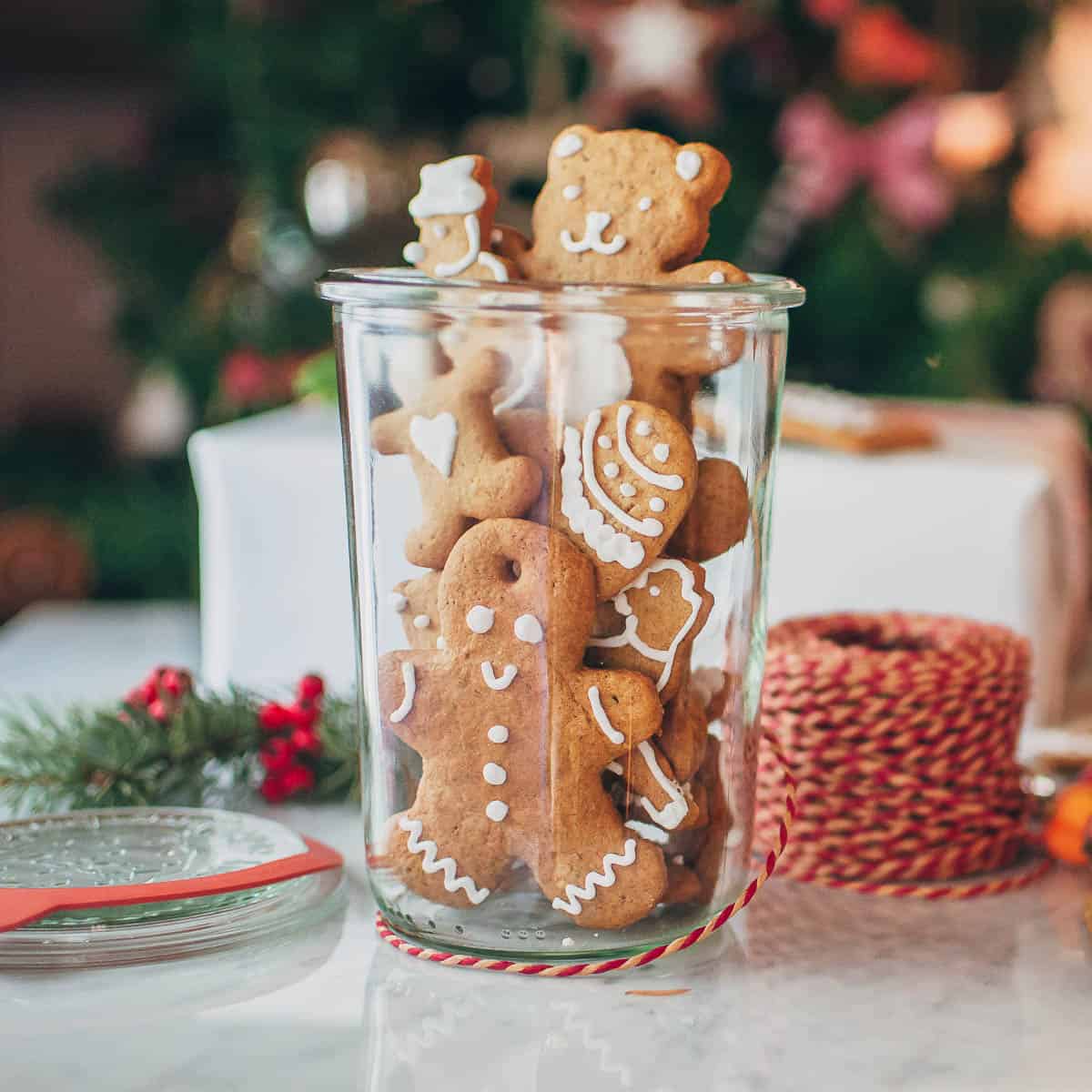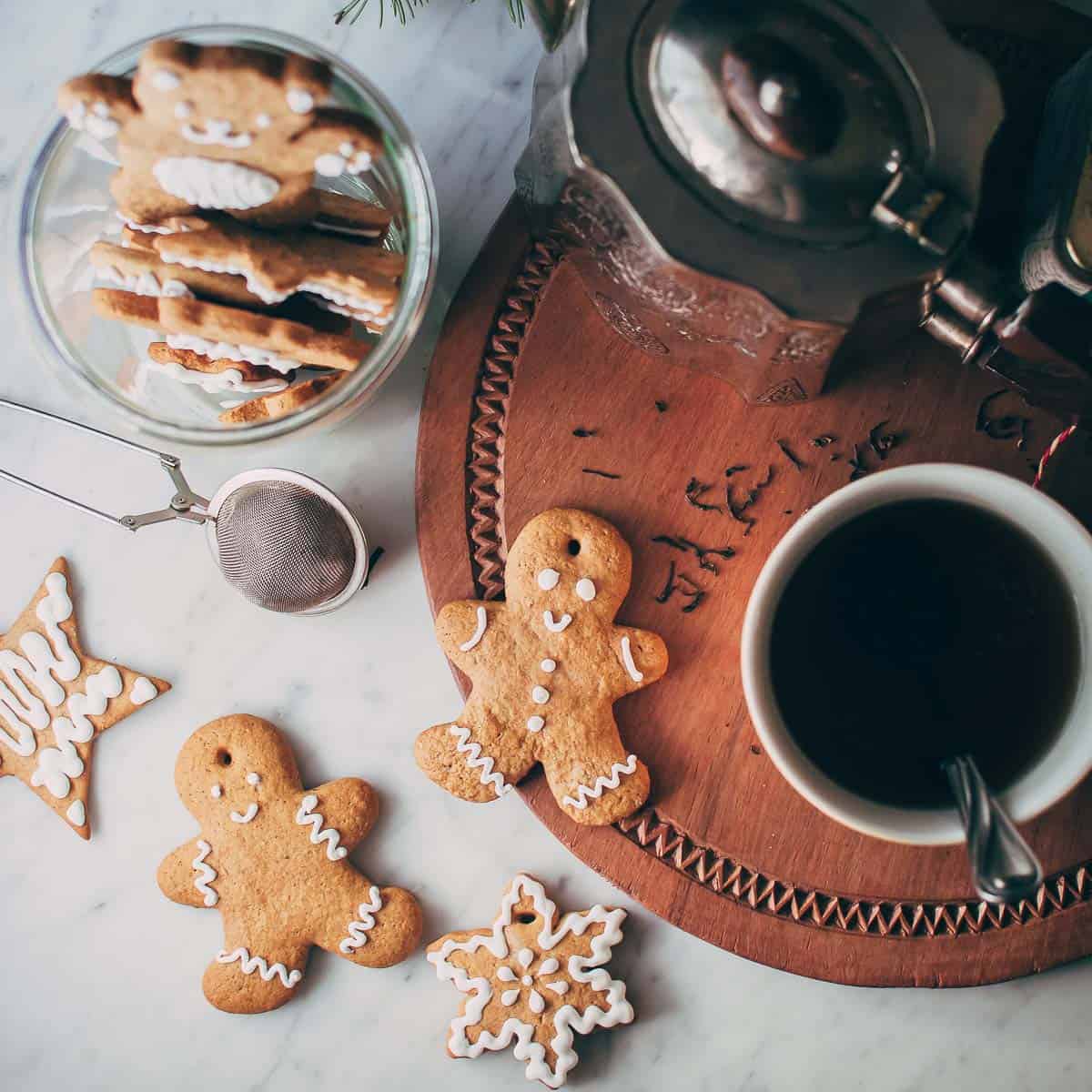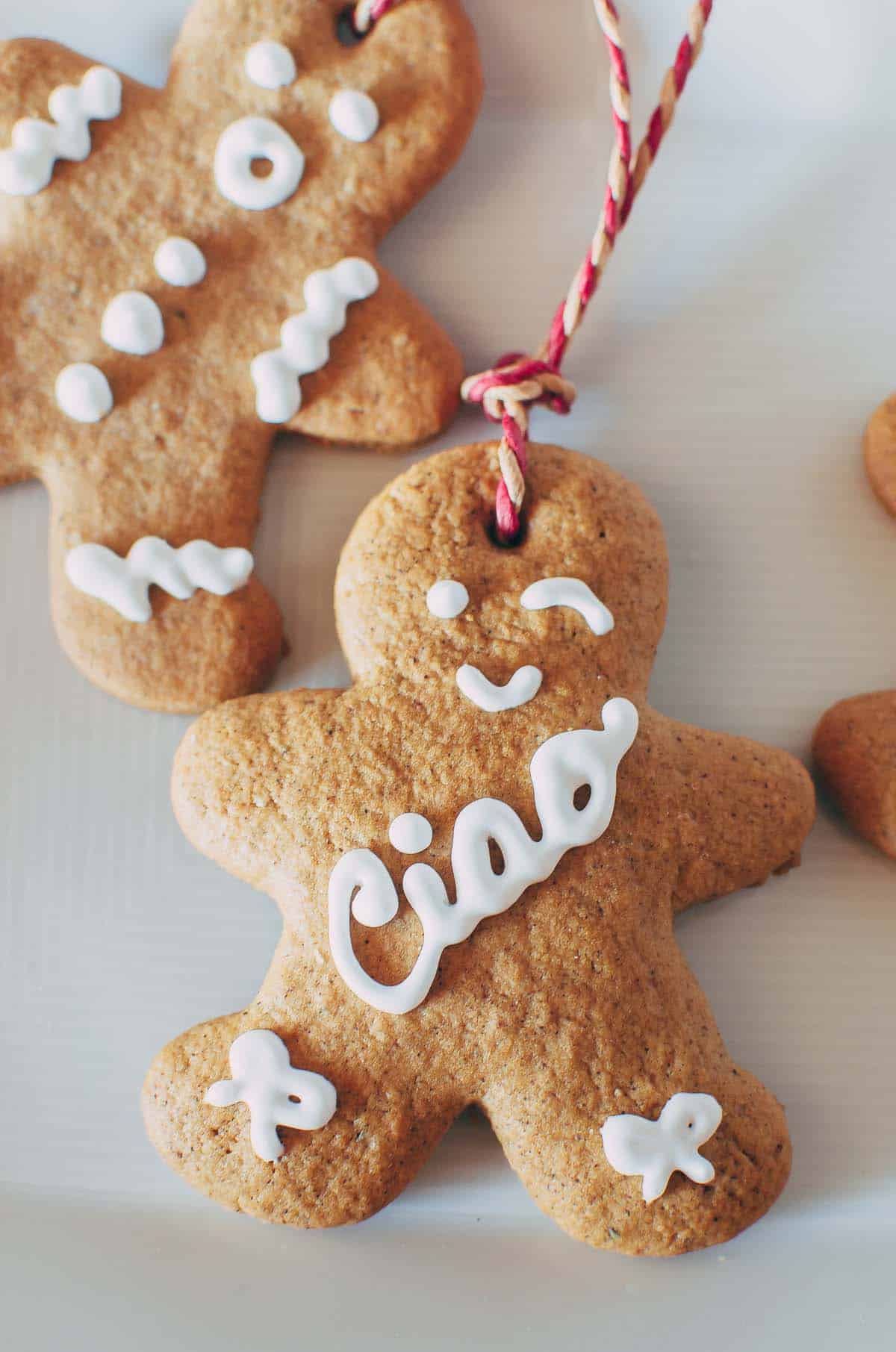 Swedish Ginger Cookies - Pepparkakor [ Biscotti al Pan di Zenzero]
Ingredients
1 cup + 5 Tbsp (300 g) unsalted butter, softened and diced
1¾ cup + 1 Tbsp (about 400 g) granulated sugar
⅓ cup + 1 Tbsp (about 100 ml) molasses (can sub with ½ maple syrup and ½ agave nectar)
2 Tbsp fresh ginger, finely grated (or 1 Tbsp ground ginger)
2 Tbsp ground cinnamon
1 Tbsp cloves, ground in a pestle and sifted
2 tsp ground cardamom
1 Tbsp baking soda
¾ cup and 3 Tbsp (200 ml) water
32 oz (900 g) flour
Instructions
Mix butter with sugar and molasses (or nectar+ syrup), until smooth.
Add ginger, cinnamon, ground cloves, cardamom, and baking soda. Mix well and add water and enough flour to form a workable dough. Transfer dough onto a working surface and add the rest of the flour. When the dough becomes smooth and non-sticky, wrap it with plastic film and refrigerate for at least 24 hours.
The next day, remove the dough from the fridge.
Heat oven to 400°F (200° C).
Cut a piece of dough and roll it very thinly on a parchment paper sheet. To make the rolling easier, put another piece of parchment paper or plastic film in between the rolling pin and the dough. If the dough is too sticky, add a bit more flour to it (but not too much!). You could also put the dough back in the fridge for a while until it hardens up again.
Cut out your cookies with your favorite cutters. If you're planning to hang your cookies, make a small hole in the dough piercing it with the end of a straw. Remove dough trimmings around cookies and transfer parchment paper with cookies on baking pan.
Bake for 4-5 minutes (*). Check cookies for even baking, rotating pan if necessary. Remove pan from the oven and let it cool on a cooling rack.
Notes
- (*) Baking time may vary depending on your oven. Keep an eye on the first batch and figure out the right baking time. I recommend cooking one tray at a time.
- To decorate my cookies, I used this
royal icing recipe
and a #2 decorating tip.