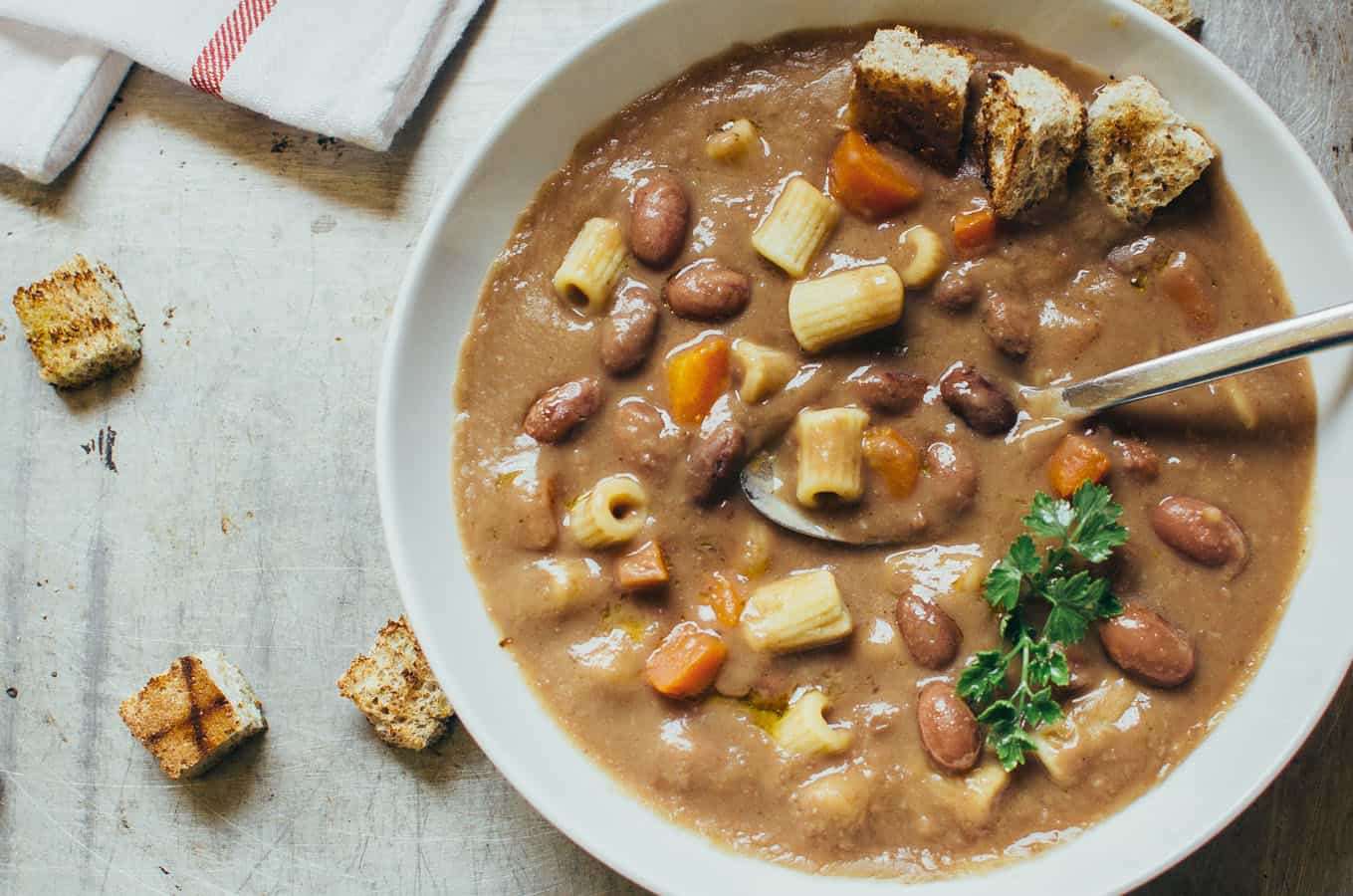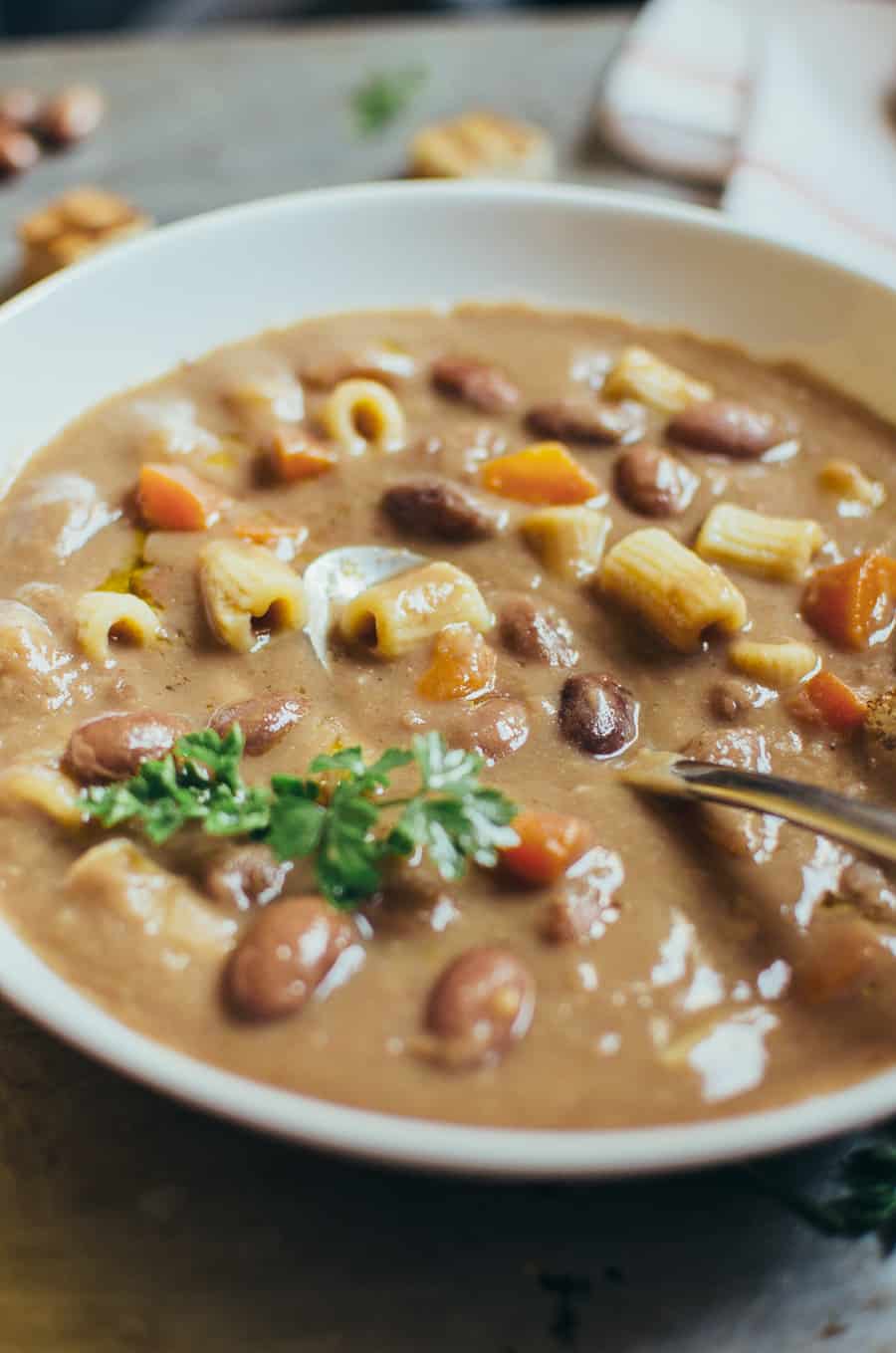 I'll start off by admitting that Pasta e Fagioli isn't the sexiest soup around (and I can assure you it was quite hard to photograph)…BUT it definitely makes up for its humble (and messy) appearance with a world of flavor and  goodness. It's peasant food, made with cheap ingredients — it only needs few veggies and pasta. It was a staple dish on my grandparents' table and it's still a dish we cook quite often around here.
We love it because it's incredibly versatile: you can eat it warm or cold; you can use different pasta shapes (as long as it's small dry pasta); you can make it more or less liquid. If you'd like to have it cold, just throw in some torn radicchio and lightly dress it with vinegar, for a nice touch of acidity. If you want to be really old school, you can do what my grandfather used to do — instead of vinegar, just pour a dash of red wine in it…better if straight from your glass!
The recipe is courtesy of my mom: it's definitely simpler and lighter than many other versions that include pancetta, lard or pork rind. The cooking time depends on the type of beans you are using: we typically use fagioli borlotti (cranberry or Roman beans). Many people like to add shaved cheese on top — we only add a bit of good-quality extra-virgin olive oil and a couple of crostini as a final touch.
Mmmm. Che bontà! So good!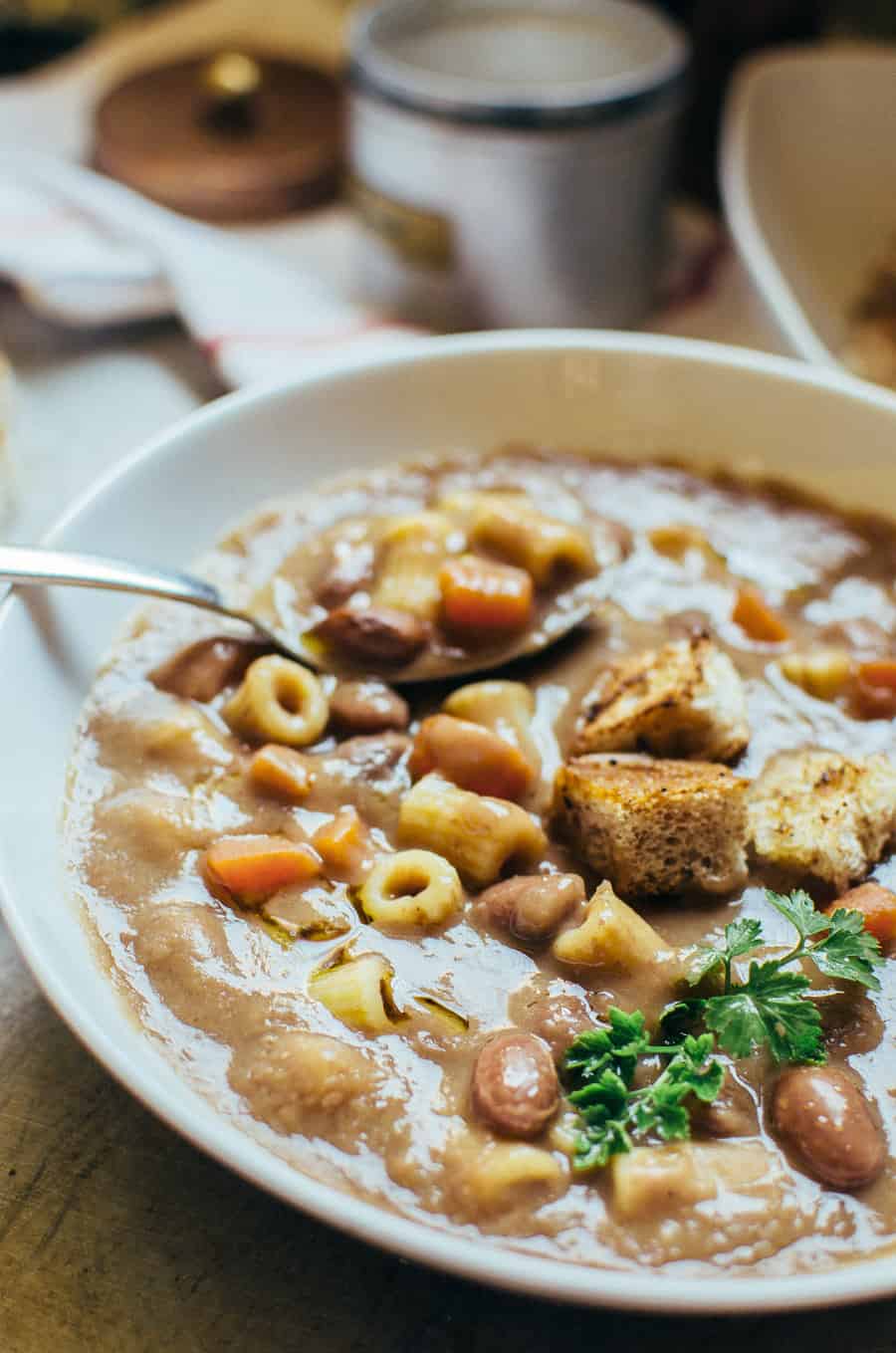 Pasta e Fagioli Soup [Pasta and bean soup]
Ingredients
200 g (7 oz) dry cranberry beans, previously soaked in water for at least 24 hours*
1 celery stalk, cut in big chunks
1 carrot, cut in big chunks
1 onion, halved
2.5 lt (10 cups) water
150-200 g (5.2-7 oz) short dry pasta (ditalini or elbow macaroni are perfect!)
coarse salt
freshly ground black pepper
extra-virgin olive oil
(optional) crostini*
Instructions
Pour water in a pot and add carrot, celery, onion, and beans. Add some coarse salt (like when you cook pasta). Bring to a boil and cook on medium-low heat for 50 min-1 hour or until beans are cooked through.
Take out some cooked beans and, if you like, some carrots; these will be added back in the soup at a later moment.
With a hand-held blender, blend together all the ingredients contained in the pot. Add pasta in it and cook according to package instructions. Stir often as pasta will tend to stick to the bottom.
Once pasta is cooked, add beans and carrots (cut in smaller pieces) back in the pot. Keep in mind that pasta will thicken the soup. Depending on the density you like to achieve, you can make it less liquid by adding boiling water or you can make it thicker by cooking it a little longer. Add more salt, if necessary.
Serve warm with crostini, some freshly ground black pepper, and a drizzle of extra-virgin olive oil.
Notes
* When you soak your beans, it's a good idea to change out the water a couple of times.
* To make your own crostini (croutons), cut a pieces of bread in slices and then in small squares. Drizzle bread squares with extra-virgin olive oil and pan-roast them until golden.