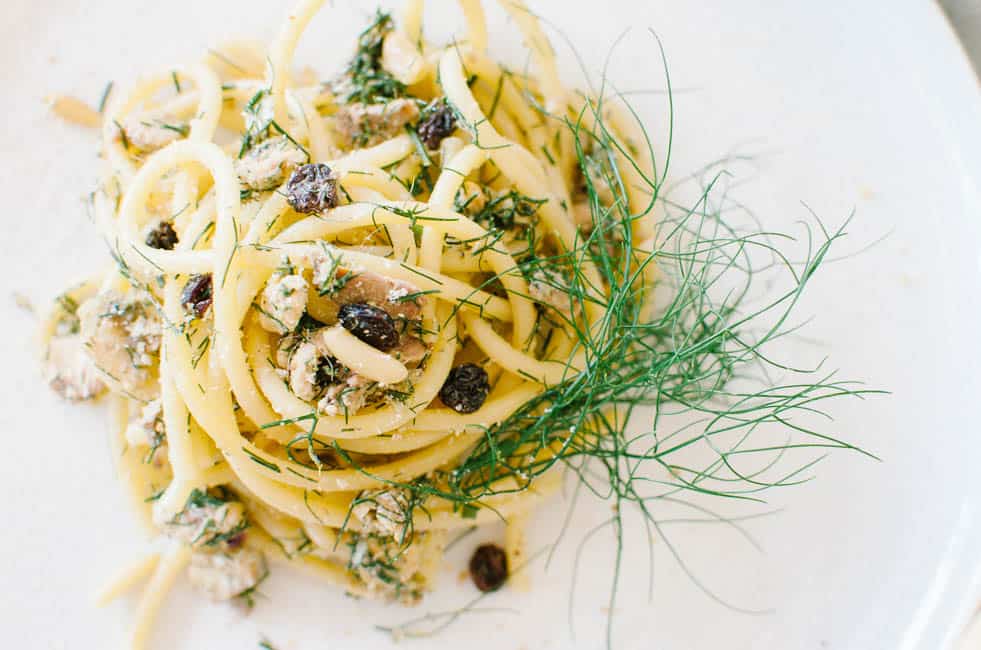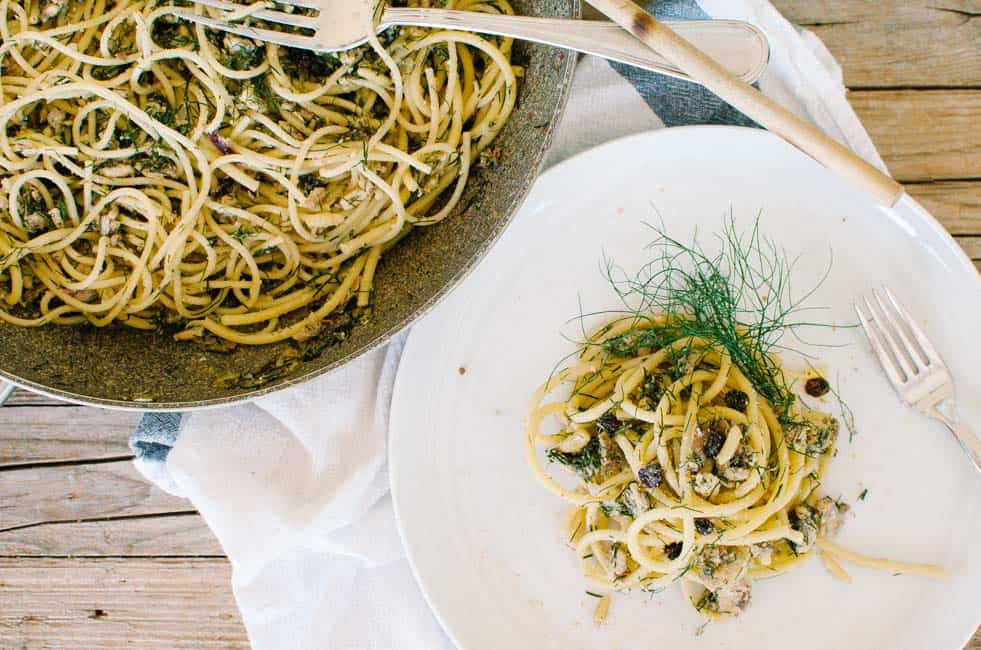 These days I'm a little obsessed with Sicilian cuisine, mostly because I recently met a lady who, just like me, is married to a Sicilian man and has a great passion for food. It didn't take a long time until she started sharing recipes she inherited from her mother-in-law. Few days later, a bunch of Sicilian ingredients started flowing into my kitchen.
When I told her I wanted to make Pasta con le Sarde (one of Sicily's signature dishes), she sent me two key ingredients to make it: a bag of uvetta passolina from Palermo (Zante currants) and a bunch of finocchietto selvatico (wild fennel).  As if that wasn't kind enough, she also included a handwritten recipe. I love it when people take time to write. I love it even more if they write about food!
Pasta con Sarde, as the names suggests, is made with sardines. Sardines are plentiful in Sicily and much cheaper than other fish – it's no wonder it's used in many peasant cooking dishes. The recipe also includes other ingredients such as pine nuts, anchovies, onion, and saffron…sounds Middle Eastern, doesn't it? The legend says the recipe was created by the cooks of an Arab conqueror who landed in Sicily back in 827. The cooks, in an effort to muster up food for the troops, caught sardines in the harbor, harvested wild fennel, currants and pine nuts from the surrounding land and combined all the ingredients, creating a unique and intriguing flavor palette… it's sweet and salty, slightly tangy, and definitely aromatic. It perfectly represents Sicily, a beautiful island with such a peculiar heritage.
Everybody loved it here. My dad had seconds and even had leftovers the following day! That's another great things about this pasta…It makes great leftovers; just make sure you cook it al dente to begin with. Then, the next day, sprinkle it with some slivered almonds and bake it for a few minutes. I know some of these ingredients aren't available in other parts of the world but you can easily substitute wild fennel with regular fennel and Zante currants with raisins. Unless you're able to travel to Palermo, that's the easiest way to bring a little bit of Sicily to your table.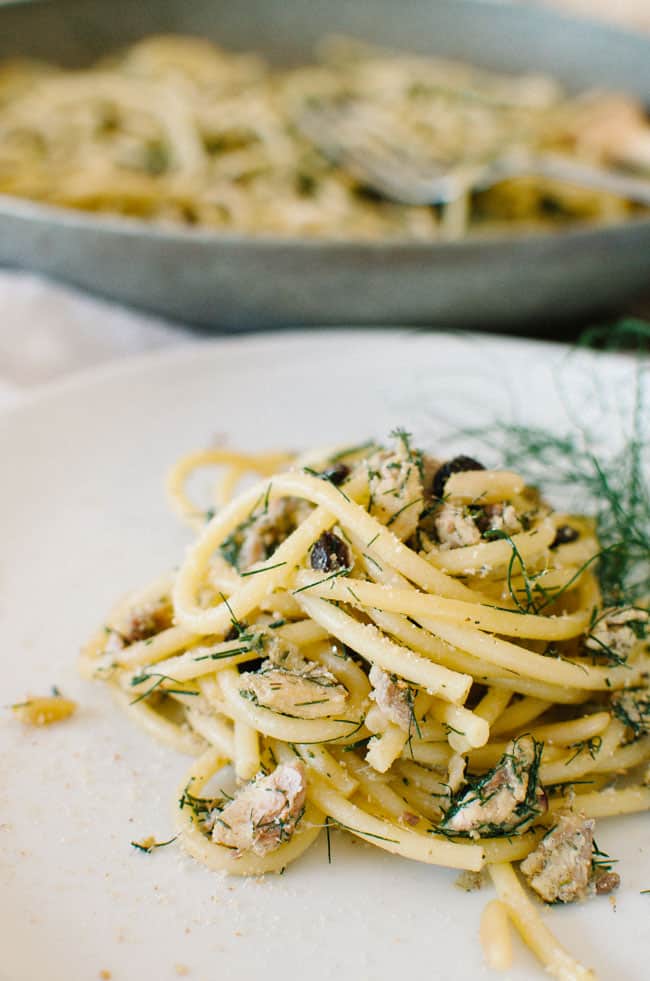 Sicilian Pasta con le Sarde
Ingredients
1 lb (450 g) whole fresh sardines
a bunch of wild fennel (or 3 baby fennel bulbs, fronds included)
1 medium onion, chopped
a handful of Zante currants
3 anchovy fillets
⅓ cup (40 g) pine nuts
a pinch of saffron
320 g bucatini pasta
2 Tbsp toasted breadcrumbs
salt
pepper
Instructions
Clean sardines: Rinse sardines under cold water, gently scraping the skin toward the head to remove the scales. Remove head by pulling it backward, toward the spine. Hold the fish with one hand and with the other, pull the backbone from the head, carefully lifting it up and away from the fillet; discard it. Rinse each fillet under cold water and set aside.
Discard rough parts of wild fennel and boil fronds in water for a few minutes until softer (if using regular fennel, cook it until tender - about 10 minutes). With a slotted spoon, drain fennel, reserving cooking water. Roughly chop fennel.
Sauté chopped onion until translucent, add anchovies, pine nuts, zante currants, chopped fennel. Cook for a few minutes, adding salt and pepper to taste. Add ½ cup or more of cooking water and let it evaporate (you'll want to get a moist condiment). In a small glass mix saffron with a bit of water and then add to the pan containing the rest of the ingredients.
Cook bucatini pasta in the cooking water you reserved. While pasta is boiling, add chopped sardines in the pan containing the condiment. Cook for few minutes (you don't want the sardines to be over-cooked).
When pasta is al dente, drain it and toss it in the pan (reserving a cup of cooking water). Mix well and sprinkle with some toasted breadcrumbs. Add cooking water as needed, to prevent the pasta to become dry. Let it rest a couple of minutes and serve.