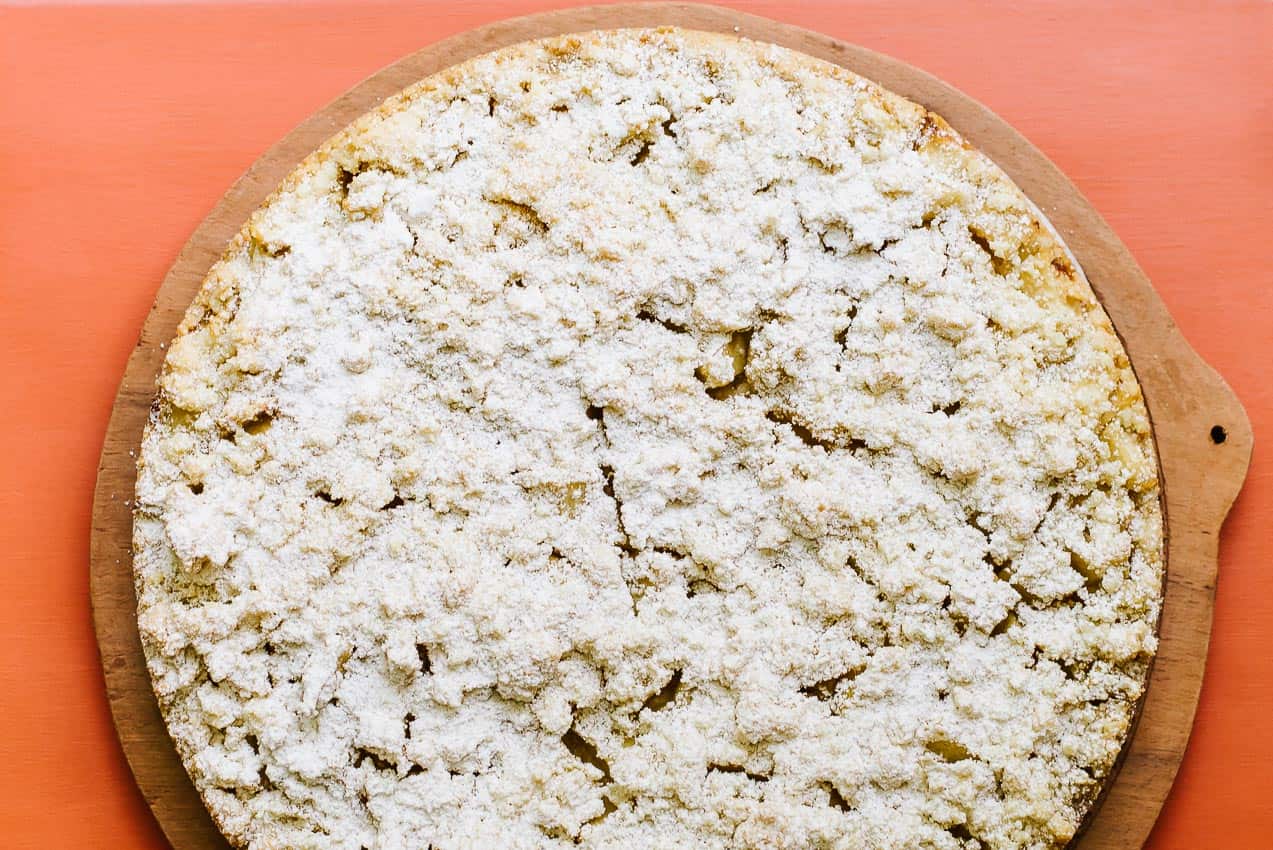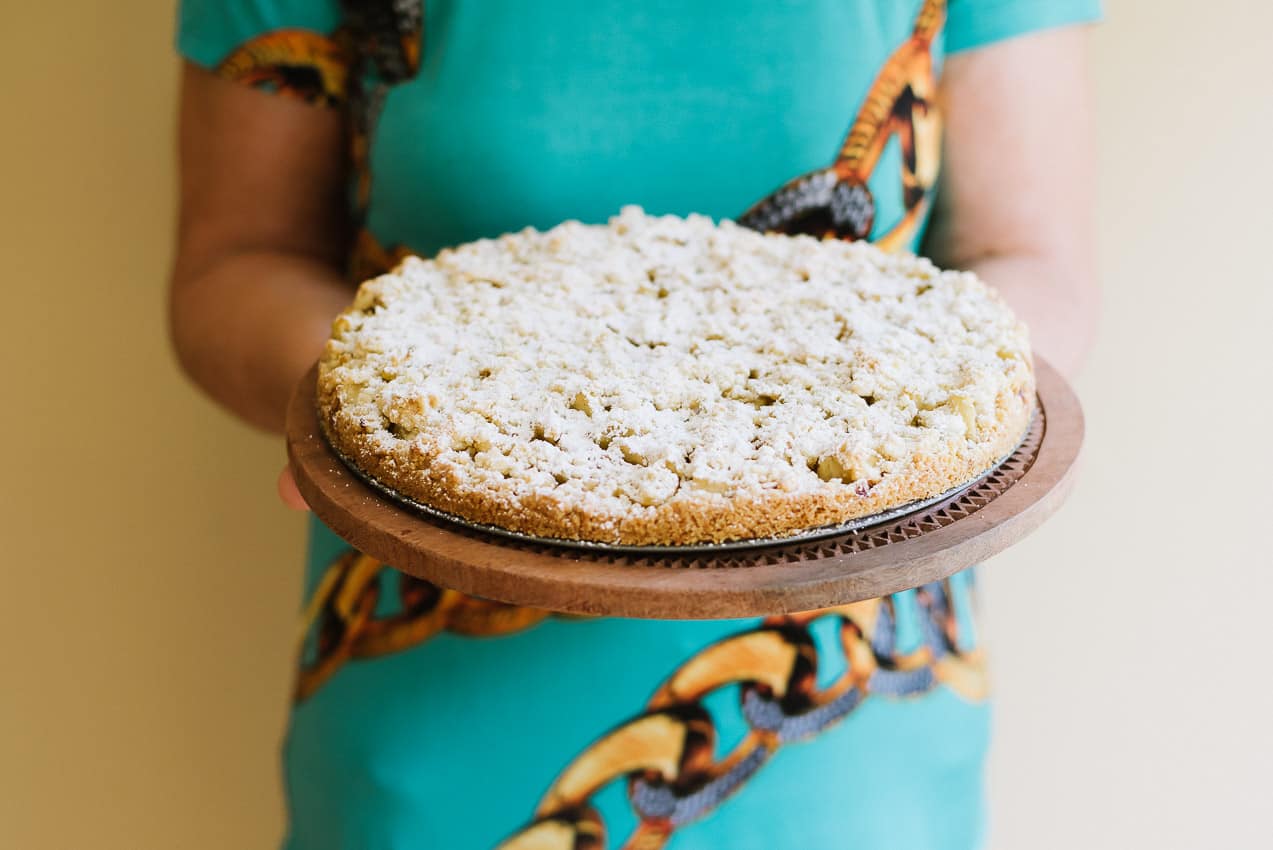 Last year, around this time in September, I was in Italy picking apples from my dad's orchard with mom, my then 2-year old nephew, and my sister-in-law. I remember it as if it was yesterday: the sun setting behind the mountains, the crisp air, and the joyous feeling of being together and reaping the fruits Mother Nature generously gifted us with. Oh, how much I miss sharing those moments with my family! Those apples ended up in a delicious old-fashioned apple strudel. 
This time around, I don't have such a romantic harvest story to share as I got my apples at Wegmans!
Nonetheless, I'm super excited about this post because those delicious organic apples were used by someone very special to make an amazingly delicious apple cake in my kitchen. Who is it??? I'll give you a couple of hints:
I mentioned her something like a trillion times on this blog.

She traveled all the way from Italy and brought me all kinds of sweets (including a nice Gubana from Friuli!)
Yes! That's my mom!! She and my dad came to visit us here in Alexandria and I still can't believe they were here, in this house, in this kitchen, eating at this table! We had tons of fun bringing them around DC and Northern Virginia. I'm so glad my plan for making a "welcome" cake for them failed, because my mom insisted on making one instead. Of course I couldn't let that moment go by without documenting it with my camera.
This time she surprised us with a crumbly version of her apple cake: very simple, genuine, delicate in texture and flavor. If you're looking for a yummy fall dessert, this is it!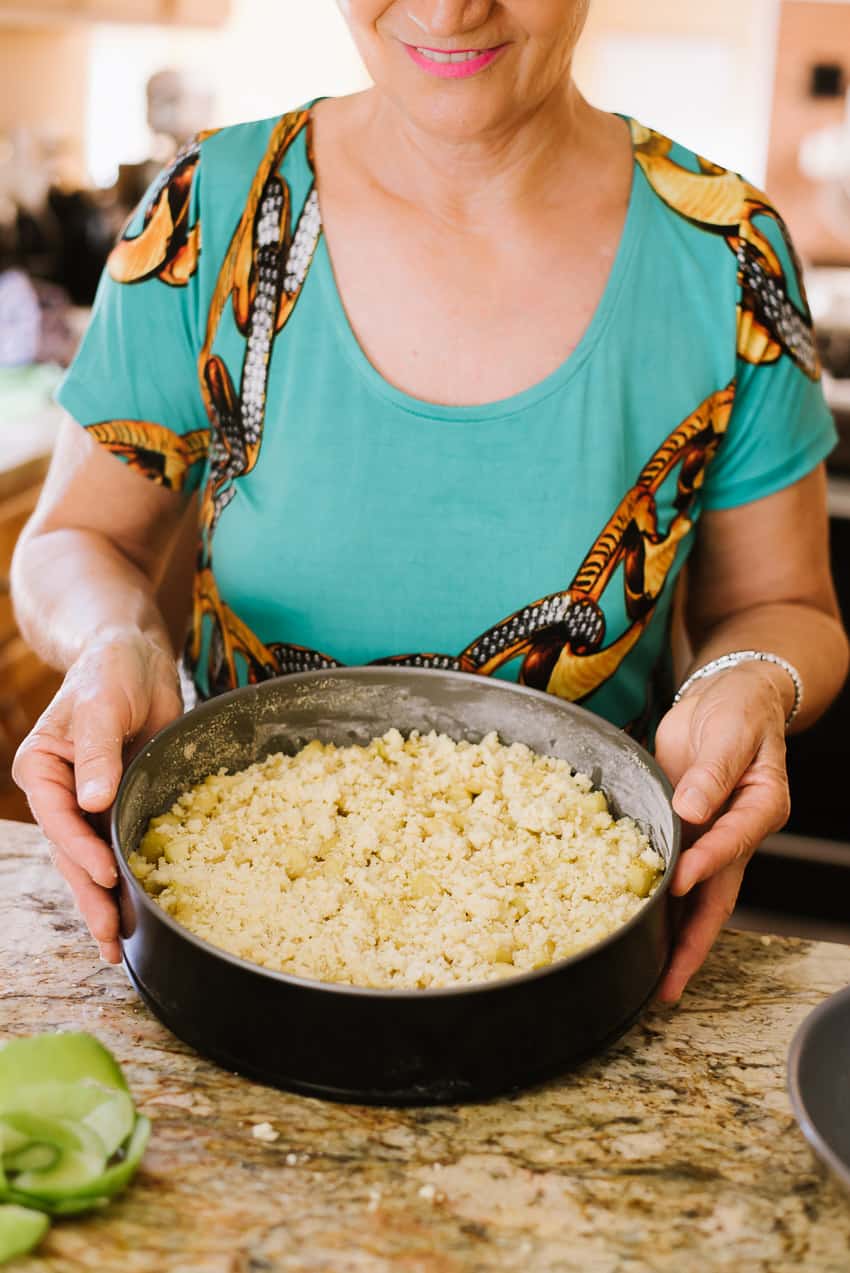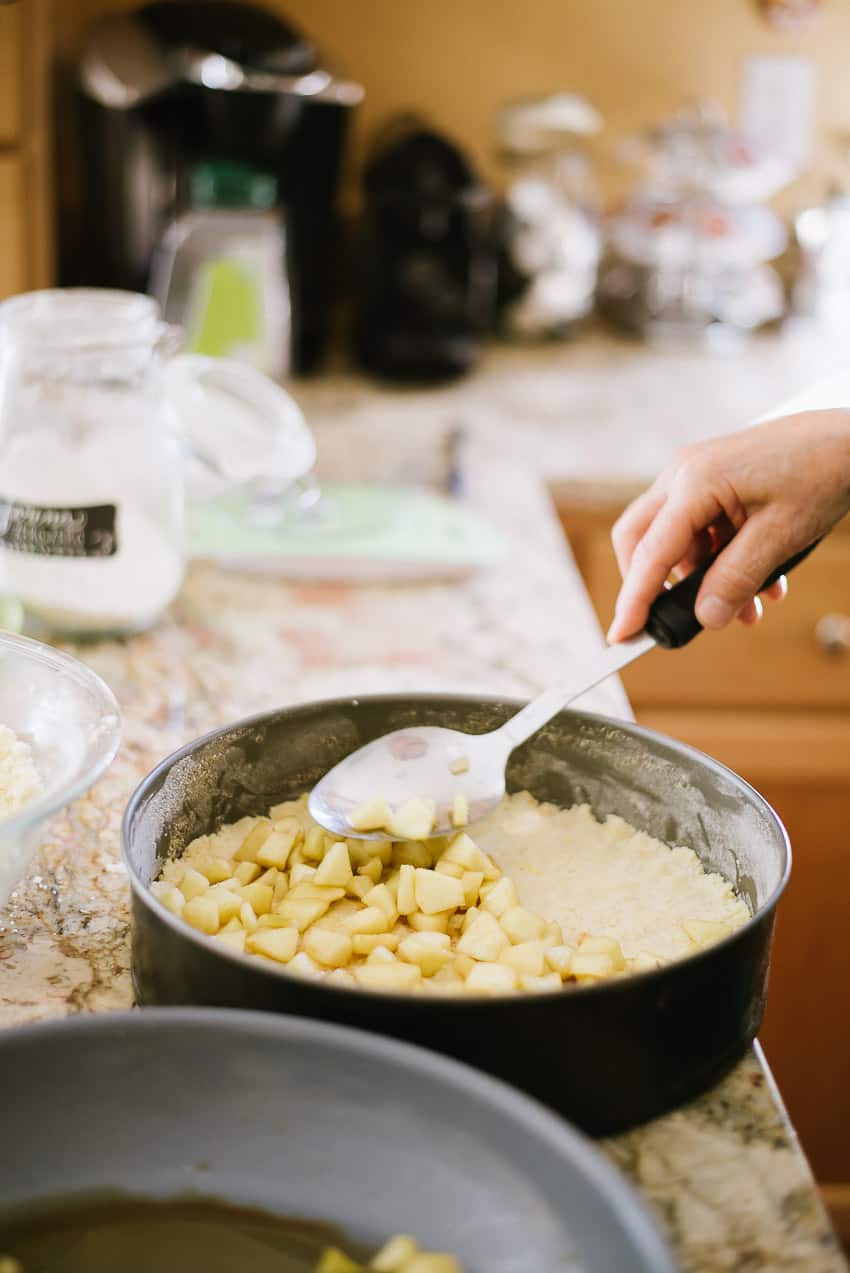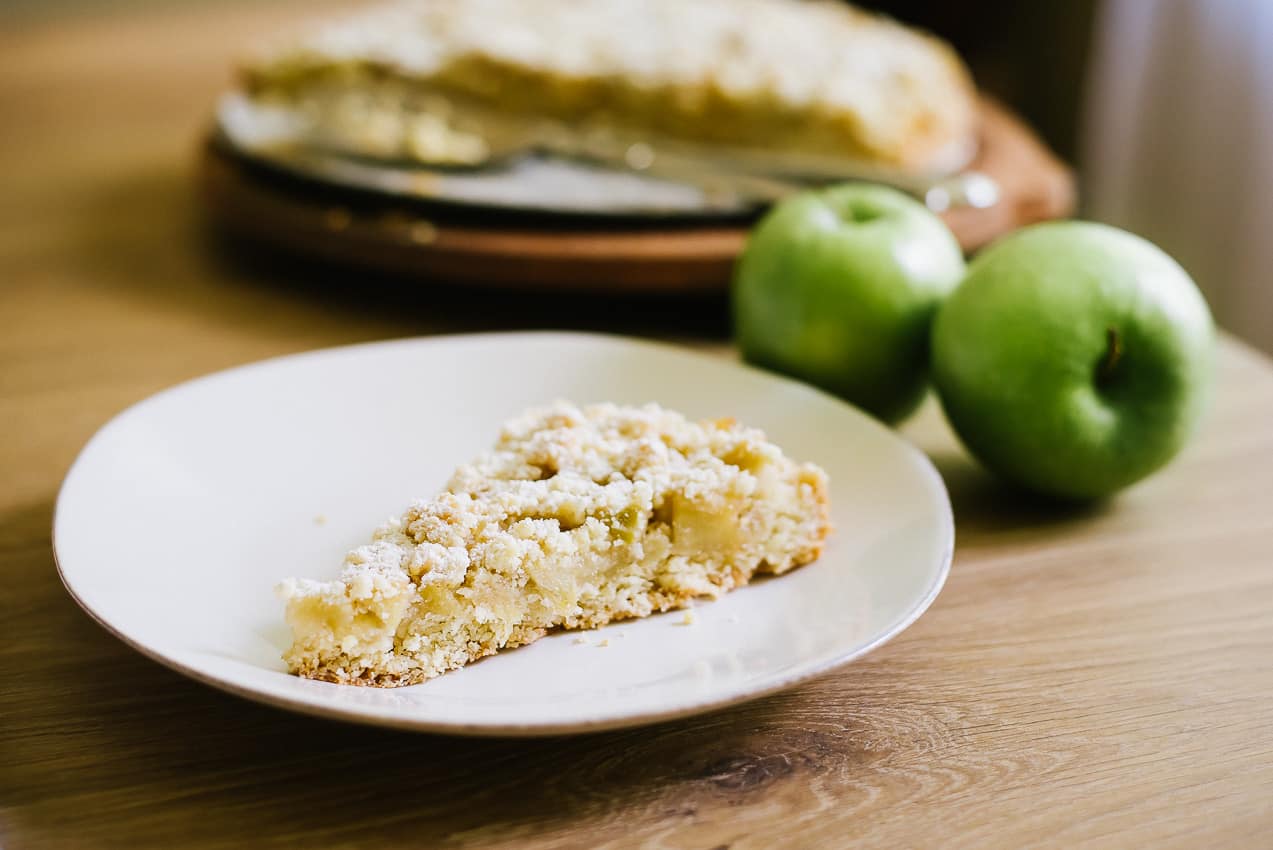 Apple Crumble Cake [ Torta Sbriciolata alle Mele ]
Necessary equipment: 10-inch springform pan
Ingredients
80 g (1/3 cup or 2.8 oz) cane sugar
1 lemon, juiced
4 Granny Smith apples, peeled and cut in small pieces
1 tsp cinnamon powder
1 egg
170 g (3/4 cup or 6 oz) butter, diced and at room temperature
170 g (3/4 cup or 6 oz) granulated sugar
350 g (2 cups + 3 Tbsp + 1 tsp or 12.3 oz) all-purpose flour, sifted
8 g (2 tsp) baking powder
Instructions
In a wide sauté pan, add the sugar, the lemon juice and a couple of tablespoons of water. Turn heat to medium.
Add apples, cinnamon and cook for about 5-6 minutes. Remove from the heat.
In a separate bowl, add flour, egg, sugar, butter and baking powder. Using your hands, combine all the ingredients to obtain a crumbly mixture. Stop there and do not knead any further.
Heat the oven at 350 F.
Line the bottom of the springform pan with a round piece of parchment paper.
Take ¾ of your crumbly dough and place it on the bottom of the pan. Using a spoon, spread it and compact it, forming a crust.
Pour your apple mixture on top. Top with the rest of your dough crumbles.
Bake for about 35 min or until golden brown. Enjoy warm or cold!